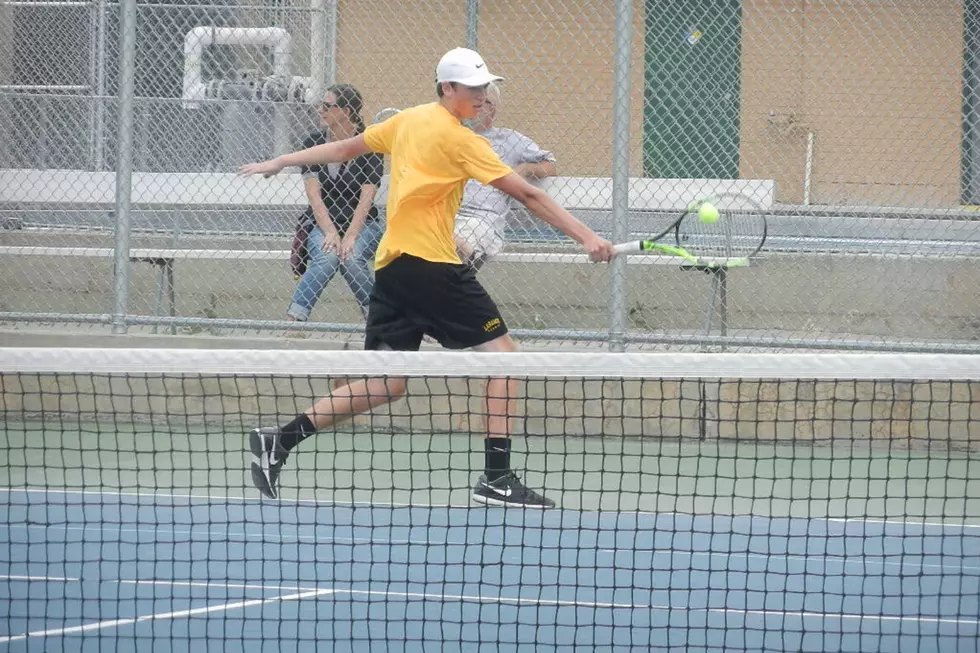 Laramie Tennis Falls Short of Titles At State
Kevin Koile, Wyopreps.com
For the first time in three years, Laramie Tennis failed to bring home a first-place team or individual trophy from the state championships.
Last Thursday through Saturday, the Plainsmen finished in a tie for fourth place, while the Lady Plainsmen came in eighth at the Wyoming High School State Tennis Championships in Gillette.
Laramie had three boy's that earned All-State honors with their finish at state, while no girls placed high enough to get the honor.
The best performance was turned in by Christopher Bury and Jacob Heinz, who took second place at No. 2 doubles. The duo won their first two matches in straight sets. In the semifinals, Bury and Heinz rallied from a set down for a victory over a tandem from Cheyenne Central, 1-6, 6-4, and 6-3. In the finals, they lost to Neary and Robertson of Gillette, 0-6 and 1-6.
The third All-State player from LHS is junior Kyle Moore, who came in fourth place at No. 1 singles. He won his first two matches before a three-set loss in the semifinals. After a comeback consolation victory in three sets, Moore lost to Nate Fairbanks of Jackson 5-7 and 2-6 in the third-place match.
The LHS boys scored 27 points and shared fourth with Sheridan. Cheyenne Central and Jackson tied for first at 35 points, while the Camels came in third with 32 team points.
The Laramie girls scored 9.5 points for eighth place. Cheyenne Central won the girls' team crown with 54 points. Laramie's best result was at No. 1 doubles where seniors Ally Franc and Chloe Jenkins came in fourth place. They won their first two rounds before a loss to the eventual state champs from Cody in the semifinals. After a win over Rock Springs, Franc and Jenkins lost in the consolation championship to Sheridan, 6-4, 4-6, and 2-6.
In other LHS results, at boy's No. 2 singles senior Caleb Callihan went 1-2 on the weekend. At No. 1 doubles, Dreiling and Li went 4-2 in the state tournament and took fourth place. The No. 3 doubles tandem of Abdelkader and Buchanan went 3-2.
For the Lady Plainsmen, it was a tough tourney for their singles players. Hannah Brin went 0-2 at No. 1 singles, while Grace Dorrell at No. 2 singles finished 1-2 at state. The No. 2 doubles team of Huang and Woelk went 2-2, while the No. 3 doubles duo of Cox and Dennis also finished 1-2.
Laramie will return just Moore from their boys' line-up, while the girls return five of their eight players at state.