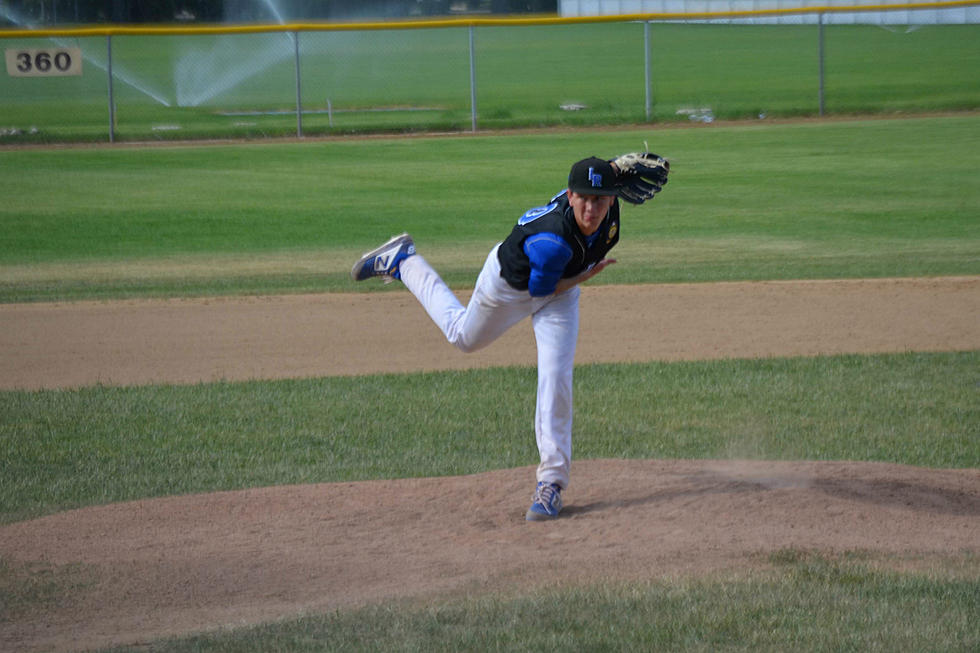 Morehouse Leads The Rangers Past Jackson
Courtesy: Daniele Webb
A great pitching performance, plus timely hitting led the Laramie Rangers to a 6-0 victory over the Jackson Giants Friday in Gillette.
The victory on day one of the Wyoming American Legion Baseball 'AA' State Tournament helped the Rangers snap a 16-game losing streak.
Laramie (14-38) beat Jackson for the third time in the first round in the last five state tournaments. They scored twice in the fourth inning and added four runs in the sixth.
Reston Morehouse was in control on the mound. He went six innings and threw 81 pitches for the victory and allowed just one hit. Morehouse walked one, hit a batter, and struck out four. He didn't allow a single lead-off batter to reach base.
Rangers' manager Aaron Lozano pointed to Reston not letting a lead-off hitter in any inning get on base.
"That's absolutely huge. You set the tone for the inning right then and there when you don't let that lead-off guy get on. Jackson's got some good ballplayers."
Lozano added that Morehouse rose to the challenge.
"He's not afraid of anybody (when he's) on the mound. You can probably tell that by his demeanor on the mound. Really, really proud of Reston and the way he kept us in the game."
Lozano pointed to a rough outing in Gillette last Saturday for Morehouse but said they weren't going to change anything at this point of the season and felt Reston had to trust his stuff.
"You've had a successful season. You keep throwing your pitches, and today might be an off day, but the next game's the one that matters."
Lozano added that he came out and was sharp all game.
Ramon Gomez worked around an error, a pair of fielder's choices, and a single to close out the win.
Gomez scored the game's first run. After he was hit by a pitch, Calvin Webb singled with one out. An attempted pick-off throw at first went wide of the base and into foul territory down the first base/right-field line. Gomez scored from second for a 1-0 lead. Webb moved to third on the play. Tyler Oppie followed with an RBI-double with two outs for a 2-0 lead.
In the sixth, the Rangers got three straight singles with one out followed by a pair of walks. Oppie drove in a run with one of those singles, while Mahlon Morris drew a walk with the bases loaded that forced in a run. It made the score 4-0 in favor of Laramie. Two batters later, Aidan Morris singled and drove in two runs for a 6-0 lead.
Webb and Oppie led the Rangers offense with three hits apiece.
Lozano said it was the team's attitude.
"You saw the guys sprinting on and off the field, hustling, working hard. We had guys doing things they're not used to and keeping those attitudes positive was awesome."
Lozano added, "This is a clean slate for everybody, so this is just the first step. We don't want to be that team that comes in and gets a win and maybe shocks some people, and then that's all we do. We're here to play baseball and compete for a title. That's what I expect out of the team, and that's what they expect out of themselves."
Laramie will play Gillette in the second round at 7 p.m. Saturday.
KOWB (AM 1290) will broadcast live coverage of the game starting at 6:45 p.m.