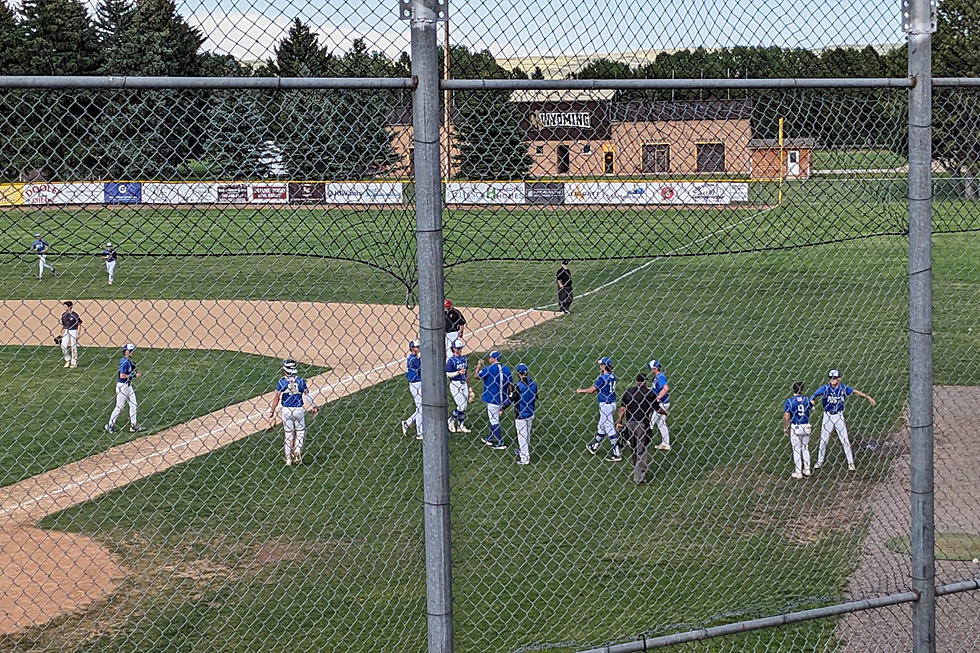 Laramie Rangers End Regular Season With a Bang, Sweep Gillette
David Settle, Townsquare Media
Saving two of their best games for the last home doubleheader, the Laramie Rangers swept the Gillette Riders at Cowboy Field on Wednesday.
Laramie rallied and won the opener, 11-8, and then took the nightcap, 5-1. Game one featured four lead changes. Laramie led game two from the start.
The Rangers finished the regular season at 26-30 overall and 6-8 in conference games. They snapped their 10-game losing skid and secured the No. 5 seed at the Wyoming American Legion Baseball AA State Tournament next week in Jackson.
"I just can't say enough about the effort that the guys put forth tonight," said manager Aaron Lozano. "We tried some new things in practice this week, and they really bought into it and put the work in. They went out and executed. (I'm) very proud of those guys."
Laramie faced a 4-1 deficit in the fifth inning of game one. They responded with five runs on four hits and two walks. Aidan Buchanan's 2-run single gave the Rangers a 5-4 lead. They extended it on a wild pitch and an RBI single from Jace Moniz for a 7-4 lead. Gillette regained the lead with a four-run sixth inning, but Laramie answered right back. They scored four times in the bottom of the sixth. Mason Aragon's RBI single to right field put the Rangers back in front, and they added two more.
Brandon Chavez, Griffin Webb, Mason Branch, and Moniz all had two hits in the game one victory. Sam Hoyt got the win in relief. He allowed two runs, one earned on one hit over two innings pitched. Hoyt struck out four.
Lozano added, "There have been some times this season where we might not have found that extra gear. It's a long season, and I think these guys have experienced the highest of highs and lowest of lows, as far as a regular season can go. (I'm) just really happy that they decided to leave it all on the field tonight."
The game two victory was about Mason Branch on the mound. In his final game at Cowboy Field, Branch went the distance and threw 102 pitches in the win. He allowed one run on four hits with three walks and ten strikeouts.
"A lot of it for Mason was, he's seen this day coming for a while. (He's) one of our seniors that can't come back next year. (It was) just really gutsy, I thought, of Mason, especially because he had a rough go in the one inning, where he threw like 12 straight balls, something crazy like that, and got out of it. He just decided he wasn't going out like that. His teammates backed him up, put up enough runs to get by, and just very proud of that senior group."
Laramie took the lead on Tayton Moore's RBI double in the first inning. He scored on an error by Gillette for a 2-0 lead. The Riders cut it to 2-1 in the third, but the Rangers tacked on three in the fourth inning. Moniz had a stolen base at home plate. Chavez smacked an RBI single, and Moore added an RBI sacrifice fly.
Chavez had two hits, while had two RBIs to pace the offense in game two.
Laramie heads to the state tournament on Monday in Jackson. The Rangers will play the Casper Oilers in the first round at 10 a.m. KOWB radio will provide live coverage of all the Laramie Rangers games at the state tournament. Coverage on Monday starts at 9:45 a.m.
WyoPreps has the 2023 AA state tournament bracket on its social media pages.
Laramie Rangers Baseball Firecracker Tournament 2023
Laramie Rangers Legion Baseball in action at the Firecracker Tournament in Cheyenne during the 2023 season.