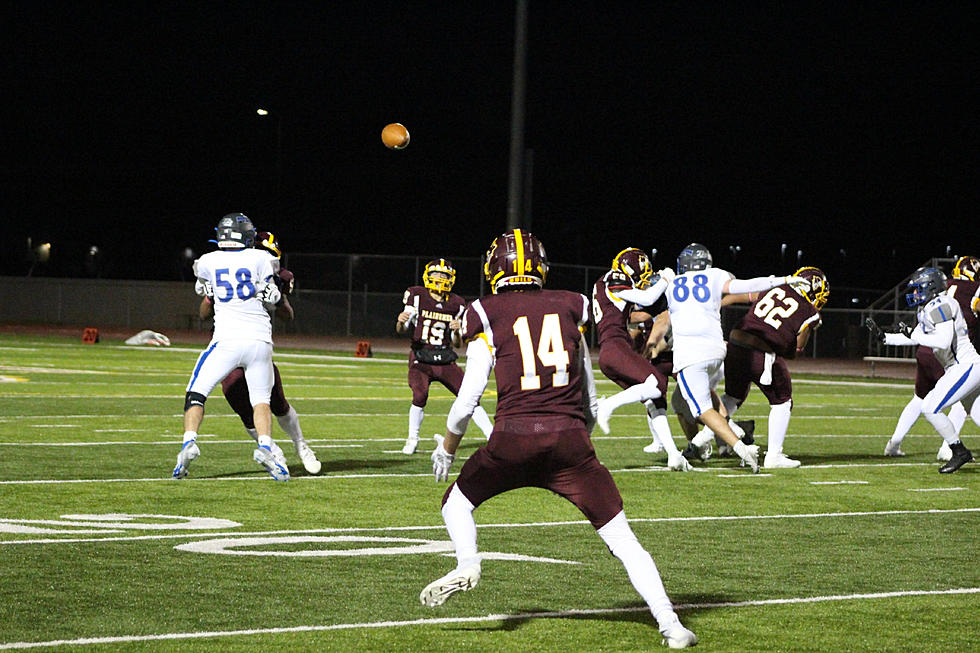 Laramie Football Seeks its First Victory of 2021 Against Winless Cheyenne South
Courtesy: Melissa Alexander
Someone's going to get their first win of the season when the Laramie Plainsmen play the South Bison on Friday night in Cheyenne.
Both teams are winless in 2021. They have 0-7 overall records. The game starts at 6 p.m., and live coverage will begin at 5 p.m. on KOWB and the KOWB app.
Laramie enters off a 55-22 loss to Thunder Basin in their home finale last week.
After that game, head coach Paul Ronga emphasized how the season started this past Monday since there is still a path to the playoffs for LHS. He says the focus in practice this week was to focus on our goals ahead.
"To get the players to realize, that this is the most important game of the season. It is in essence, actually, a playoff game because if we do have success on Friday night, we continue on with the goal that many players had, which is to make the playoffs with one week to go. So, we are focusing more than we ever have been."
Cheyenne South lost at top-ranked Rock Springs, 65-0 last week. They've endured some of the same things Laramie has gone through with injuries and illness.
These two teams have some similar statistics entering this matchup. They are the bottom two in rushing and total offense, as well as rush defense and total defense.
The Plainsmen have moved up to fifth in Class 4A in passing at 163 yards per game. Sophomore QB Ben Malone threw for a career-best 327 yards last week. LHS will face a South pass defense ranked second at only allowing 127 yards per game. This will be a key area to watch in Friday night's game.
Coach Ronga is captivated by what he's seen out of the Bison on the ground.
"I'm very impressed with how they run the ball. They've had more success running the ball than we have. I like what I saw from their star player, No. 5 (Braeden Hughes), and what he does offensively and defensively, and how he hones in there. I was pleased with their quarterback (No. 12, Osayas Garcia). I think he has some good skills. Then, what I also noticed is their linebackers are aggressive. They blitz a lot, and defensively, their line is quick, and those are all problems for us, and problems that we had in the past (games). We've addressed them, and looked into them, and look to do better with it."
The game will be the 11th in the series. Laramie has won eight of the ten meetings to date. The Plainsmen lost their last trip to Cheyenne South in 2019.
KOWB will provide live coverage. Join David Settle and Aaron Lozano for the broadcast call. You can listen on the radio (AM 1290), through the KOWB app, online, or through smart speakers.
LOOK: Pokes' unis through the years