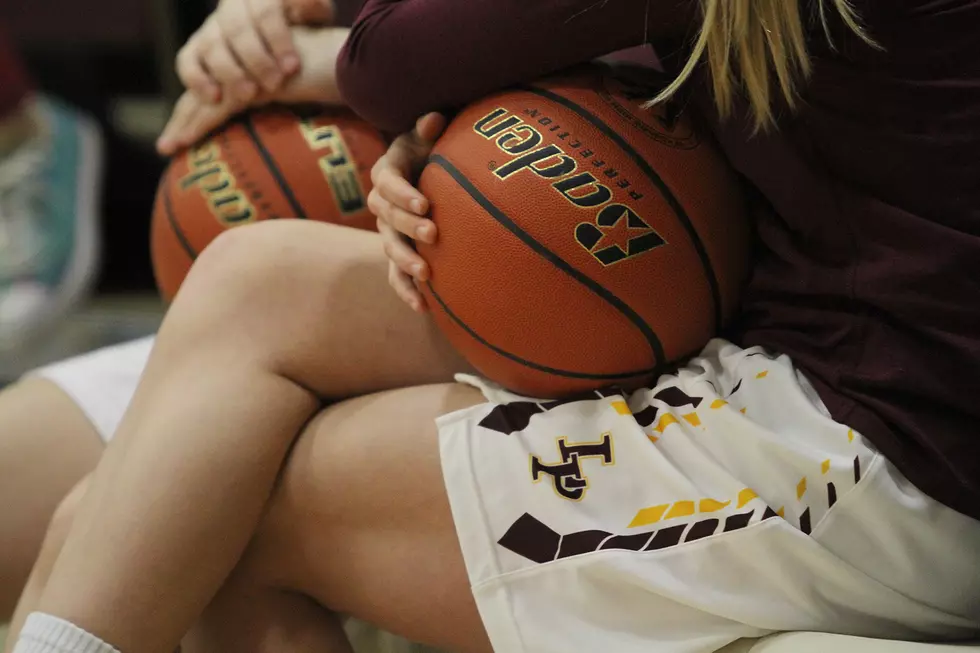 Laramie Basketball Hits the Road for Back-to-Back Games
Seneca Riggins, Townsquare Media
It's back on the road this weekend for the Laramie High School basketball teams with a road trip to Casper and Sheridan.
Laramie plays at Kelly Walsh on Friday night and at Sheridan on Saturday afternoon.
Both LHS teams are 10-6 on the season. The girls are 3-2 in conference action while the boys are 2-3. Both teams split their action last weekend. The girls lost to No. 3 Thunder Basin, 59-49, while the boys fell to the top-ranked Bolts, 82-53. They bounced back last Saturday and beat Campbell County. The girls held on for a 53-50 victory, while the boys won 73-60.
Now, it's back on the road for their other two crossover games in conference play.
Both coaches understand this is a challenging trip from the opponents to the travel involved.
Plainsmen head coach Jim Shaffer said there's nothing you can do to prepare for the rigors of the trip.
"It's not something we'll spend a lot of time talking about. We're just going to go play the basketball games, and you've got to go compete Friday night and get up Saturday morning and go compete again. Hopefully, we're ready to play."
On the girls' side, both Kelly Walsh and Sheridan are 1-4 in conference games thus far. The Trojans are 7-8 on the season, while the Broncs are 8-7 overall.
Laramie head coach Terrance Reese sees both teams have been up and down.
"(Kelly Walsh) They've had some really good games and some not-so-good games. We know that they're going to throw a whole bunch of different (types) of defenses at us. We need to be ready for that."
With Sheridan, Reese says it's about his group being ready to play.
"Our biggest focus is going to make sure we handle the pressure because it'll be another track meet for us. It'll be full man (pressure defense), and so we need to be ready just to keep our heads and be able to take care of the basketball and rebound the basketball. That's another big thing that we've been focusing on. It's getting a good rebounding triangle, so we can secure more rebounds."
The girls' varsity plays at 5:30 p.m. on Friday at Kelly Walsh and at 12:30 p.m. on Saturday at Sheridan.
The Plainsmen play two top-four ranked opponents. The third-ranked Trojans are 13-2 on the year and 3-2 in conference games. The Broncs enter the weekend at No. 4 in the WyoPreps Coaches and Media Poll. They are 12-3 overall and 2-3 in league action.
Shaffer says with Kelly Walsh, they've only lost to Thunder Basin and Cheyenne East.
"They've got size. They shoot the three. They average about 25 three's a game; eight makes a game, and they're really well-coached. They're one of the two or three best basketball teams in the state."
With Sheridan, Shaffer says it's more of the same.
"They're really well-coached, good size. They're pretty similar (to KW) in terms of what they want to do offensively. They're (both) kind of four and five-out motion teams. Really good defensively, both teams are. Kelly Walsh is going to be more of a just play you straight man, where Sheridan's going to play you a lot of different defenses and throw a lot of stuff at you. We're going to have to be prepared for a lot of different things."
The boys' varsity game at Kelly Walsh is at 7 p.m. Saturday at Sheridan is at 2 p.m.
KOWB radio will broadcast all four varsity contests live. You can listen on the radio at AM 1290, through the KOWB app, online, or through smart speakers. David Settle will call the games. Coverage will start at 5 p.m. on Friday and at noon on Saturday.
Celebrate Valentine's Day With These Laramie Businesses
Check out these stores for any last-minute gifts this Valentine's Day.