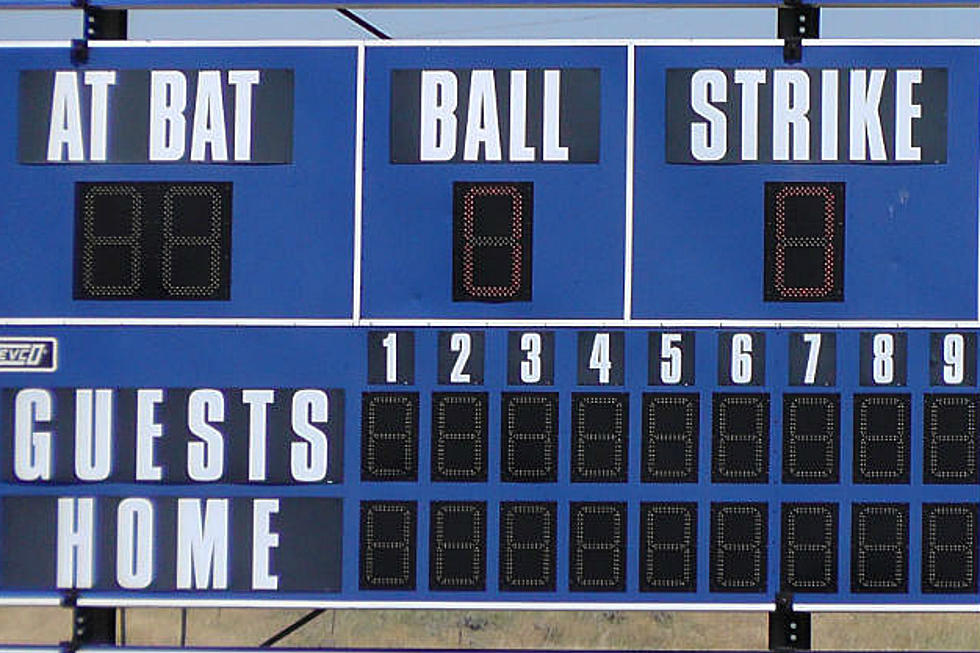 Wyoming Legion Baseball Scoreboard: April 25 – May 1, 2022
Kevin Koile, WyoPreps.com
After the weather canceled most of last week's action on the baseball diamond, we'll see what happens in Week 4 of the 2022 season.
Wyoming Legion Baseball teams are trying to get some early action in during the spring.
Five teams could make their season debut this week.
Game schedules are subject to change. If you have an update or see a game missing, let WyoPreps know by emailing david@wyopreps.com.
MONDAY, APRIL 25:
Final Score: Cheyenne Sixers 11 UW Club Baseball 1 (9-inning) - a 10-run 7th inning carries the Sixers to the win.
TUESDAY, APRIL 26:
Douglas at Gillette – moved to 5/3/22
WEDNESDAY, APRIL 27:
Final Score: Sheridan Troopers 3 Billings (MT) Scarlets 2 - Kilpatrick with the GW-RBI single in the 7th. Hamrick added a 2-run 2B.
Final Score: Billings (MT) Scarlets 5 Sheridan Troopers 4 - Scarlets had a 5-1 lead. Troopers rally with 3 in the 5th but fell short.
406 Flyers (MT) at Powell - canceled
THURSDAY, APRIL 28:
Final Score: Gillette 9 Sturgis, SD 1 - a 5-run 2nd inning surge carries the Riders to the road win. Petersen had 3 hits & 3 RBIs. Gillette took advantage of 10 walks.
Final Score: Gillette 5 Sturgis, SD 1 - Riders sealed it with 4 in the 7th. C. Schilling had 2 hits & 2 RBIs.
Final Score: Casper Drillers 16 Douglas 9 (9-inning game) - Drillers scored in all 8 innings they hit. A 7-4 lead ballooned to 14-7 after the 7th. Pexton led the way with 3 hits & 3 RBIs.
SATURDAY, APRIL 30:
Final Score: Casper Drillers 16 Douglas 10 (9-inning game)
Final Score: Lovell 14 Billings (MT) Post 4 Red  4
Final Score: Lovell 13 Billings (MT) Post 4 Red 3
Final Score: Cheyenne Sixers 14 Rapid City Post 22 Hardhats 6
Final Score: Cheyenne Sixers 8 Rapid City Post 22 Hardhats 4
Final Score: Cheyenne Hawks 6 Rapid City Post 22 Expos 1
Final Score: Rapid City Post 22 Expos 9 Cheyenne Hawks 5
Final Score: Sheridan Troopers 13 Spearfish, SD 1
Final Score: Sheridan Troopers 14 Spearfish, SD 1
Final Score: Sheridan Jets 6 Green River 0
Final Score: Sheridan Jets 10 Green River 0
Casper's Paul Eastridge Early Bird Round Robin
Final Score: Casper Oilers 10 Rock Springs 0
Final Score: Laramie 6 Miles City, MT 3
Final Score: Jackson 10 Rock Springs 6
Final Score: Miles City, MT 8 Evanston 4
Final Score: Casper Oilers 13 Jackson 0
Final Score: Laramie 9 Evanston 0
SUNDAY, MAY 1:
Final Score: Sheridan Jets 10 Green River 0
Green River at Sheridan Jets - game 2 was canceled
Final Score: Sheridan Troopers 10 Bozeman, MT 0
Final Score: Sheridan Troopers 13 Bozeman, MT 9
Final Score: Cheyenne Sixers 10 Rapid City Post 22 Hardhats 0
Final Score: Rapid City Post 22 Expos 12 Cheyenne Hawks 8
Final Score: Powell 11 Laurel, MT 2
Final Score: Laurel, MT 9 Powell 7
Final Score: Westco Zephyrs (Scottsbluff, NE) 18 Wheatland 13
Final Score: Westco Zephyrs (Scottsbluff, NE) 14 Wheatland 8
Casper's Paul Eastridge Early Bird Round Robin
Final Score: Evanston 11 Rock Springs 6
Final Score: Miles City, MT 11 Jackson 2
Final Score: Casper Oilers 9 Evanston 2
Final Score: Laramie 15 Jackson 7
Final Score: Casper Oilers 5 Miles City, MT 4
Final Score: Laramie 16 Rock Springs 12
Wyoming High School Sports Pics of the Week: April 14-19
Wyoming High School Sports Pics of the Week: April 14-19