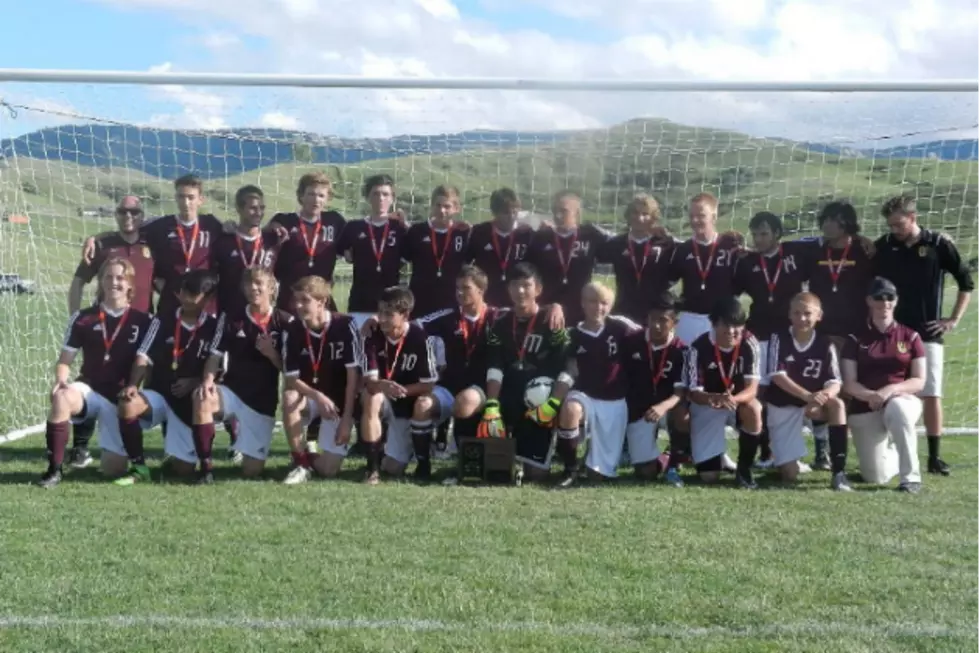 Plainsmen Soccer Is Back On Top
Kevin Koile, Wyopreps.com
The Laramie Plainsmen reign supreme over 4A boys' soccer in Wyoming again. Laramie topped Riverton 1-0 for their third state championship in the last four years.
Laramie boys' head coach Dan Benford said to win a title in my first year, it feels great.
"I'm super excited for these guys. The seniors that have worked so hard, especially for them, but also these young guys who are just getting started in their careers and learning what it takes to become a champion."
A flair for the dramatic seemed to be on the side of the Plainsmen. The finale came down to a penalty kick again. Their three victories at the state tournament were in a shootout, by an overtime penalty kick and a regulation penalty kick.
Senior Lucas Thorsness was fouled on a push and trip from behind in the 18-yard box. That led to the PK in the 30th minute.
Senior Anthony Castano stepped up and banged it into the net for the lone goal of the entire match. It was his fourth penalty kick goal in three matches during the state tournament weekend.
"Anthony was our go-to guy right now. He really is so calm, so cool. He has the ability to really emphasize where he wants the goalie to go, and then he just hits it the other way once the goalie commits."
Laramie made it hold up the rest of the way. Benford credited his squads' experience and ability to make halftime adjustments.
"We were able to slow down the Riverton offense enough, and our defense just locked it down. I think that just comes from experience in big games that maybe we had a little bit more of it at this point."
The Plainsmen send a nine-member senior class out on a high note. A few won their third title in their career, while it's the second for some others.
Benford says this group has been so much fun, and he admitted it's not easy taking over in a first year.
"I was able to step in and help continue that (the winning tradition Coach Andy Pannell established). They really took to me easily, and that's what helped with the success."
Laramie concludes 2016 with a 15-4 overall record. This marks the sixth title in school history and all have been from 2000 to present.
The Plainsmen completed a sweep for Laramie High School. The Gem City is "Title Town" again for 4A soccer, as the Lady Plainsmen won the 4A girls' crown earlier Saturday.