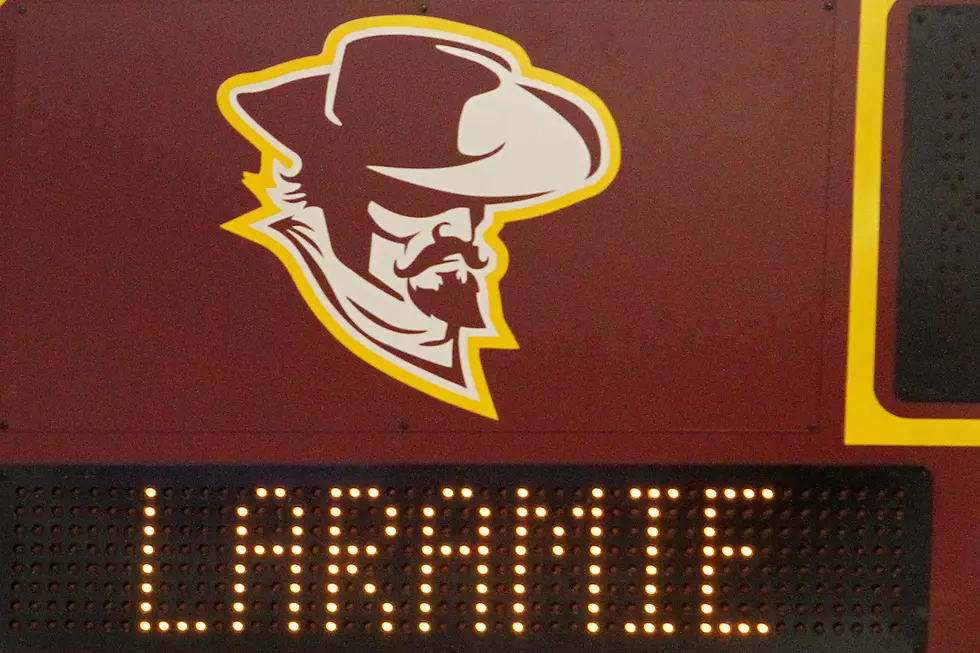 Plainsmen Rally For Big Win, While Lady Plainsmen Fall Short
Seneca Riggins, Townsquare Media
The new high school basketball season began Thursday night, and Laramie split their opening games against Evanston at Casper College.
The Laramie Plainsmen rallied past the Red Devils in the fourth quarter for a 62-54 victory.
The Lady Plainsmen couldn't hold off Evanston and lost a close one, 62-58.
Laramie Plainsmen
Trailing by two entering the fourth quarter, Laramie seized control with a 17-6 run. Junior Will Tyser had two big 3-pointers in the spurt, while LHS also got three's from Hudda Herrera and Asa Williams. Laramie led 43-41 early in the fourth, and that run gave them their biggest lead at 60-47.
Evanston pulled within 60-52, the Plainsmen held off any comeback. Laramie forced seven Red Devil turnovers in the final quarter.
Plainsmen head coach Travis Brown said those kids deserve it the way they've been working.
"When they're playing with high energy, they're as good as any team in the state. They get themselves going, and I love big shots, real clutch shots, by some guys that really matured right in front of our eyes."
Brown referred to Tyser's two big shots, plus Herrera and Williams both made big plays.
Herrera and Williams both had 14 points to lead the way. Nate Burman added 10 points and 11 rebounds. Laramie shot 44 percent from the field. They held the Red Devils to 37 percent.
The game was close throughout. It featured 10 lead changes and six ties. Neither team led by more than five points until Laramie's big spurt in the final frame.
The Plainsmen will play twice on Friday against Rock Springs and Natrona County. Both games are at NCHS at noon and 7:30 p.m., respectively.
Laramie Lady Plainsmen
Evanston put together a 16-2 run at the end of the third and start of the fourth quarter that helped them to the four-point victory.
The Lady Plainsmen had a 44-36 lead in the third, but the Red Devils pulled within three at the end of the period. Evanston continued that momentum and got up 52-46. The teams traded baskets for a couple possessions before the Red Devils got their biggest lead at 59-52. Six quick points on a pair baskets by Shyann Bastian and one from Lexi Pulley got LHS within one, at 59-58, but free throws helped Evanston seal the win.
Laramie head coach Laura Pollard said it was end of that third period.
"We made the run to get our big lead, but then didn't do anything the rest of the third quarter."
The Lady Plainsmen were led by Pulley and Jennifer Aadland with 17 points apiece. Aadland added nine rebounds. Laramie shot 52 percent from the floor, but also had 21 turnovers and were whistled for 21 fouls.
Evanston was led by Emmery Wagstaff, who scored a career-high 30 points. They shot 37 percent from the field, but were 27-34 at the foul line. The Red Devils out-rebounded Laramie 28-21.
The Lady Plainsmen return to the court for two games Friday, as well. They face Rock Springs at 10:30 a.m. and the Natrona Fillies at 6 p.m.
KOWB (AM 1290) will broadcast all four games today from NCHS. Split doubleheader coverage begins at 10 a.m. and again at 5:30 p.m.