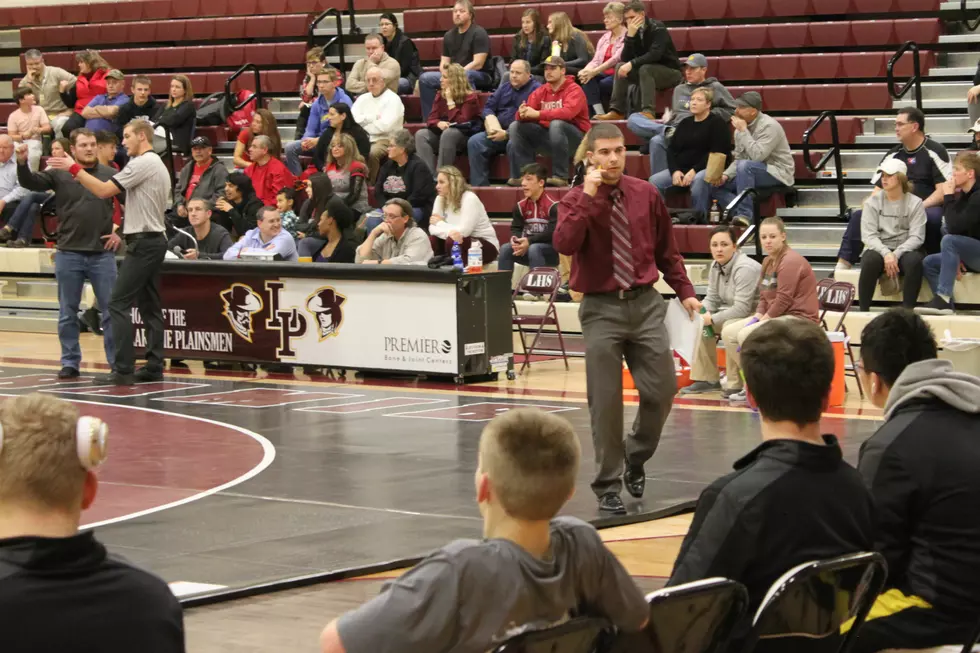 Laramie Wrestling Eyes Individual Success at State [VIDEO]
David Settle, Townsquare Media
The Laramie Plainsmen will have 14 wrestlers competing at the state championships Friday and Saturday in Casper.
Laramie is coming off a fifth place finish at last weekend's 4A East Regional Wrestling tournament with four placers in the top three. That included 220 bracket champion junior Zech Aguilar. He defeated the defending champ, Deric Johnson of Thunder Basin, in a 9-3 decision. Three other placers from regionals included senior Arsenio Lemus at 132, senior Ryder Senior at 138 and freshman Isaac Sell at 113 pounds.
Those four will be joined by sophomore Brody Demello (106), sophomore Easton Hawkins (113), junior Jose Rodriguez (120), junior Nate Merrill (138), senior Ethan Short (152), senior Grant Howell-Perkins (170), sophomore Price Campbell (170), sophomore Calvin Webb (195), senior Andrew Hernandez (195) and senior Zach Heil (285) in the line-up.
There are three weights, 126, 145 and 160 that the Plainsmen won't be represented at, but three other weights feature two LHS wrestlers.
First-year Laramie head coach Stuart Brinkman has been pointing to this weekend throughout their training all season. He feels some guys set up pretty well to have a shot to place this weekend. He also discusses team-wise where they will probably fall, what they're doing in training and more.
First round action at the Casper Events Center starts at 9 a.m. Friday. The quarter-finals and first round wrestle-backs are at 1:30 Friday afternoon. The championship semifinals begin at seven Friday night. Saturday starts with wrestle-backs on the consolation-side of the brackets at 9 a.m. The third and fifth place matches will be wrestled at 2:30 p.m. The championship matches will be at 5:15 Saturday evening.
The Plainsmen finished eighth at state last year with a pair of state champions.