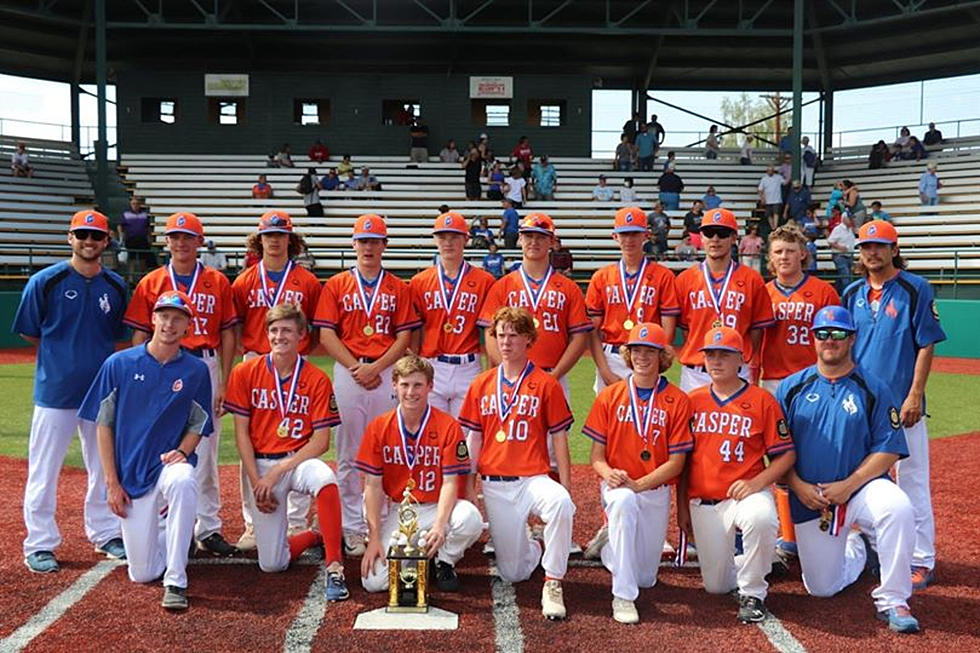 Crush Pull Out Legion 'B' Title in Dramatic Fashion
Casper Crush Facebook page
It was the type of situation that a player and a team can only dream of, but for the Casper Crush, it became reality last Friday.
The Crush won the Wyoming Legion Baseball Class B State Championship over the host Sheridan Jets, 1-0.
The game was scoreless for 6.5 innings. All that was needed was one run, but in a game where some previous opportunities had been squandered by both teams, the task of producing the run wasn't going to be easy.
After a ground out, Joshua Heady-Daniels singled to right field. A sacrifice bunt moved Heady-Daniels into scoring position at second base.
Considering the situation, it looked like the title game would be heading into extra innings.
Then came the scenario that every little kid dreams of in their own unique way. In baseball, it's the bottom of the seventh, two outs, the winning run is on-base, and you come through with the big hit. Something kids have played out in their mind and perhaps their backyard.
Enter Justin Wicks for the Casper Crush. He had grounded out, walked, and flown out in three previous plate appearances. The last of which had a runner in scoring position.
This time Wicks became a hero. With the two outs, Heady-Daniels at second base, and down to his last strike on a 1-2 count, Wicks smacked a line-drive base hit to right field that scored Heady-Daniels for the dramatic victory. The celebration was on.
Casper received a big pitching performance from Beckham Stowe. He tossed a complete game, five-hit shutout. Stowe walked two batters and struck out seven. The Crush also overcame two errors defensively in the game.
Even Sheridan manager Austin Cowen told the Sheridan Press, "There's a right way to lose a game and a wrong way to lose a game, and that way, if there's any such thing as the 'right way' to do it, that's it."
Congratulations to both teams on an outstanding championship game. Kudos to the Casper Crush on winning the title.
WyoPreps would like to thank the Casper Crush for the team photo and tournament director Mike McCafferty for a few more photos from last week's Class 'B' Legion baseball state tournament.
Statistical information from GameChanger was used in this article.
Enter your number to get our free mobile app