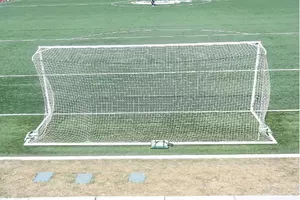 Wyoming High School Boys and Girls Soccer Rankings: April 13, 2016
Kevin Koile - wyopreps.com
Teams are starting to get into the meat of their schedules, and this is a good week to find out where they stand both in terms of their record, and in the coaches/media rankings.
For the 4A Boys, most of the action will be focused in Cheyenne, as both #1 Gillette and #2 Sheridan pay a visit to #3 Central and unranked East. This maybe the first run through conference play, but it's not too early to thinking how these games could affect the seeding at the regional tournaments. Green River break into the top 5, and claim the #4 spot, while Laramie maintains their #5 position.
All of the 3A attention will be in Green River this weekend, as the 4A Wolves along with 4A Rock Springs and 4A Evanston will mix it up with every 3A team but Newcastle. Jackson and Worland are tied at #1 in the 3A rankings, and it's possible that they could hook up this weekend, depending on the outcome of their games. Star Valley drops a spot to #3 this week. The huge log jam in last week's rankings has been cleared out, as Lander takes the #4 spot, and Buffalo is at #5.
Perhaps the one team that has made the biggest impression so far is in the 4A girls rankings. Laramie leaps up from #4 to #1 this weekend, after their big home wins vs. Gillette and Sheridan. Last week's scoreless draw between Cheyenne East and Cheyenne Central dropped the Lady Thunderbirds into a tie with the Lady Camels at #2, while the Lady Broncs drop to #4. The tie did not boost Lady Indians up any, and they remain at #5. East and Central both visit Gillette and Sheridan this weekend.
It could be considered a preview of the 3A girls state tournament, as every team will be in Worland, along with Rock Springs, Green River and Evanston from 4A. Unlike the boys version at Green River, Worland event is a full bracket (GR does pool play, then split into 4-team brackets). The host Lady Warriors are the new #1 team and Jackson is down to #2. Both are on opposite sides of the bracket, so there's a chance of playing each other on Saturday afternoon. Buffalo has shown signs of improvement and is now #3, but 1 vote ahead of Star Valley who is #4. Cody is down to #5, with unranked Torrington 1 vote behind them.
Disclaimer: The polls have no official say or use on post-season positioning, and are only to be used as a measuring stick on the regular season. Please don't read too much into the rankings.