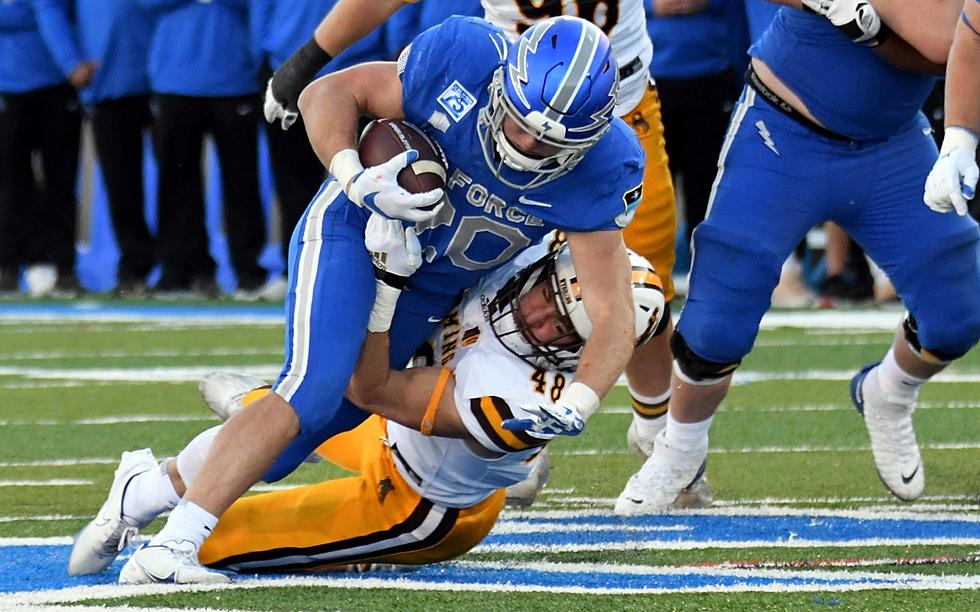 Turning point, unsung hero and what's next for UW football
Wyoming linebacker Chad Muma drags down Air Force tailback Brad Roberts during the second quarter of the Falcons 24-14 win over the Cowboys in Colorado Springs./ DJ Johnson photo
COLORADO SPRINGS, Colo., -- "When we watch the tape, you know, it's going to make my stomach turn."
Maybe Craig Bohl is referring to the Cowboys' first four drives of the game?
Wyoming ran 12 plays -- the bare minimum -- and punted each time. His offense racked up a grand total of five yards through the first 25-plus minutes of play as Air Force built and early 14-0 lead.
During that unwatchable span, quarterback Sean Chambers misfired on his first seven passes. The redshirt sophomore was also hit with an intentional-grounding penalty. Xazavian Valladay, the Mountain West's back-to-back rushing champ, carried the ball one time. That was for no gain.
Despite all that horror written above, the game was tied 14-14 at the half.
That came courtesy of a 74-yard run by Valladay that got the Cowboys out from the shadow of its own goal post late in the second quarter. Chambers plowed his way into the end zone five plays later to get the visitors on the board.
Then came a quick-strike five-play, 73-yard drive that came culminated in a 10-yard touchdown strike from Chambers to Isaiah Neyor. It was a perfect back-shoulder throw. It took just 52 ticks off the clock. It gave the Cowboys all the momentum heading into the locker room.
So, what exactly is Wyoming's eighth-year head coach talking about?
The first drive of the third quarter -- the unquestionable turning point in this Front Range tilt inside Falcon Stadium.
The Cowboys put together an 11-play drive. Wyoming converted on two of its three third-down attempts on the night on this possession. Bohl's bunch was chewing up the clock, beating Air Force at its own game.
With the ball sitting at the Falcons' 32-yard line, a first-down play went for minus-4 yards when Demonte Meeks blew up a naked bootleg in the backfield. Chambers followed that up with consecutive incompletions.
With the ball on the 36 -- and a blustery wind swirling in from the northeast -- Bohl decided against attempting a 53-yard field goal or going for it on 3rd-and-14 and instead sent in the punting unit.
Ralph Fawaz pooched it 21 yards down to the Air Force 15.
It all seemed fairly harmless at the time.
After all, 5:05 was off the clock -- and out of the Falcons' hands -- and the field was flipped. Plus, Wyoming's defense forced three straight punts to cap the second half.
That's when the right arm of Haaziq Daniels went to work.
Air Force's junior signal caller completed 4-of-4 throws on the following drive -- his first pass attempts of the night -- and led the Falcons on an eight-play, 85-yard drive that was capped by a touchdown toss to Micah Davis, who found his way to the pylon from 13 yards out.
Daniels went on to complete 7-of-10 passes on the night for 110 yards. The Falcons later picked up two more critical third downs through the air.
Wyoming couldn't make the adjustment.
It was an unexpected element that Bohl admitted he didn't even know was in Daniels' repertoire.
"In my wildest dreams I would've never thought they'd be able to throw the ball as well as they did," Bohl said postgame. "That, quite frankly, was a changeup for them and it caught us off guard a little bit."
That score gave Air Force a lead it would never relinquish.
Air Force 24, Wyoming 14
Unsung hero
CJ Coldon doesn't take this game for granted. Injuries cost him the better part of two seasons. That, he said, is what makes him so engaged in the Cowboys' run defense. He was every bit that aggressive player again Saturday night.
Air Force didn't technically attempt a pass in the first half, but late in the second quarter Daniels did pitch the ball to Dane Kinamon who appeared to be looking for an open receiver down field. He didn't have much time to make a decision. The coverage was great. Coldon was in his lap within seconds, wrapping up the first sack of his college career.
Coldon also tipped a sure catch in the fourth quarter and served as just enough of a distraction to deny Daniels his second touchdown pass of the night later in that same drive.
Coldon, a sophomore cornerback from Belleville, Illinois, tallied six tackles in the loss to the Falcons.
"I just take pride in playing the game," he said. "... I'm just grateful to be out there. So, every play, I just want to play hard. Every snap, I just want to bring it."
He certainly did that in Colorado Springs.
Quotable
"I disagree with you when you say demoralizing. I'm going to say Air Force has a good football team. It was going to be tough to get a win down here. It's not demoralizing, it's disappointing we lost. So, I want to be real clear on that, OK?
"... I disagree with your assessment. When you said how demoralizing it is, I'm going to put a stop on it. It's disappointing, OK?"
-- Wyoming head coach Craig Bohl when asked how demoralizing it was to come off a bye week and gain just five offensive yards through the first 25-plus minutes
What's next?
Wyoming will head home for the first time in nearly a full month when they host the Fresno State Bulldogs next Saturday inside War Memorial Stadium. A game time should be announced by Monday. The Bulldogs spent two weeks in the Top 25 after knocking off UCLA 40-37 in the Rose Bowl in mid-September. That was short lived. Hawaii took advantage of six Fresno State turnovers last Saturday on the islands and came away with the 27-24 upset. The Bulldogs (4-2, 1-1) are on the bye week.
"We've got to lick our wounds, bounce back and get ready to go against Fresno," Bohl said.
LOOK: Pokes' unis through the years