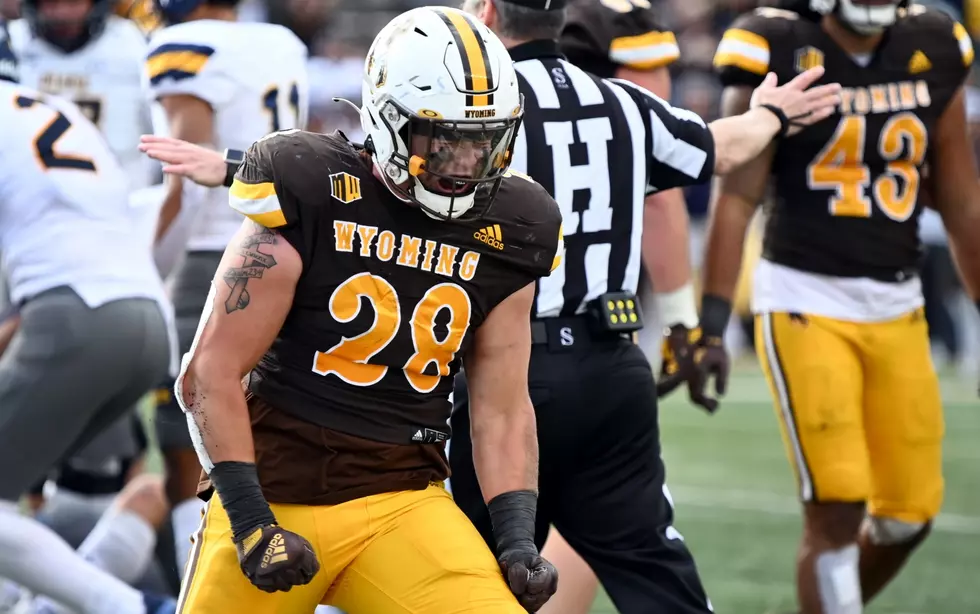 Report Card: Easton Gibbs the next great UW linebacker?
Linebacker Easton Gibbs celebrates a third-down stop during the Cowboys 33-10 victory over Northern Colorado Saturday inside War Memorial Stadium./ DJ Johnson photo
LARAMIE -- In this series, we'll assign a grade to all of Wyoming's position groups during the 2022 football season.
Craig Bohl's Cowboys exceeded all expectations last fall, finishing second overall in the Mountain Division behind Boise State.
UW (7-6, 5-3) fielded the third-youngest roster in the nation. At times, it showed. But there were plenty of bright spots, too.
There was the upset over Air Force, a four-game winning streak, including road victories at New Mexico, Hawaii and Colorado State and eventually a berth in the Arizona Bowl, the program's fifth postseason appearance since 2016.
Let's start the breakdown on the defensive side of the ball.
LINEBACKERS: B
The numbers would certainly back up the headline. Easton Gibbs made the seamless transition from the outside to the middle last spring and responded by tallying 121 total tackles, third most in the Mountain West and 22nd in the nation. The sophomore from Temecula, Calif., finished with 32 more tackles in 2022 than the previous season. More importantly, he tacked on three sacks, a fumble recovery and a touchdown. Gibbs' running mate, Shae Suiaunoa was also a busy guy this fall, racking up 73 tackles, 2.5 sacks, two pass breakups and an interception. Michigan State transfer Cole DeMarzo saw extended playing time during his first season in Laramie. He capped his sophomore campaign with 23 tackles and a fumble recovery. Read Sunn, Gibb's backup, also finished with eight stops.
Explanation
Why the B? Two words -- missed tackles. While UW defensive coordinator Jay Sawvel was quick to hand out an A to Gibbs this season, it's the other members of this unit that need to take the next step. While missed tackles aren't an official stat, your eyes were not deceiving you. Suiaunoa, who was often in position to make the play, struggled at times to bring ball carriers to the ground. Maybe that's the product of earning his first starting gig in Laramie after three seasons in Laramie? Either way, it needs to be cleaned up. No one knows that more than the Texan. DeMarzo had his moments. So did Sunn, specifically tallying a season-high four tackles after getting an unexpected start against Air Force.
Position coach
Aaron Bohl - Entering fourth season
Returners
Cole DeMarzo (6-foot-4, 228 pounds, junior); Easton Gibbs (6-foot-2, 230 pounds, junior); Cayden Hawkins (6-foot-3, 185 pounds, redshirt freshman); Tommy McEvoy (6-foot-2, 213 pounds, sophomore); Sam Scott (6-foot-2, 231, sophomore); Connor Shay (6-foot-2, 227 pounds, sophomore); Shae Suiaunoa (6-foot-3, 232 pounds, junior); Read Sunn (6-foot-2, 227 pounds, sophomore); Nic Talich (6-foot, 217 pounds, sophomore); Brent VanderVeen (6-foot-2, 223 pounds, sophomore); Micah Young (6-foot-2, 210 pounds, sophomore)
Newcomers
N/A
Departures
N/A
2023 Outlook
We all know what Wyoming has in Gibbs. The junior is one of the leading tacklers in the country and finished with double-digit stops in a single game six times last season. Like Chad Muma before him, his progression will come in the form of creating turnovers. While last year's squad was the third-youngest in the FBS, this current roster returns plenty of youth, but the inexperience part is a thing of the past at most positions, including defensive end, which can only help the guys on the second line of defense. If Suiaunoa can improve his tackling, this unit could be the standard in the Mountain West with conference first-team selections like Caden McDonald (San Diego State), Kyle Harmon (San Jose State) and Austin Ajiake (UNLV) exhausting their eligibility. Where the question remains is who backs these guys up? DeMarzo and Sunn were solid, but will any of the other names above step up and challenge? Wyoming didn't recruit a single linebacker in the offseason. The staff must believe they have the right guys on the current roster.
MORE UW FOOTBALL NEWS VIA 7220SPORTS:
* Group of Five guys with Wyoming football ties
* Report Card: Bertagnole, Godbout hold down the fort
* Report Card: Wyoming's inexperienced edge rushers impress
* Cowboys in the NFL: Wildcard Round
* Wyoming's Logan Wilson has Bengals fans crooning in his honor
PRESS PASS: Roaming The War
Wyoming Cowboys vs. Montana State Bobcats
-PRESS PASS: Roaming The War