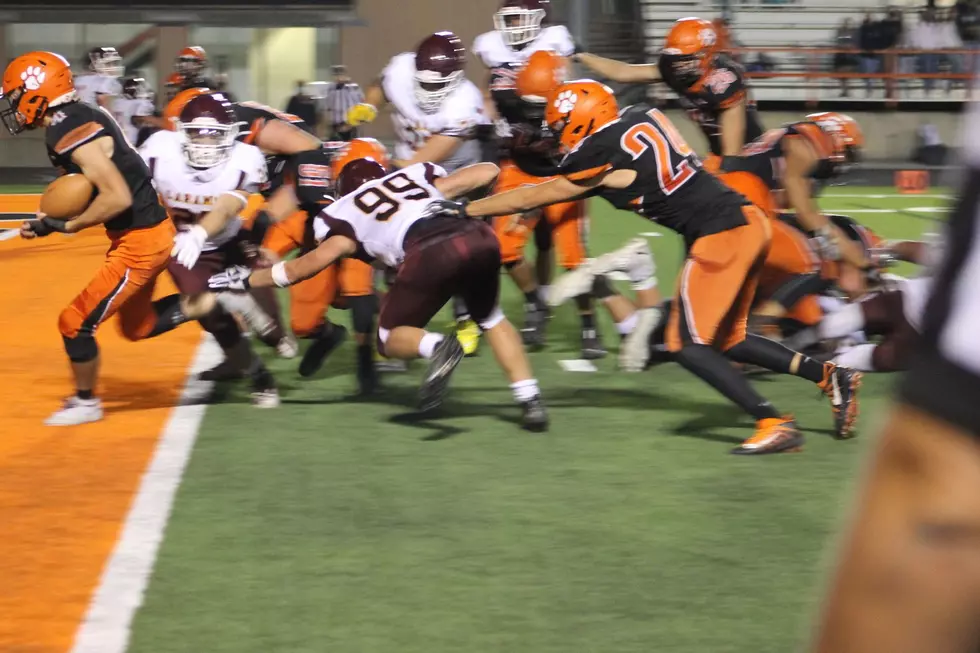 Tigers Get Past the Plainsmen, 36-15
Liann Brenneman, Townsquare Media
Isaac Sell ran for a career-high 278 yards and two touchdowns, but the Laramie Plainsmen lost their fourth straight at No. 5 Rock Springs, 36-15, last Friday.
Sell had a pair of touchdown runs in the second half from two and 65-yards out. He averaged 9.6 yards per rush attempt.
Rock Springs (3-3) quarterback Brock Bider threw for 206 yards and three TDs. Isaac Schoenfeld caught two touchdown passes and returned a fumble for a score.
Plainsmen head coach Clint Reed praised his team for their play early on.
"We knew they were going to be ready to go against us, and I was really proud of the boys in the first half. I really was. It was two full quarters down to one second. Just that one second came back to bite us."
Neither team scored on its first two drives. The Tigers took a 7-0 lead with 36 seconds left in the first half on a 5-yard Bider to Schoenfeld TD pass.
Laramie went on a two-minute drive and got all the way to the Rock Springs 35-yard line with one second left. That's when disaster struck. QB Jake Vigen tried to buy time by scrambling from defenders and lost control of the ball. It was scooped up by Schoenfeld and returned 36-yards for a TD. After a 2-point conversion, the Tigers led 15-0 at the half.
The Plainsmen scored on the first possession of the second half and trimmed it to 15-8. Sell scored from two yards out, and Vigen found Gavin Kopp on a 2-point pass.
Rock Springs answered right back with a TD drive for a 22-8 lead on Jacob Eddy's two-yard run.
Laramie (1-5) tried to respond but turned the ball over on downs on their next two possessions.
The Tigers added a TD pass after they stopped LHS near midfield. That made it 29-8.
On the next play from scrimmage, Sell raced 65-yards for a touchdown. Rock Springs came right back with their own TD, and that produced the final margin of 36-15.
Reed felt his team ran out of gas in the second half, especially on defense.
"In the first half, our guys had the energy. They had their legs in them… We were flying around, and that might have been the most physical we were, that was the most rallying I saw, some gang-tackling going on. I really was proud of the guys. In the second half, when your legs get tired, we're not able to rally to the ball. We weren't getting our pad-level down, started to arm tackle a little bit, and then later in the game, we started taking some chances, and by taking chances, you're going to get beat on some of those plays."
The Tigers finished with 399 yards of total offense. Laramie had 300 yards on offense in the game. Sell accounted for the majority of that, and the head coach took notice after he didn't quite have the type of game he wanted to in the loss at Kelly Walsh, the week before.
Reed added, "I think Isaac came back with a purpose."
Next up, Laramie heads to Gillette to take on the second-ranked Thunder Basin Bolts on Friday at 6 p.m.
Enter your number to get our free mobile app
4 Of Wyoming's Worst Wildfires