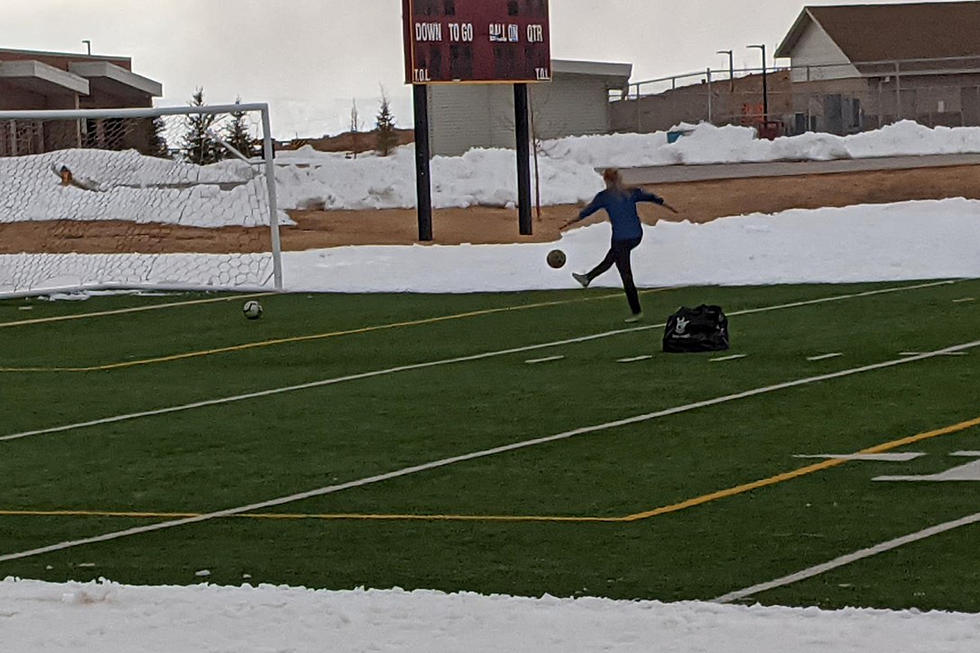 Soccer and Track Get Going for Laramie High School
David Settle, Townsquare Media
Spring sports are finally here for Laramie High School, as soccer and track and field make their debut this weekend.
The boys' and girls' soccer teams will play Sheridan on Friday and Campbell County on Saturday. The ladies are on the road while the boys' are at home.
Track and Field had the meet on their schedule canceled, so they went to plan 'B' and are off to Sidney, NE, on Saturday.
KOWB will have more in-depth previews of all three squads next week.
Both soccer teams and the track team will be competing for the first time in nearly two years after the 2020 season was canceled due to the virus.
Plainsmen soccer head coach Anne Moore has a younger squad in 2021. She says she's hoping to see her team possess the ball well this first weekend.
"What we've been working on most of the preseason is just moving the ball quickly, getting your head up, making early decisions so your first touch is out of pressure, and just making the little plays."
She knows they've got to knock the rust off, but is looking for some composure at the same time.
The Laramie girls have a new head coach in Justine Tydings. She takes over after being hired in the off-season. Her first matches will be a road trip to Sheridan and Gillette.
Tydings said she's absolutely excited about her first matches as head coach.
"I think it's going to be a wonderful experience, not only for me, but for the team, so I'm thrilled for these ladies to have this opportunity. Obviously, they didn't get to participate very much last year, so it's a big year for them to be able to go out, compete, show the Laramie pride, and represent their school and institution really well."
Tydings added, for the first matches, she wants them to set the standard.
"(We need to) Set a competitive base, that's something we can build off of. Something that I'm not worried about at all is how competitive they are. It's been like that since I started practices a couple of weeks ago. I just want to see them continue that into a game, be able to take some coaching points because they've already done that as well, and be able to build from that."
Both Laramie varsity teams will play Sheridan at 6 p.m. on Friday, and then face Campbell County at noon on Saturday.
Track and Field will compete at the Sidney Invitational in Nebraska. Field events will begin at 9 a.m., while the running events start at 10:30 a.m.
Laramie High School Softball had their season delayed, as their first two games at Wheatland and Cheyenne South got postponed due to field conditions. Those will be rescheduled later in the season.
Pictures From Wyoming Snowpocalypse 2021
After two days and 30-odd inches of sow, southeast Wyoming was left buried. An in the grand tradition of every generation since the invention of the camera, we took pictures of the snow.
The Blizzard of March 2021 covered up our driveways, fences, and in some cases porches. It trapped up in our homes and canceled our plans.
Here's a quick look around the Cheyenne area from Sunday (March 14) and Monday (March 15).