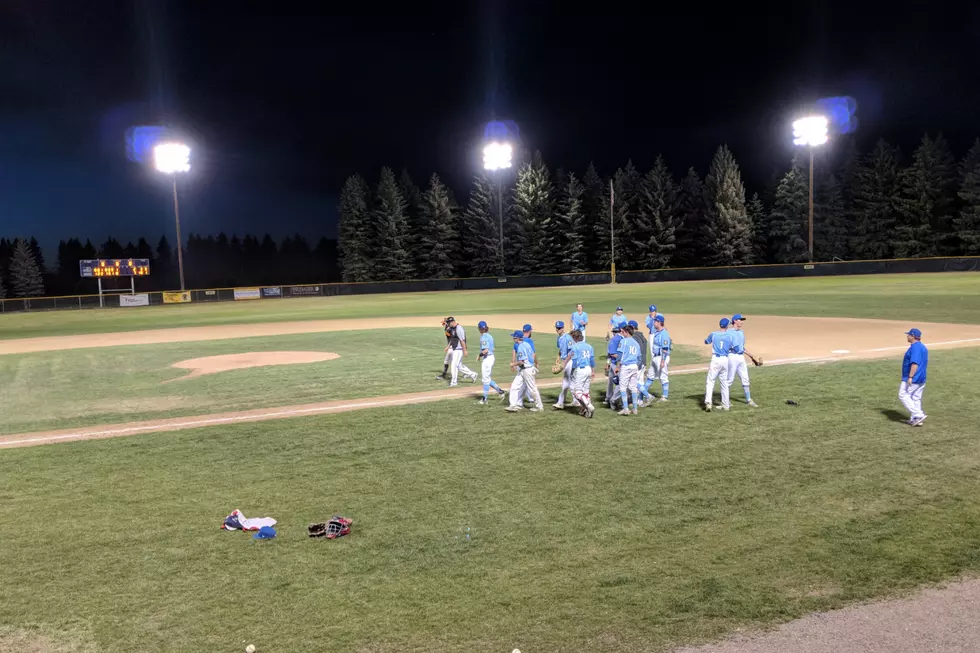 Rangers Lose One and Win One Against Idaho Falls
David Settle, Townsquare Media
A split of a home doubleheader helped the Laramie Rangers snap a four-game losing skid Tuesday night at Cowboy Field in Laramie.
The Rangers lost the first game to Idaho Falls, ID, 5-3, but came back with a victory in the nightcap, 7-2.
Laramie manager Brandon Ruckman said it was a solid day for his ball club.
"Idaho Falls was a very disciplined team. I'm pretty happy with how the boys did today (Tuesday). I mean not very many errors that second game. We hit the ball. We had great pitching, so all-in-all, a great day at the field."
The Rangers failed to get key hits with runners in scoring position in the opener. Idaho Falls scored two runs in the second and fourth innings. They added one in the fifth for a 5-0 lead. Laramie came back with one in the fifth on an RBI-sacrifice fly by Logan Pickard. A double play in the sixth scored one run, while Matt Smith followed with an RBI-single, but that's all the Rangers could get.
Reston Morehouse started and last five innings. He took the loss. Morehouse allowed five runs, four earned, on five hits. He walked three and struck out four.
Offensively, Albert Steiner and Will Yates had three hits apiece, which included a triple for Yates. Despite 10 hits for Laramie to only six for Idaho Falls, the Rangers left six on base and lost.
Pickard threw well in game two and got the win on the mound. He held Idaho Falls down and allowed only one run on two hits. Pickard had three walks and six strikeouts over five innings.
Pickard said of his approach on the mound, "I threw strikes and just went right after 'em. That's what my plan was to do."
He added another key was, "Just not to overthrow and just know what I can do, and I did that tonight, and it worked out well for me."
Laramie scored one or two runs over the first four innings. They built a 6-1 lead and went on to the 7-2 victory. Steiner had a two-run single in the second inning, while the Rangers took advantage of four walks and four defensive errors by Idaho Falls.
Steiner had four hits, drove in two runs and scored once at the plate Tuesday.
He said,
"I think it was definitely a good couple of games for us. Personally, they were fun games. You know I was having a lot of fun that second game in the win, even the first game I was having fun, and I think it was just because we were playing clean baseball. Like I said earlier, prior to the game, I knew that if we played clean baseball, it would be a good game."
Steiner had talked to KOWB's David Settle before the radio broadcast of game one in the twin bill.
Pickard agreed with Steiner saying, "Getting a win, I think it boosts our confidence. Seemed like the team was having a lot more fun than we have in the past, and that's what we need as a team."
Laramie (10-16) will return to the diamond Thursday with the make-up of a postponed doubleheader from earlier this season. The Rangers are at North Platte, NE for two starting at noon Thursday.