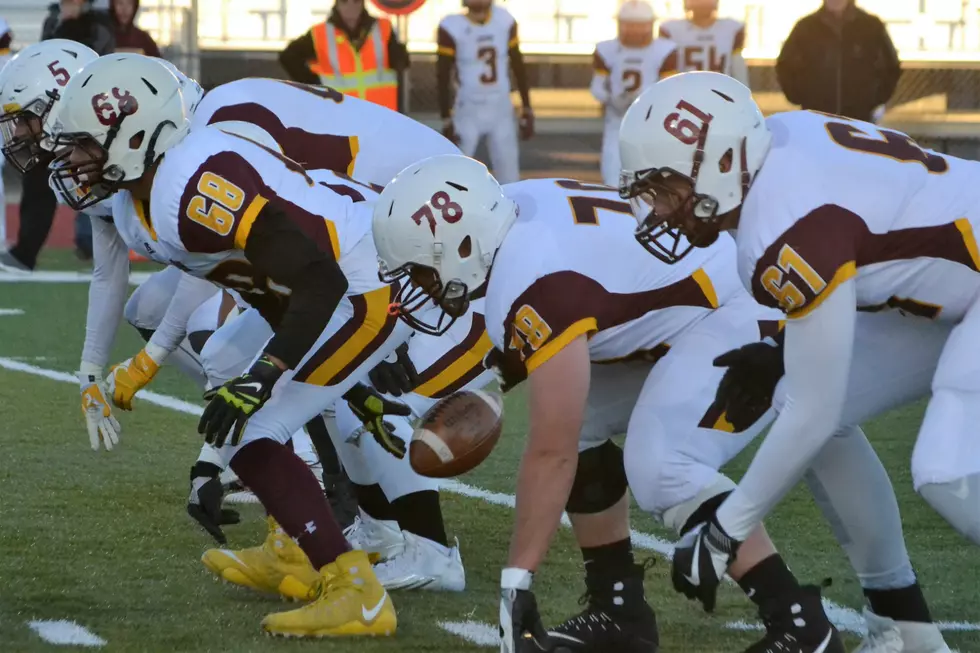 Plenty for the Plainsmen to Play For [VIDEOS]
Courtesy: Trenda Allen
The possibility of getting the fifth seed in the playoffs is on the line during senior night, as the Laramie Plainsmen take on Thunder Basin Friday night at Deti Stadium.
Laramie (3-5) clinched a playoff berth two weeks ago. Now they are jockeying for position with one game left in the regular season. The Plainsmen, with help, could end up as either the No. 5, No. 6 or No. 7 seed in the 4A playoffs that begin next week.
One of the obstacles is a win over an opponent Laramie is playing for the first time. LHS also would need a Rock Springs loss at second-ranked Natrona County to have a shot at the No. 5 seed. However it works out, the Plainsmen are more than likely headed to either Casper or Cheyenne next week.
Thunder Basin (4-4) is in its first year of its program. Having a number of players head across town from Campbell County has led to a better opening campaign than most first-year schools. Returning all-state running back Austin Clemetson and Keaton Wilkerson are two key players that lead the way for the Bolts.
Laramie head coach Clint Reed knows that this is still a big game for his squad. He visited with KOWB's David Settle about game preparations, fighting to play well as they get ready for the post-season and facing Thunder Basin.
Friday night is final game for a 14-member senior class. While Coach Reed shared his thoughts on his first group of seniors, KOWB's David Settle also visited with three members of the class, Chad Browning, Frank Crum and Daylon Puckett about their final game, their time in the LHS football program and other parts of high school.
The senior recognition ceremony is set to start at 5:40 p.m. Friday.
As for the match-up, the statistics are fairly similar, but the Bolts do have advantages in all the team categories.
The Plainsmen are coming off a big loss to top-ranked Sheridan last week, 55-14. Laramie is eighth in total offense at 251 yards per game and averaging 22.5 points per game. Senior QB Nate Burman leads the fifth best pass offense at 162.3 yards per game through the air. He's at 182.4 all-purpose yards per game, which is fifth in 4A, as well. Defensively, seniors Garrett Worden and Daylon Puckett are both in the top four in defensive points. As a team, LHS is seventh at 365.8 yards and 27.6 points per game.
Thunder Basin also lost their last game, 21-7, at home to Kelly Walsh a week ago. The Bolts are putting up 314.8 yards and 24.1 points per game. That ranks sixth in class 4A in offense. Thunder Basin does lead 4A in passing yards at 194.4 between two quarterbacks. Senior Keaton Wilkerson and sophomore Mason Hamilton share time at the position. They are ninth and sixth, respectively, in passing. Clemetson missed time due to injury, but has returned and is No. 10 in 4A in rushing. On defense the Bolts are sixth, just ahead of Laramie. They allow 318.1 yards and also 27.6 points per game. Junior's Marcus Glick and Terren Swartz are in the top 10 of defensive points and lead the Thunder Basin defense.
Kick-off is the first-ever meeting between the two programs is at 6 p.m.
KOWB (AM 1290) will provide live coverage of the game. You can also listen to KOWB's live stream or with the new KOWB app. David Settle and VerDon Hoopes are calling the action with the broadcast starting at 5 p.m.