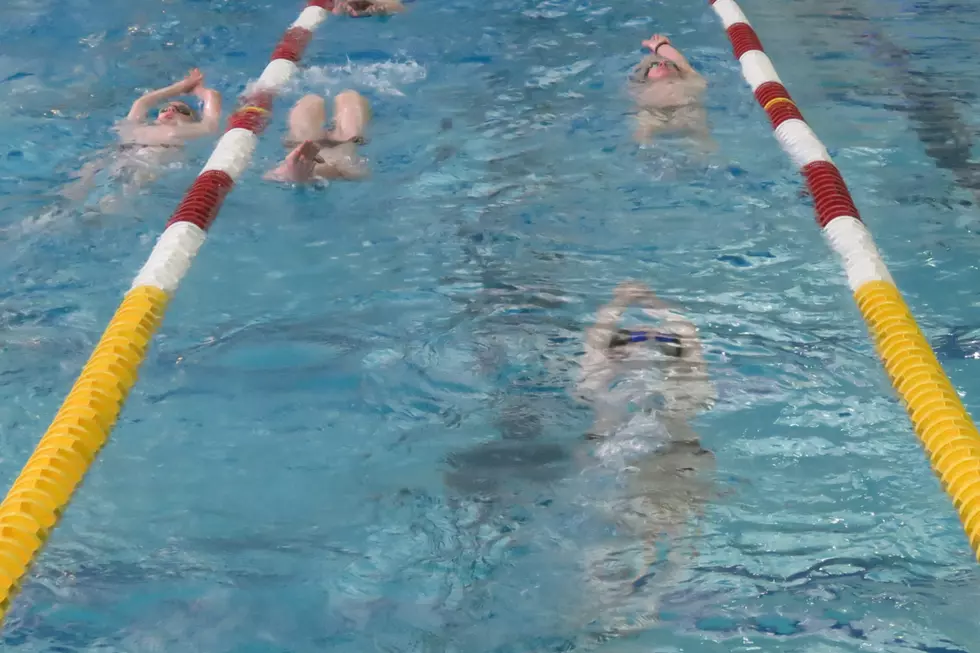 Plainsmen Swimming & Diving Wins at Gillette, Competes at the Conference Meet
David Settle, WyoPreps.com
Laramie High School student-athletes have been busy and most teams stay that way this weekend.
Swimming reaches its conference championships on Friday and Saturday, while indoor track and Nordic skiing also have competition.
Laramie Swimming
The Plainsmen won the 17-team Gillette Invite last week with an upset of Lander. LHS scored 483 points and used its depth to hand the Tigers their first loss this season. Lander finished with 477 points in the team standings.
Senior Dylan Bressler won the only event for Laramie, diving. He set a meet record of 478.90 points. Teammate Ronan Robinson took second in diving.
The Plainsmen are at the 4A West Conference Championships in Casper on Friday and Saturday. The meet is at Kelly Walsh High School but is hosted by Natrona County High School.
Head coach Tom Hudson can't believe it's already time for the conference meet.
"(The season) it started off slow because we had all those cancellations and disappointments, and then, we got through Christmas training, and it's gone really fast and pretty well."
Laramie is the favorite at the conference meet. Hudson believes his guys will be ready.
"It's exciting because it's our first taste of championship competition, a prelims-finals format. Of course, the kids that have qualified already are going in really beat up, really tired. They're still going to compete hard, and they love the format. They always step up and somehow seem to dig deep and get going, especially on the first day. Then, it's exciting too for the kids that haven't qualified because it is a championship meet for them, and they finally get to shave and wear their fast stuff. While they're swimming fast, the kids that are all broken down and tired see that and see what's up for them in two weeks, so we're really looking forward to it."
Laramie will swim and dive against Evanston, Kelly Walsh, Natrona County, and Rock Springs.
Laramie Indoor Track
Laramie hosted the 307 Invitational at the UW Fieldhouse last Saturday, and the Plainsmen took first in the team standings, while the girls were second.
Junior and defending high jump state champion John Rose won his main event and set a school record, as he cleared 6-3. That was one of six events won by the LHS boys.
Quail Perkins swept the sprints, as he finished first in both the 55-meters and 200-meters. Dominic Eberle won the 1600-meters, Adrien Calderon tied for first in the pole vault, and LHS won the 4x200 meter relay.
The Plainsmen scored 116.50 team points and won by 39 over Natrona County.
The Laramie girls took second with 76 points. They were 50 points behind Cheyenne Central, who won it.
LHS had one champion. That was their 4x200 meter relay.
Laramie is back in action on Friday at the Basin Nation meet in Gillette.
Laramie Wrestling
The Plainsmen took 24th place at the Ron Thon Memorial Wrestling Tournament last weekend in Riverton. There were 40 teams in attendance.
Laramie scored 32.5 team points with limited wrestlers in the field.
Porter Trabing was the highest finisher in fifth at 113 pounds.
In the girls' division, Claire Knerr at 106 pounds and McKenna Barham at 126 pounds, both finished in second place.
On Tuesday night, Laramie was back on the mat and picked up a pair of dual wins.
LHS beat Glenrock, 53-24, and defeated Wheatland, 47-27. Both matches were wrestled in Wheatland.
Porter Trabing, Connor Hobbs, Trenten Hubbs, and Jamison Bade went 2-0 on the night in matches that were wrestled.
The Plainsmen are off until next week.
Laramie Skiing
Nordic skiers return to action after having last weekend off. They compete at the Lander Invitational on Friday and Saturday.
Friday is a 5km freestyle race, while Saturday is a 10km classic race.
They'll be on the trails at Beaver Creek, which is just southwest of Lander.
The Alpine skiing team competed at the NCHS Britt Farr Memorial last weekend at Hogadon Basin Ski Area.
The girls took fifth, while the boys were sixth.
In the slalom, the top finishers were Lina Woelk in 11th place and Ashton Ford in 10th place.
In the giant slalom, McCrea Doyle took 16th place, while Ford was 15th.
The downhill skiers have this weekend off from any competition.
Casper Alpine Skiing Race
Casper Alpine Skiing Race