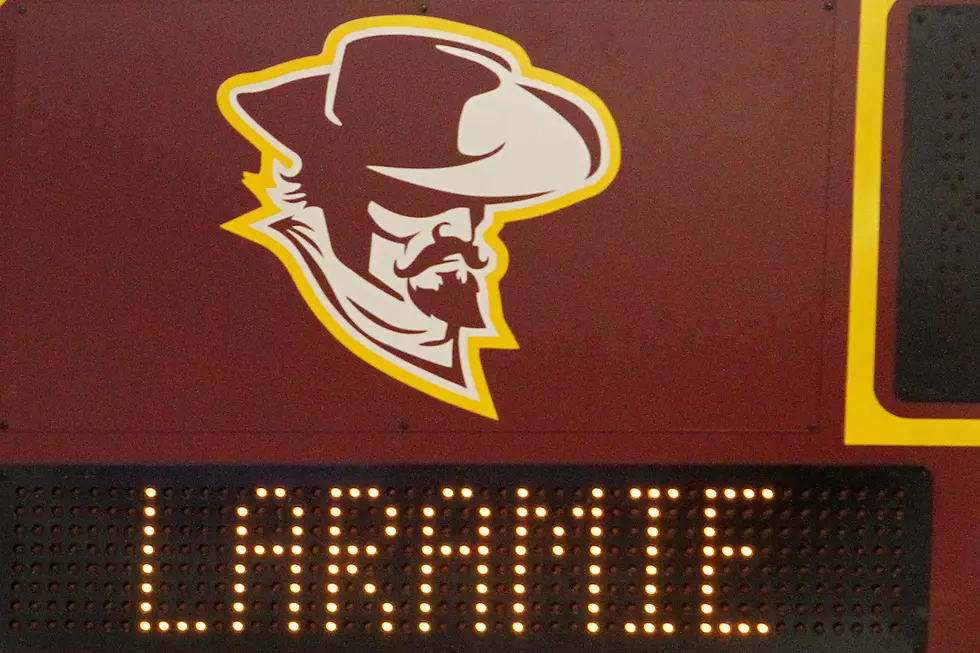 Laramie Splits its Home Debut in High School Basketball
Seneca Riggins, Townsquare Media
The Laramie Plainsmen remain undefeated, but the Lady Plainsmen lost their third straight in the home opener for both teams Thursday night.
The fourth-ranked Plainsmen held off Green River, 52-49. The Laramie girls fell to No. 4 Green River, 67-36.
Plainsmen Basketball
Laramie (7-0) survived foul trouble and struggles offensively in the three-point win.
The Plainsmen jumped out to a few six-point leads early, but Green River hung tough. There were four lead changes in the second quarter, but LHS held a 25-23 lead at halftime. The game went back-and-forth in the third period. There were six lead changes and it was tied once. A late surge by Laramie gave them a 37-36 lead. The Plainsmen built their advantage to nine points, at 50-41, but the Wolves rallied. They pulled within 50-48 before free throws allowed Laramie to hold on.
Plainsmen coach Jim Shaffer said his team's performance wasn't very good.
"We came out and knocked down a couple of shots down early. We fell in love with the three-point line. I think at halftime we had taken 15 three's and nine 2's. I don't think our posts had ever touched the ball in the post. We just didn't do a very good job of playing inside-out offensively or attacking the rim. I thought defensively it wasn't bad, but offensively, we really struggled to play smart."
Christian Mickelson led the way with 24 points and 5 rebounds. Freshman Jaedyn Brown added a career-best 10 points off the bench.
Laramie plays Rock Springs in Cheyenne for the second game in the Taco John's Invitational. Friday's game starts at 5 p.m. from East High School.
Lady Plainsmen Basketball
Laramie (2-5) couldn't slow down the fourth-ranked Wolves in losing by 31 points.
Green River scored nine straight after LHS held a 2-0 lead. It was 22-10 GRHS after the first and 41-23 by halftime. The Wolves' lead reached 33 points in the second half before the final margin.
Green River shot 47 percent from the field, which included 56 percent from 3-point range.
By comparison, LHS shot 28 percent and went 2-12, 17 percent, from deep. Morgann Jensen had 10 points and six rebounds to lead the Lady Plainsmen. Janey Adair added 10 points, as well.
Laramie girls' coach Rod Tyson admitted Green River shot the ball well.
"We didn't rotate well, but effort-wise, we were playing better. (On defense, Green River) they were playing that 1-2-2, where we have a perfect offense for it, but we couldn't get the ball to the wide-open person because at the top of the zone we would just dribble instead of pass. It was just really weird."
LHS looks to bounce back when they face Sheridan in Cheyenne Friday at 3:30 p.m. That game is at Cheyenne East High School and is part of the Taco John's Invitational.
KOWB (AM 1290) will broadcast both games on Friday. David Settle will call the action. The coverage will start at 3 p.m.
Enter your number to get our free mobile app