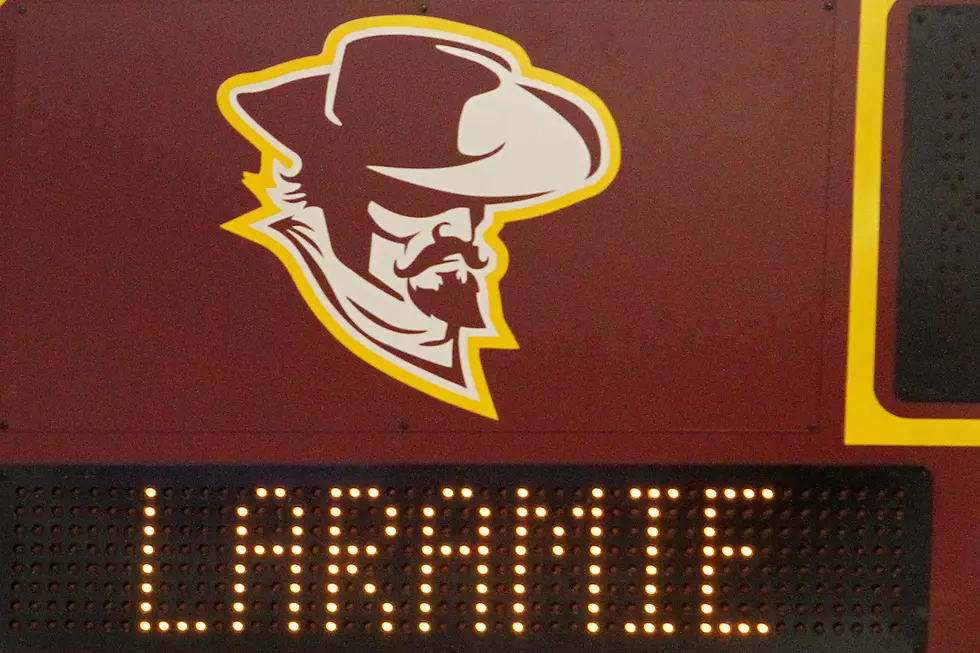 Laramie High School Basketball Gears Up for Conference Play
Seneca Riggins, Townsquare Media
The second phase of the season is here for both Laramie High School basketball teams as conference play starts on Wednesday night.
Laramie will play Cheyenne East in a girls'-boys' doubleheader at LHS. The girls' varsity game is 6 p.m., followed by the boys' varsity game at 7:30 p.m.
The girls' game features a 7-4 Laramie team taking on a 12-0 and top-ranked Cheyenne East squad.
LHS head coach Terrance Reese says I think we're prepared.
"We've been trying some things over the past couple of weeks, and tonight (Tuesday) at practice, it was really kind of interesting. The girls were like, let's just do what we do. Why are we trying to do some other stuff? Let's just get after 'em, and we'll take care of the little things like you say coach, and we won't worry about the scoreboard. We'll let it take care of itself. That was a great feeling for me as a coach because the girls are truly buying in."
Reese said No. 1 East is simply impressive.
"They want to turn you over. They want to play pressure (defense). They'll play inside-out, but it's not just their inside players. Their guards are phenomenal, (their) wings are phenomenal, and great post players. They're a solid team. They're undefeated for a reason."
The last time Laramie beat Cheyenne East in girls' basketball was Feb. 24, 2012, with a final score of 67-28.
The boys' game has the 8-3 Plainsmen versus the 11-1 and fourth-ranked Thunderbirds.
Laramie head coach Jim Shaffer would love to have more time to get ready for conference play but knows it's here.
"I wish we had all of our (proverbial) bullets in the gun and had everybody, but I feel like we're prepared for East and have a pretty good handle on what they want to do. It's just a matter of going out and playing. Hopefully, we can compete and give them a basketball game."
LHS is still without junior Mahlon Morris, who is sidelined with an injury. He's been out since Dec. 17, 2021.
As for the matchup against the Thunderbirds, Shaffer says they're aggressive on offense and a big team.
"They've got the (Tate) Bishop kid, who's a transfer from Burns last year, about 6-6 (height). They got a transfer from Kelly Walsh, (Kysar) Jolley, who's 6-4. They've got the (Colter) McAnelly kid back, who was their starting post last year, who's probably 6-3 or 6-4, so they've got good size. They've got the (Drew) Jackson kid that's a sophomore that's their leading scorer and played a ton last year as a freshman that shoots it well. Then, kind of the head of the snake for them is (Garet) Schlabs. He's their point guard, and he pushes the basketball and gets them into everything, and I think he's the key to their basketball team."
The last victory for LHS in boys' basketball versus East was at home on Feb. 24, 2017, in a 55-52 upset.
Both coaches told KOWB's David Settle to start the conference schedule with a Wednesday-Friday setup they found a little odd. They'd both like to have one more day of preparation.
Due to a conflict with both University of Wyoming basketball teams also playing on Wednesday night, there is no radio coverage from KOWB. There will be a streaming-only broadcast from KOWB with David Settle calling the games. The only way to listen is through this link: www.network1sports.com/station/kowbnet. The coverage starts at 5:30 p.m.
LHS will also host Cheyenne Central on Friday. Those games will be back on the radio and the KOWB app.
15 Outrageous Wyoming Myths That People In The US Think Are True
It's really interesting how many people in the U.S. have no clue about Wyoming. The less they know, the better off we are, BUT these actual misconceptions about Wyoming are just ludicrous. Hard to believe these 15 came out of someone's mouth.