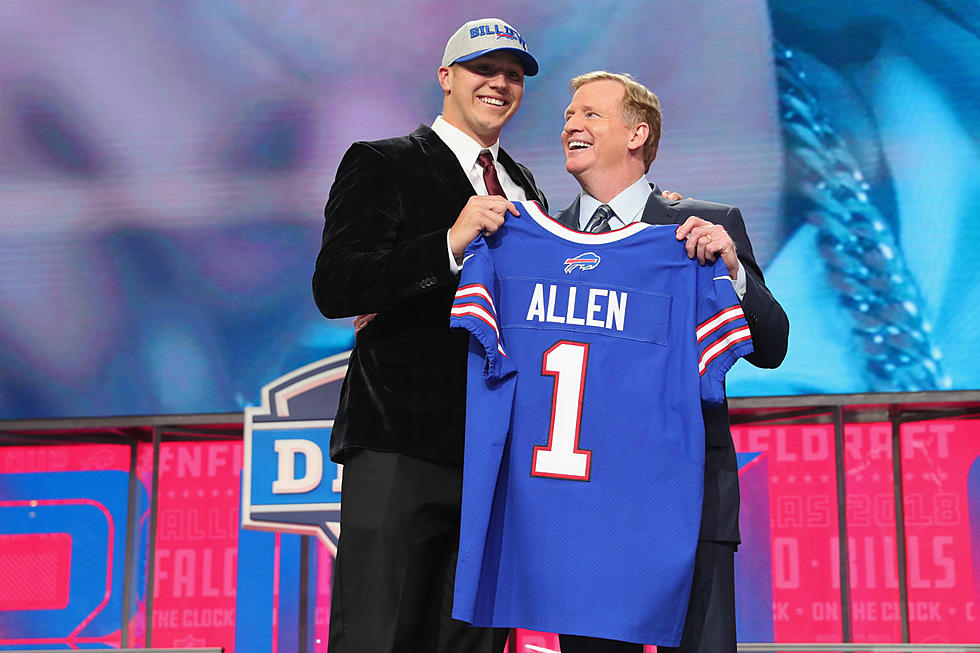 The Top Five Moments Of 2018 For Wyoming Sports Fans [VIDEOS]
Tom Pennington, Getty Images
2018 was another good year for University of Wyoming sports fans. While the Pokes football team didn't make it back to a bowl game, they finished the season on a four-game winning streak and pulled off one of the greatest comebacks in school history.
Led by All-American Bryce Meredith, the Wyoming wrestling team established itself among the best in the country. On the basketball court, both the Cowboys and Cowgirl finished the 2017-2018 season with over 20 wins. Here's a look back at the best moments of the year.
1. Josh Allen Drafted in the First Round - The strong-armed quarterback made history in April, becoming the first Wyoming player selected in the first round of the NFL Draft in 42 years. Chosen by the Buffalo Bills with the seventh overall pick, Allen also became Wyoming's highest draft pick ever, and later became the first Cowboys QB in 60 years to throw a regular-season NFL touchdown pass.
2. Bryce Meredith Makes it Back to the NCAA Championship - In March, Meredith finished as the national runner-up at 141 lbs. for the second time. During three seasons at Wyoming, the Cheyenne native won 86% of his matches, compiling a record of 93-15, and was a three-time All-American.
3. Pokes Football Team Pulls Off A "Miracle In the Snow" - Trailing Air Force by two touchdowns late in the game, backup quarterback Tyler Vander Waal came off the bench and staged a dramatic fourth-quarter comeback. With their season on the line, Wyoming scored three touchdowns in the final five minutes to secure the victory.
4. Cowgirls Basketball Team Advances to NIT Tournament - Led by senior guard Liv Roberts, Wyoming was one of the best in the Mountain West, finishing the 2017-2018 campaign with a 13-5 conference record. At 22-11 overall, the Cowgirls earned a birth in the National Invitational Tournament, winning a first-round game against New Mexico State before falling to UC-Davis in front of 5,500 fans at the Arena-Auditorium.
5. Cowboys Basketball Team Upsets Nevada In Double OT Thriller - Justin James celebrated his 21st birthday in style, posting a career-high 33 points, adding 10 rebounds, and propelling the Pokes to a 104-103 win over #23 Nevada at the "Dome of Doom". The Wolf Pack went on the win the conference, make the NCAA Tournament, and advanced to the Sweet Sixteen. So far this season, Nevada is undefeated and ranked #6.
Here's hoping 2019 will be an even bigger and better year for Wyoming fans. Go Pokes!!!