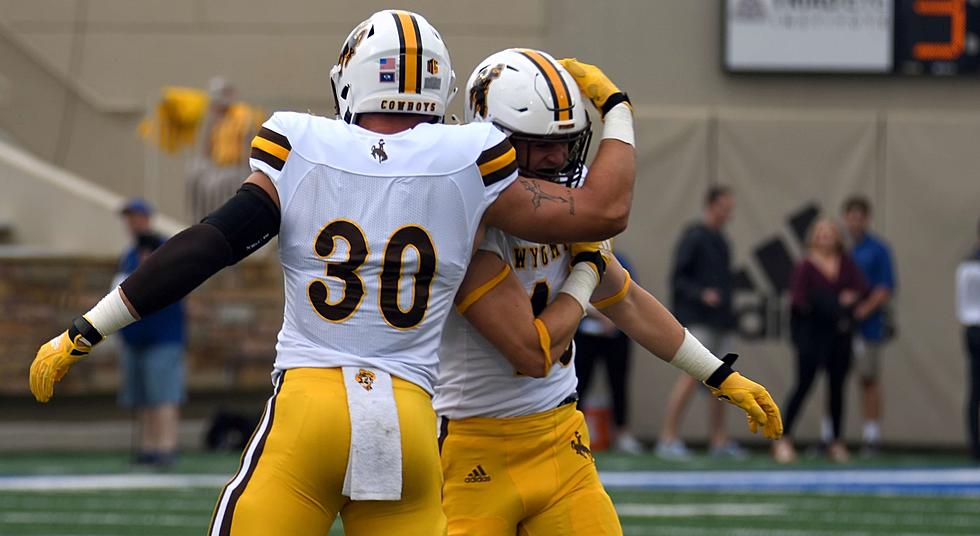 Logan Wilson isn't shocked by Chad Muma's rise to stardom
Logan Wilson (No. 30) and Chad Muma celebrate a defensive stop in a 2019 game at Tulsa./ DJ Johnson photo
LARAMIE -- Logan Wilson said he was unaware Chad Muma is being compared to him -- but he's honored.
You'll have to forgive Wilson, he's a little busy leading the Cincinnati Bengals in tackles these days.
"Have we really been getting compared that much?" he asked.
Yes.
And for good reason.
Wyoming's junior linebacker has 78 total tackles through eight games this fall. That ranks Muma No. 11 overall in the nation and second in the Mountain West behind only Kyle Harmon of San Jose State. When it comes to solo stops, Muma sits at No. 4 in the FBS with 52.
The Lone Tree, Colo., product also has two interceptions to his credit this season. He returned both of those for touchdowns. He also has a sack and a fumble recovery.
Those are all very Wilson-like numbers.
The Casper native and third-round selection in the 2020 NFL Draft registered 99 tackles to go along with two sacks and a pair of picks during his junior season in Laramie. Wilson, a four-year starter, compiled 409 career tackles and 10 interceptions.
"I think the thing about Chad is, we saw this coming," Wilson said. "He just needed the opportunity."
Muma became a full-time starter in the middle of Wyoming's defense when Wilson graduated. Since he's stepped into that role, Muma has 149 tackles and four sacks in just 14 games. That's an eye-popping average of nearly 11 stops per outing.
MORE UW FOOTBALL NEWS:
* Trey McBride: 'We recruited him hard'
* CSU's Addazio no fan of losing in-state players to Wyoming
* Cowboys in the NFL: Week 8
* Pokes news and notes
This week, Muma was named a semifinalist for the Butkus and Bednarik Awards. Those honors go to the top linebacker and defensive player in the nation, respectively.
Guess who else made those lists?
"I can tell you, if I had a quarter for every time an NFL personnel guy asked me that question, I'd be a wealthy guy," Bohl said when asked to compare his star linebackers. "I'm still eating at Wendy's, so I'm not a wealthy guy."
Wyoming's eighth-year head coach called Muma and Wilson "wickedly smart" and explosive -- true sideline-to-sideline players.
"It's encouraging to me to see Chad receive some of these recognitions, because I think they're well deserved," Bohl said. "... They're top-shelf. You know, to separate them, boy, I think you're talking about a razor-thin margin."
Bohl thinks an NFL career awaits Muma. So does the guy on the opposing sideline this Saturday in Laramie, Colorado State's Steve Addazio.
"Chad Muma is an outstanding player," the Rams' second-year head coach said. "He really, really can run well. He's big, he's fast and he's going to be a pro player."
That's not all.
"Yes, I believe he is an NFL guy," Wilson said of his former UW teammate. "He has all the intangibles they look for. He does all the little things and that's what makes him a great player. I'm so happy and so proud of him that he's getting the recognition he deserves. He busts his tail everyday and he's reaping the results of it.
"He's one of those kids I will always root for not just because of his skills on the football field, but because of who he is as a person."
University of Wyoming's Top 50 Football Players
The rules are simple: What was the player's impact while in Laramie? That means NFL stats, draft status or any other accolade earned outside of UW is irrelevant when it comes to this list.
This isn't a one-man job. This task called for a panel of experts. Joining 7220's Cody Tucker are Robert Gagliardi, Jared Newland, Ryan Thorburn, and Kevin McKinney.
We all compiled our own list of 50 and let computer averages do the work. Think BCS -- only we hope this catalog is fairer.
Don't agree with a selection? Feel free to sound off on our Twitter:
@7220sports
- #Top50UWFB
- University of Wyoming's Top 50 Football Players