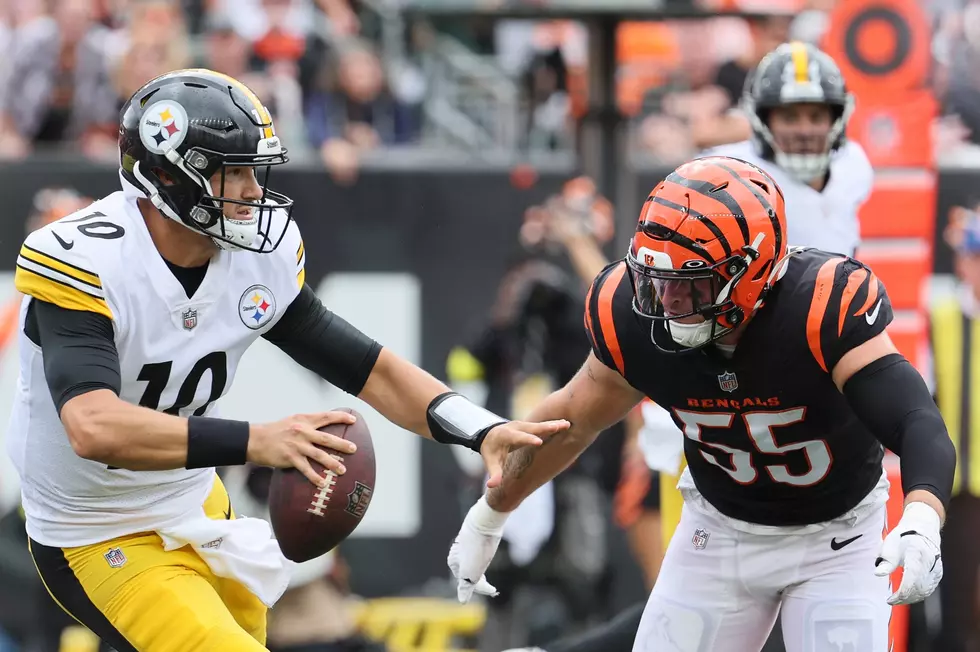 Cowboys in the NFL: Week 3
CINCINNATI, OHIO - SEPTEMBER 11: Linebacker Logan Wilson #55 of the Cincinnati Bengals pressures quarterback Mitch Trubisky #10 of the Pittsburgh Steelers during the first half at Paul Brown Stadium on September 11, 2022 in Cincinnati, Ohio. (Photo by Andy Lyons/Getty Images)
LARAMIE -- Logan Wilson sure has a nose for the football, doesn't he?
During his playing days at Wyoming, the Casper product picked off 10 passes, forced five fumbles and recovered four more.
Through just 28 NFL games, the middle linebacker has already snagged eight interceptions and stripped the pigskin from a ball carrier.
He was back it again Sunday afternoon in the Meadowlands.
Wilson leaped to pick off a Joe Flacco throw midway through the second quarter, returning it 41 yards down the sideline in a 27-12 victory over the Jets. The third-year pro did fumble the ball around New York's 12-yard line, but one of his Bengals teammates was Johnny on the spot.
Wilson also forced a fumble of his own in Cincinnati's first win of the young season.
Wilson has now intercepted passes from Ryan Tannehill, Jared Goff, Ben Roethlisberger (x2), Justin Fields, Lamar Jackson, Carson Wentz and now Flacco.
Is Tua Tagovailoa next? The Bengals and Dolphins meet Thursday night in the Queen City.
Let's check out how the other Pokes in the pros fared last week:
Josh Allen -- Quarterback - Buffalo Bills
Josh Allen wasn't in a very good mood during the Bills' 21-19 setback Sunday in Miami. As you can see in the video above, the former Wyoming gunslinger ripped Christian Wilkins' helmet off in the pile. Apparently, he had good reason, too. He was still hit with a 15-yard penalty in the loss. Allen's right arm wasn't just busy yanking head gear off, he attempted an eye-popping 63 passes against the upstart Dolphins, connecting on 42 of those for 400 yards and a pair of touchdowns. He also rushed for 47 yards on eight attempts to lead the team. Allen now has 1,014 passing yards and nine scoring strikes on his resume through three games. Buffalo will head to Baltimore to take on the Ravens this Sunday. Kickoff is scheduled for 11 a.m. Mountain Time.
Chad Muma- Linebacker - Jacksonville Jaguars
The rookie middle linebacker didn't record any stats during Jacksonville's surprising 38-10 victory over the Chargers inside SoFi Stadium Sunday in Los Angeles. Chad Muma has four tackles to hit credit through three games.
Andrew Wingard - Safety - Jacksonville Jaguars
Jacksonville safety Andrew Wingard also failed to register any stats in Sunday's win over Los Angeles. The fourth year pro has been credited with three tackles so far this season.
Mike Purcell - Defensive tackle - Denver Broncos
Have a day, Mike Purcell. Not only did the 6-foot-3, 328-pound nose tackle rack up a season-high five tackles against his former team, he also tallied a "sack" in the Broncos' 11-10 victory over the 49ers that resulted in a safety. As you can see, points were at a premium Sunday night in Denver. Purcell, a seventh year pro, chased San Francisco quarterback Jimmy Garoppolo out of the back of the end zone in the third quarter. It ended up being a blessing in disguise because if he didn't, the pick-six he just tossed to Bradley Chubb would've cost the visitors six points instead of two. Still, the Broncos pulled off the one-point win.
Carl Granderson - Defensive end - New Orleans Saints
Carl Granderson finally has a sack to his credit this season. Well, half of one, anyway. The 6-foot-5, 261-pound defensive end helped take down Baker Mayfield in the Saints 22-14 loss in Charlotte Sunday. Granderson finished the Week 3 meeting with the Panthers with three tackles. He now has eight of those, including one for loss, so far this fall.
Marcus Epps - Safety - Philadelphia Eagles
Want to hear a crazy stat? The Eagles defense has been on the field for 207 snaps through three weeks. Marcus Epps, the former Wyoming walk-on, has been out there for every single one of those, including 77 in Sunday's 24-8 victory in Washington. Epps finished with four tackles and also picked off this 2-point conversion attempt from Carson Wentz. Epps is the Eagles' second-leading tackler this season with 20 stops. He also has a stop behind the line of scrimmage.
Tashaun Gipson - Safety - San Francisco 49ers
Tashaun Gipson, the longest-tenured former Wyoming player in the NFL, tallied five tackles in Sunday night's 11-10 loss to the Broncos in Denver. Gipson picked off the 25th pass of his career in a Week 2 victory over Seattle. He now has nine tackles through three weeks.
* Chase Roullier - Center - Washington Commanders: Injured in Week 2 and seeking a second opinion on a knee injury.
* Tanner Gentry - Wide receiver - Buffalo Bills: A week after being released by the Bills, Tanner Gentry is back on the Buffalo practice squad.
Wyoming Cowboys football players in the NFL: Then and now