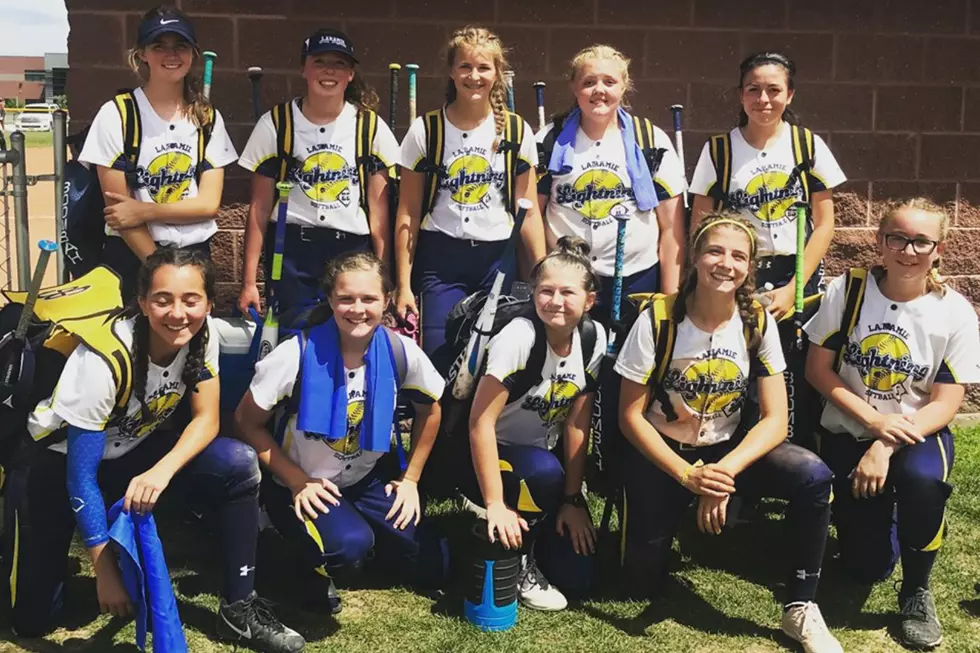 Laramie Girls Softball Moves On At State Tournament
Courtesy: Laramie Girls Softball
The first day of bracket play at the Wyoming State Softball Championships was a good day, as all seven teams are still alive heading to day two Sunday in Casper.
Three teams are in the winners' bracket, while the other four will have to battle their way through the losers' bracket if they want a shot at a title.
The defending state champion 8U Pitching Machine division Laramie Lightning won twice Saturday and advanced to the championship game Sunday at 1:15 p.m.
The 14U B division (competitive) Laramie All-Stars knocked off the Casper Voltage, 14-11, and now will face the Gillette Blue Jays at 2 p.m. Sunday for a chance to get to the title game.
The 14U Rec division Laramie All-Stars reached the semifinals with victories over the Casper Rebels and Lander Legends. They will take on the Casper Cobras at 10 a.m. Sunday with a spot in the championship game on the line.
Here are the division results and their first game on Sunday, July 14.
8U Pitching Machine
Laramie 11 Green River 7
Laramie 11 Wheatland 6
Laramie vs. Wheatland/Lander, 1:15 p.m. Sunday (NCSC Field #3)
10U Rec
Laramie 16 Casper Rebels Lime 11
Lander Legends 10 Laramie 4
Laramie 9 Casper Rebels Blue 8
Laramie vs. Gillette/Buffalo, 12 p.m. Sunday (NCSC Field #5)
10U B
Wyoming Fearless (Cheyenne) 12 Laramie 0
Laramie 14 Cody 13
Laramie vs. Gillette Blue Jays, 8 a.m. Sunday (NCSC Field #3)
12U B
Laramie 12 Wicked 307 (Gillette) 4
Rock Springs 16 Laramie 2
Laramie vs. Gillette Blue Jays/Wyoming Fearless, Sunday 10 a.m. (NCSC Field #2)
14U Rec
Laramie 12 Casper Rebels 5
Laramie 4 Lander 2
Laramie vs. Casper Cobras, 10 a.m., Sunday (NCSC Field #1)
14U B
Laramie 14 Casper Voltage 11
Laramie vs. Gillette Blue Jays, 2 p.m. Sunday (NCSC Field of Dreams #2)
18U Open
Rock Springs 17 Laramie 7
Laramie vs. Green River, 8 a.m. Sunday (NCSC Field of Dreams #1)