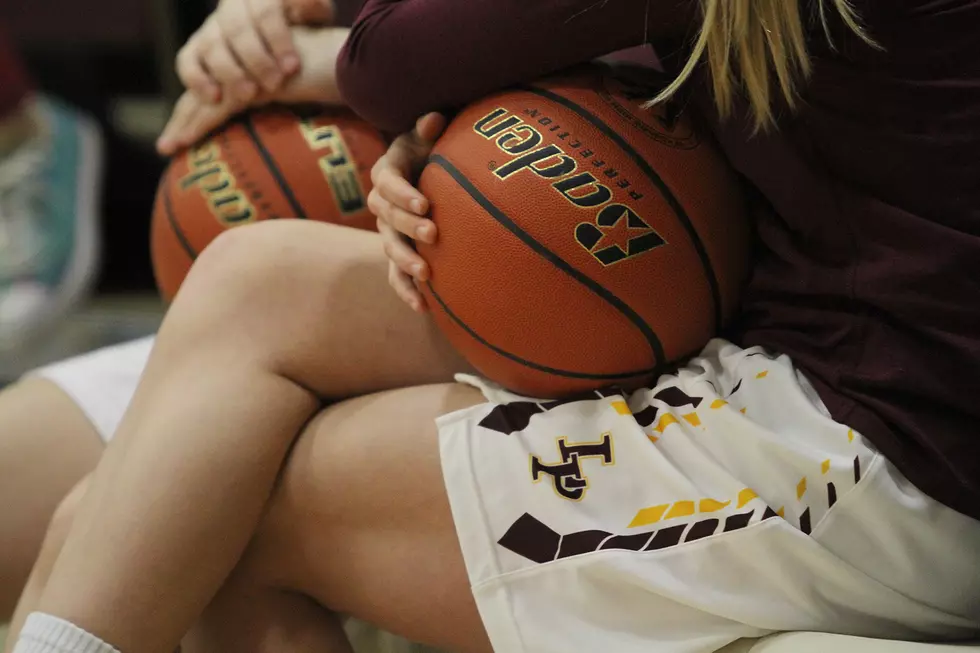 Laramie Basketball Heads West for Tournament Play
Seneca Riggins, Townsquare Media
The second weekend of the high school basketball season has Laramie in Green River and Rock Springs for the Flaming Gorge Classic Thursday through Saturday.
Both the Laramie boys and girls will play three games over three days. The schedules are slightly different from each other. KOWB (AM 1290) will broadcast the boys' game on Thursday and the girls' games on Friday and Saturday.
Laramie Plainsmen
Laramie (3-0) is coming off a good start at last weekend's Casper Buick GMC Cadillac Invitational. With wins over Riverton, Jackson and defending Class 4A champion Kelly Walsh, the Plainsmen find themselves ranked fifth in the new WyoPreps.com Coaches and Media Poll. They beat the Wolverines 51-42, the Broncs 67-47, and the Trojans 59-42.
Now LHS gears up for Evanston on Thursday at 2:40 p.m. Then on Friday, it's a match-up against 3A Mountain View (WY) at 9:40 a.m. The final game on Saturday is against Grace, ID at 9:40 a.m. All three of the boys' games are at Green River High School.
Plainsmen head coach Jim Shaffer said they've been focused on continual improvement with what they have in. As for this weekend, he feels Evanston will be a good game for them
"They're big. They'll start 6-6, 6-4, 6-4. They're always physical. They're always tough, so it'll be a good test for us. (I) don't know much about Mountain View (3A), other than they've got really good athletes. They won the 2A state football title, and we know nothing about Grace, ID. We've got to take it one game at a time, and the Evanston game is a big basketball game for us."
KOWB (AM 1290) will broadcast Thursday's game against the Red Devils starting at 2:06 p.m.
Laramie Lady Plainsmen
Laramie (1-2) enters this weekend off their first victory of the season. The Lady Plainsmen dropped their first two games at the Strannigan Classic in Riverton last weekend but wrapped it up with a win over Rock Springs. LHS fell 64-35 to the host Wolverines. Then came a 49-30 loss to No. 5 Kelly Walsh. Behind great defense, Laramie held down the Tigers, 31-24.
For the Lady Plainsmen, they open against Class 3A Lyman at 2:40 p.m. on Thursday. That game is at Rock Springs High School. Next will be a match-up against Star Valley at Lincoln Middle School in Green River at 9:40 a.m. on Friday. The final game is back at Rock Springs High School on Saturday against Evanston at 11 a.m.
Laramie coach Rod Tyson said their focus continues to be on day-by-day improvement.
"We're working on becoming a team, passing the ball, boxing out, a lot of the little things we weren't doing well. The one thing we have been doing well is hustling, so everyone's working hard, now we've got to work smarter. I don't know much about any of our opponents. We didn't play any of them last year, so it'll be new for us, but I'm more worried about our team in the preseason. I just want us to be better each time."
KOWB (AM 1290) will be broadcasting Friday and Saturday's games. The coverage will start at 9:06 a.m. Friday and at 10:45 a.m. on Saturday.
David Settle will call all the action from Green River and Rock Springs.
Enter your number to get our free mobile app