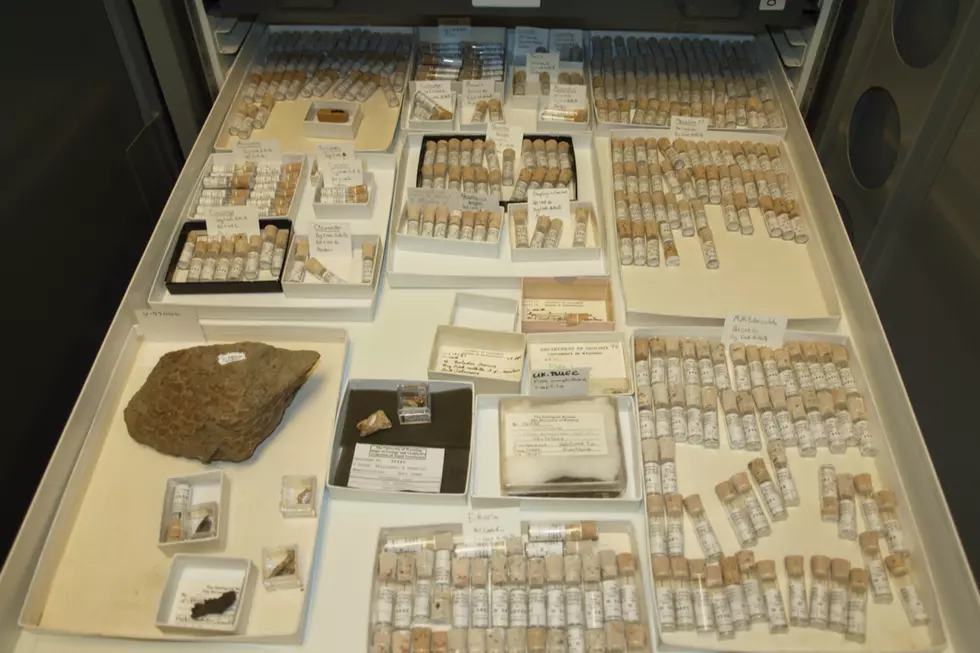 UW Geological Museum Receives Grant to Digitize Fossil Collection
UW Photo. An example of a drawer from the UW Fossil Vertebrate Collection.
The UW Geological Museum currently has about .5 percent of its 5,000 fossil specimens on display for the public. The other 99.5 percent are kept in storage and only occasionally viewed by researchers, UW says.
Now, with the grant, the museum will begin digitizing the items to make them available for researchers, schools and the public.
"A lot of these specimens are federally owned. A lot were found on BLM land," says Laura Vietti, UW Geological Museum and collections manager, in a statement. "We're caretakers of these specimens. It's a shame only 100 people, including students, a year get to look at them when they are owned by everybody. We only get about 10 visiting researchers a year, which is very small based on how good our collection is."
The project, titled "The Cretaceous-Paleogene (K-PG) Fossil Mammal Project: Digitizing and Sharing Wyoming's Rare Fossil Mammal Collection for Understanding Mammal Extinction and Recovery through Ecosystem Collapse" will take two years. The project will create 15,000 research-quality images of about 5,000 mammal fossils, some of which are as small as the head of a pin.
The fossils span the Cretaceous-Paleogene mass extinction, which is the period shortly before and after dinosaurs died out. The specimens all originate from sites in Wyoming, including the Big Horn Basin, Hanna Basin, the Great Divide Basin near Bridger and the Lance Formation near Lusk.
The digitized fossils will be available to view through the museum's online database and the data aggregator and the web portal.