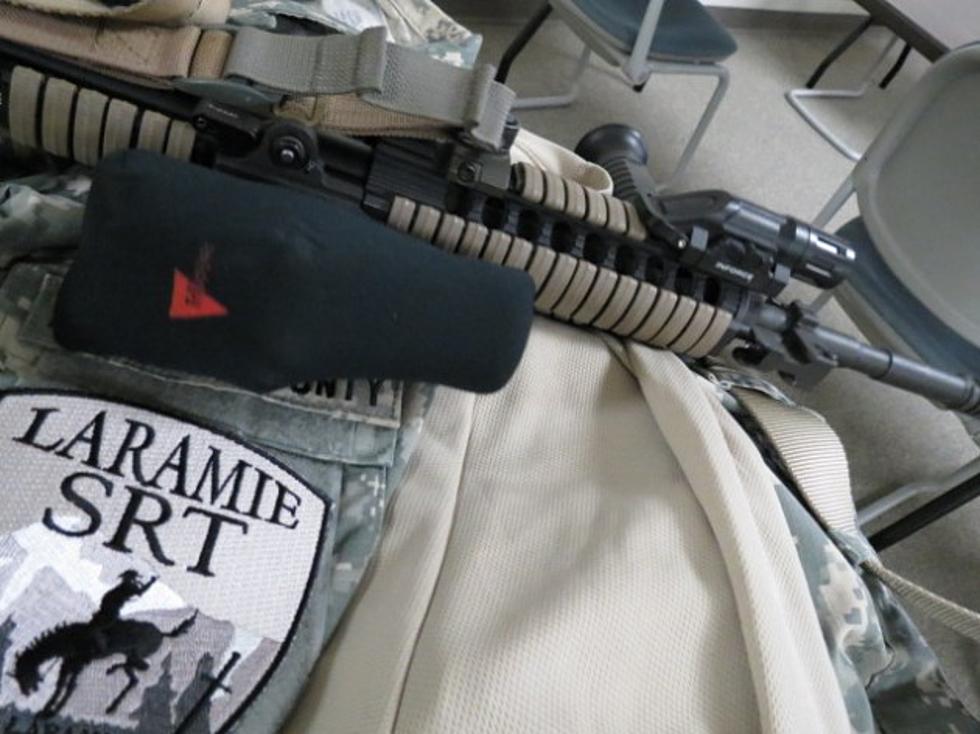 Special Response Team In Laramie
Tracie Perkins/Townsquare Media
Many Laramie residents do not know about the Laramie Police Department's Special Response Team. This is a part-time team made up of specially trained individuals to take on any issue that may arise requiring a response that exceeds the capability of the normal patrol shift.
The team is activated for a variety of calls including hostage situations, people threatening to harm themselves and/or others, shooting situations and even for some searches and locating missing persons. According to SRT Commander Jeff Bury, the SRT can be activated for many different things and not all require a tactical response. They are often asked to help in situations that require a well-trained team with special training that has experience working together. They can be called to areas throughout Albany County.
The team is allotted 13 people from the Laramie Police Department. In addition people from the Albany County Sherriff's Office, Department of Criminal Investigation, University of Wyoming Police Department and Fire Department all work together on the SRT. They are also allotted up to three EMTs to help the team in emergency situations.  In all, it is an 18 man team.
Commander Bury says the team trains once a month in a variety of situations. Some training includes traditional classroom type work, while others are more hands on. The team often uses buildings and businesses which are unoccupied, being renovated or soon to be torn down. Commander Bury says they do this to try to limit the impact their training has on business owners and those living in the area.
The SRT trains for all kinds of scenarios. They utilize whatever building and facilities become available. They have trained in schools, theaters, apartment buildings, dorms and hotels among other places. They try to train for whatever might happen in Albany County.
"We are exposed to the same things the big cities are, just in a less concentrated less frequent manner," says Commander Bury.
The team, which has been a part of the Laramie Police Department since 1970, has a variety of equipment and gear to serve the community. Commander Bury says that although much of what the team had was destroyed in a fire, they have what they need to protect the community. Some of what they have and use includes an armored vehicle, an ambulance, night vision equipment, pole cameras and flash bang devices just to name some.
Officers in the SRT point out that everything they have serves the purpose of rescue and protecting the community. The equipment they use is made and used for law enforcement situations.
The Special Response Team continues to train for a variety of situations every month. If you see their vehicles parked outside of a building, they may be training. Commander Bury says that police dispatch is informed of when and where they will do training. If you have questions about why they are in a location, call the non-emergency dispatch number at (307) 721-2526.