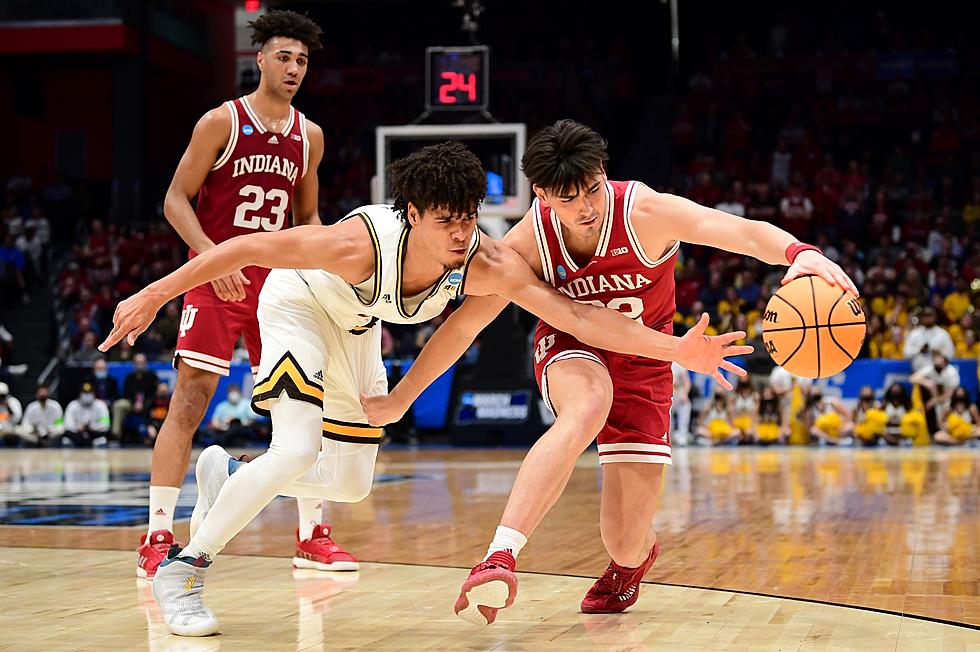 Rants & Raves: Indiana Edition
DAYTON, OHIO - MARCH 15: Brendan Wenzel #5 of the Wyoming Cowboys and Trey Galloway #32 of the Indiana Hoosiers compete for a loose ball during the second half in the First Four game of the 2022 NCAA Men's Basketball Tournament at UD Arena on March 15, 2022 in Dayton, Ohio. (Photo by Emilee Chinn/Getty Images)
DAYTON, Ohio -- Sunday afternoon, the selection committee slid the Cowboys into the NCAA Tournament. Just over 48 hours later, Indiana pushed them right back out.
Wyoming fell to the Hoosiers 66-58 Tuesday night inside UD Arena courtesy of a dominating performance from Trayce Jackson-Davis and a season-worst 19 turnovers.
Indiana's big man poured in a game-high 29 points and hauled in nine rebounds. Jordan Geronimo also sparked the boys from Bloomington, capping his night with 15 points off the bench.
Hunter Maldonado led the Cowboys with 21 points, but was also responsible for 10 of those giveaways.
Wyoming lost the battle in some important categories -- rebounds (39-30), points in the paint (46-26), fast-break points (16-0) and points off turnovers (17-3).
It's not easy to win in March when you hook the opponent up like that.
We typically reserve these rants & raves for football season, but what the heck? We saw plenty of opinions flying around Tuesday night. Why not share some?
If you dare, here are some of the thoughts you shared on the world wide web:
FIRST HALF
Facebook: Sabrina N Alan Hamner: Keep that score low! It's irritating Indiana, they are getting frustrated!
Facebook: Marianne Scotty Cochran: Someone has GOT to start scoring consistently...........so frustrating to watch!
Facebook: Christian Lasher: Clean up the turnovers and lack of boxing out and we win this game. Despite lack of offense from Ike. You know…the basics.
Facebook: Juan Soto: Have we taken a single jumper inside the arc? They've totally taken us out of our game but we're still in it.
Facebook: Christopher Paul Wagner: Indiana is good but not that good….box out and clean the glass and we got this….
Facebook: Ross Brezicky: I know it's only a 5 point deficit but I feel this slipping away
Facebook: Andy Gardner: Turnover, turnover, missed duck, turnover
SECOND HALF
Facebook: Thor Stephenson Jr.: Great season, but doesn't matter who you are, you turn the ball over like this you won't beat the weak sisters of the poor!
Facebook: Jason Naber: Look on the bright side there will be a lot of videos showing us getting dunked on
Facebook: David Nagel: At least we have memories of Fennis and Leckner. Such a winnable game gone.
Facebook: Sean Dunn: Great improvement from last year. Piss poor tonight. Hard on the heart being a Poke Fan...
Facebook: David Smith: I'm not disappointed in them I'm disappointed for them I do want to thank the kids and coaches for making basketball an event again How far the program is coming to short seasons is amazing
Facebook: Shane Crosley: Will be interesting to see what the team looks like next year. Could be exactly the same, could be unrecognizable compared to this year. Go Pokes great season!
Facebook: Clay Daniel Cates: Other than (the) loss, we were in the game until the bitter end. The reason everyone is frustrated tonight is because we believed that we could win. That says a lot about our program and this team. They got this fan base to believe again. I'm sad because it's over but I am extremely proud of our Cowboys.....
Facebook: Mark Ragsdale: Great season. Nobody wanted to win more than those kids. Made me proud to be a cowboy.
Facebook: Michael Fox: Great season. They didn't play their best game today but Indiana had a say in that matter too.
Facebook: Dave Corpuz: It was a great ride that nobody expected we would take. Can't let the finish diminish the season. Turnovers, tired legs down the stretch, shooting woes...all things that can be fixed in a young team and Linder is the guy to do it. The foundation is there. Pokes will be back.
Just The Facts: Size Doesn't Matter For Wyoming's War Memorial Stadium
Did you know it would take the populations of
Gillette
(32,857),
Laramie
(32,381),
Rock Springs
(23,319),
Sheridan
(17,844) and Wright (1,200) to create a sellout inside Michigan's famed 107,601-seat
Big House
, the largest college football stadium in the nation?
For those of you not familiar with the
Cowboy State
, those are Wyoming's third through sixth most inhabited cities, along with the small mining town in Campbell County.
- Just The Facts: Size Doesn't Matter For Wyoming's War Memorial Stadium