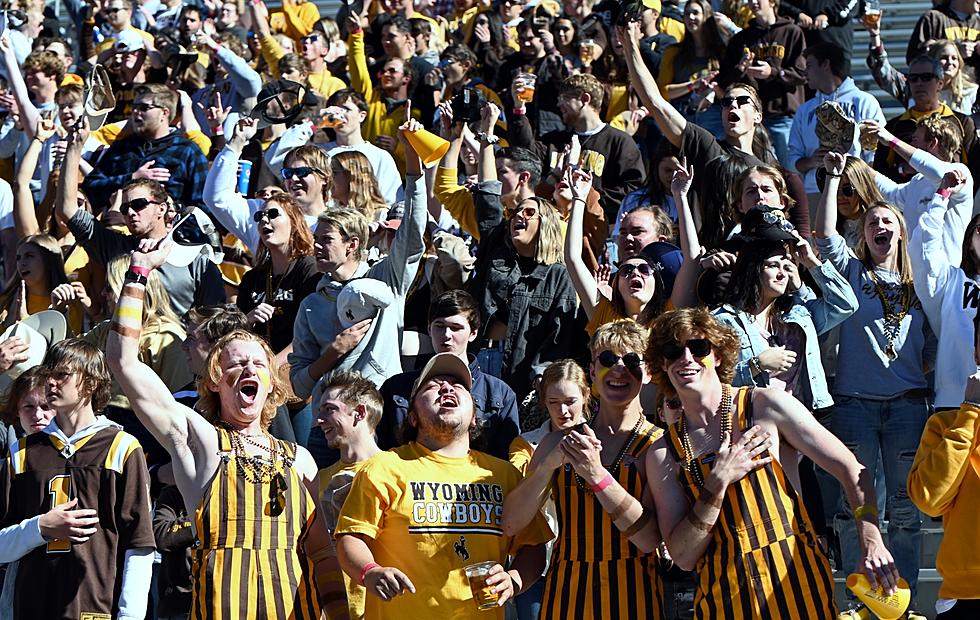 Rants & Raves: Fresno State Edition
Wyoming football fans celebrate in the stands during the Cowboys game versus Fresno State Saturday in Laramie./ DJ Johnson
LARAMIE -- Wyoming fans were not happy today.
They shouldn't have been either.
The Cowboys offense turned the ball over five times -- four interceptions and a fumble -- and Fresno State walked away with a 17-0 win inside War Memorial Stadium. The Cowboys haven't been shutout at home since 2009.
Wyoming's defense pulled its weight, holding Jake Haener to just 96 yards passing. He averages nearly 400 yards through the air per game. Wyoming's defense was stellar. The offense, not so much.
Let's check out what the fans on social media had to say about the first home blanking in nearly a dozen years:
FIRST HALF
Sam Burkett Facebook: At this rate I'd be surprised if we won another game this year. This was the worst performance I've seen in years
Dustin Merritt Facebook: Looking like more to come. We have to try something different. This isn't working.
Guy Hale Facebook: I try really hard not to get down but I kinda feel like our first points are going to have to come from the defense.
Kelsey Lyn Ketelsen Facebook: First home game I have missed in 10 years....glad I can spend it with you, Guy!!!
Scott Dorris Facebook: Would be nice if the offense shows up today and doesn't jus let the D play the game by themselves again.
Luke Todd Facebook: Realistically, we are a 6-6 team every year. Expecting more is great, but not holding my breath.
Clinton Jones Facebook: Hey. Let's throw the ball to the guys on our team for a change. Cmon. This is embarrassing
Second Half
Marianne Scotty Cochran Facebook: I hope our reporters don't go easy on Bohl at the press conference! If he gets pissy, Don't let him off the hook! I'm sick of his excuses!
Darren Thompson Facebook: Agree. Time for the little league coaches to ask him whether this is what we should expect from his giant salary...
Richard Oien Facebook: Been saying this for two years and get crucified by this group. Bohl needs to go. If he doesn't get lucky recruiting Josh Allen his record would be pathetic
Richard Oien Facebook: We got lucky against Montana St. We got lucky against Connecticut. Some would say we got lucky against Northern Illinois. powerhouses. Got drilled by Air Force and Fresno. Hopefully one day people will start looking at our coaching.
Darren Thompson Facebook: Please God, more liberty mutual commercials
PRESS PASS: Roaming The War
Wyoming Cowboys vs. Montana State Bobcats
-PRESS PASS: Roaming The War