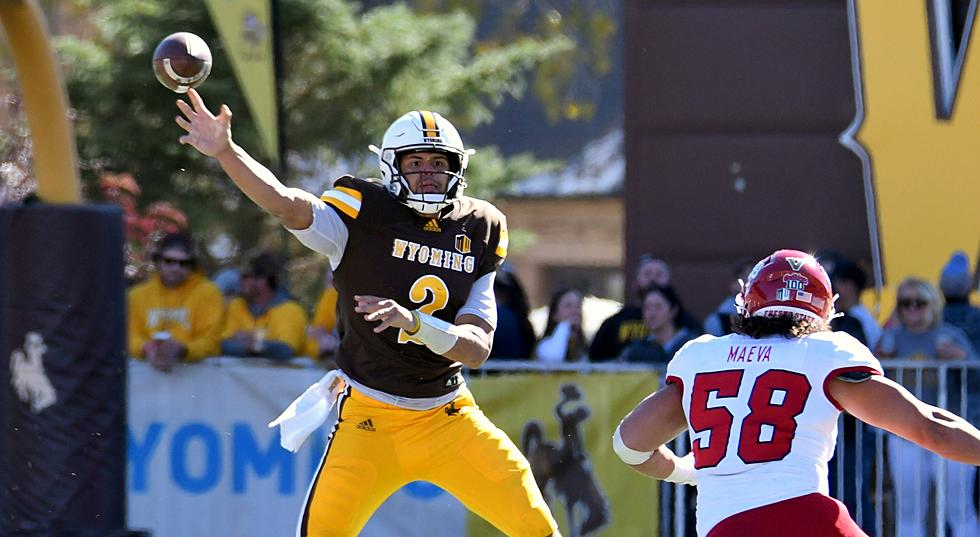 Sean Chambers leaps to fire a pass against Fresno State last Saturday in Laramie./ DJ Johnson photo
LARAMIE -- Craig Bohl has a big decision to make at the quarterback position.
That choice wasn't made today.
Wyoming's eighth-year head coach said Sean Chambers and Levi Williams will have to earn it this week.
"This week, we're going to evaluate the quarterback position," Bohl said. "Whoever we feel like at the end of the week gives us the best chance to win is going to be the guy that's going to go out and start the game. We need to improve with that position."
Chambers was 8-of-23 for 111 yards passing to go along with three interceptions. He also fumbled on the Cowboys' second play from scrimmage in the 17-0 home loss to Fresno State. Williams came in late in the fourth quarter and went 1-of-7 for 32 yards and a pick.
Bohl was clear -- this isn't an open competition. It will be either Chambers or Williams under center. Hank Gibbs, Gavin Beerup and Jayden Clemons will not be considered.
"We've balance those reps out during the course (of the season)," Bohl said. "Levi has gotten probably, maybe 40% of the reps, sometimes a third to 40%, and Sean has garnered the other portion of the reps. That will be split this week."
Here are some other tidbits from Monday's Zoom call with the media:
* Don't expect Bohl to throw his quarterbacks -- or any of his players -- under the bus. Yes, the Cowboys' offense has been inefficient the past two weeks, but that doesn't fall on the shoulders of one guy, he said. "I think many times the quarterbacks get too much credit when things go well and they get too much blame when things don't go right," Bohl said. "I also want to put it in this context, too -- those guys that are out there playing, whether it's Sean or Levi, are working extremely hard. They're doing everything they can to win for the Cowboys."
* Trey Smith has just seven carries for 14 yards this season and hasn't received a handoff since the Cowboys' Week 3 win over Ball State. What gives? Bohl said Monday that the super senior running back is healthy and has played sparingly. Right now, however, Bohl said he is going with the 1-2 punch of Xazavian Valladay and Titus Swen. "We've kind of settled in a rotation between X and Titus, but Trey's in the mix."
* Wyoming was one of the best turnover-margin programs in the country. Were. The last two weeks, the Cowboys have handed Air Force and Fresno State a combined seven giveaways -- four interceptions, three fumbles. The Bulldogs forced five alone in the 17-0 win Saturday in Laramie. "Obviously, the big factor that we've got to control and get our arms wrapped around is our turnovers," Bohl said. "It's very difficult to win a game when you turn the ball over five times. We didn't get any. So, those things need to be addressed. Some of it is you can credit Fresno State's defense. They played aggressively and were well position, but certainly we need to take care of the football better." Before the Week 4 game at UConn, Wyoming was leading in this category, 7-2. Now, the Cowboys are at minus-1 on the season.
MORE UW FOOTBALL NEWS:
* Rants & Raves: Fresno State Edition
* Turning point, unsung hero and what's next for UW football
* Behind the numbers: Wyoming vs. Fresno State
* Three takes: This is kicking the door down?
* The Cowboys' trademark downhill running game has been MIA over the last eight quarters. Bohl said there are plenty of reasons for that, but it all starts with the guys up front. "I think the biggest thing is we need really need to finish off our blocks with the offensive line," he said. "You know, we've got an experienced, veteran offensive line. With that though there needs to be maybe an increased level of detail to when you engage and block a guy and your blocking the right guy that you finish that block off. And that, many times, is difference between a three-yard gain and an eight-yard gain."
* Wyoming converted on just 7-of-14 opportunities in the loss to the Bulldogs. Why? Way too many third-and-longs, according to Bohl. It's true. The average third down on those attempts was nearly seven yards.
* Bohl said he's not concerned about having a fractured locker room, which can sometimes happen when one side of the ball is carrying the weight while the other unit struggles. "We've talked about the team unity -- you win as a team, you lose as a team," he said. "I think a lot of those guys, that comes back to some bedrock character. Our players recognize that we're pulling for each other."
* Azizi Hearn, along with the rest of the Cowboys' defense, held Fresno State quarterback Jake Haener to just 96 yards passing on 28 attempts last Saturday in Laramie. Haener was averaging nearly 400 yards through the air coming in. "Our secondary has really been solid," Bohl said. "They've played where they're supposed to be, and both our corners, CJ (Coldon) and Azizi, I think, are planning at a really high level."
* New Mexico snapped a FBS-worst 14-game losing skid against Wyoming last December in Las Vegas. Wyoming tight end Treyton Welch hasn't forgotten. "It was a tough night," he said. "I just don't think there was a lot of energy that night. So, I think, this game we're going to come and punch them in the mouth.
* The Lobos are 2-5 and are currently in the midst of a five-game losing skid. Wyoming's offense has struggled, but New Mexico's woes on that side of the ball have carried on during this streak. Danny Gonzales' team is averaging just seven points per game. In the Lobos 36-7 home loss to Colorado State Saturday, their only offense came in the form of a Luke Wysong 63-yard punt return for a touchdown. The Rams defense held the home team to just 76 yards of total offense, the second lowest in UNM history.
* Las Vegas likes the Pokes in this one. Oddsmakers at BetMGM list Wyoming as an early 19.5-point favorite.
* Join Ryan Clement and I on Facebook Live tonight at 6 p.m. live from Dillinger's Bar in downtown Cheyenne. If you're in town, stop by and watch Josh Allen and the Bills take on the Tennessee Titans.
* Stay tuned to 7220sports.com for all your Wyoming football coverage throughout the season.
University of Wyoming's Top 50 Football Players
The rules are simple: What was the player's impact while in Laramie? That means NFL stats, draft status or any other accolade earned outside of UW is irrelevant when it comes to this list.
This isn't a one-man job. This task called for a panel of experts. Joining 7220's Cody Tucker are Robert Gagliardi, Jared Newland, Ryan Thorburn, and Kevin McKinney.
We all compiled our own list of 50 and let computer averages do the work. Think BCS -- only we hope this catalog is fairer.
Don't agree with a selection? Feel free to sound off on our Twitter:
@7220sports
- #Top50UWFB
- University of Wyoming's Top 50 Football Players