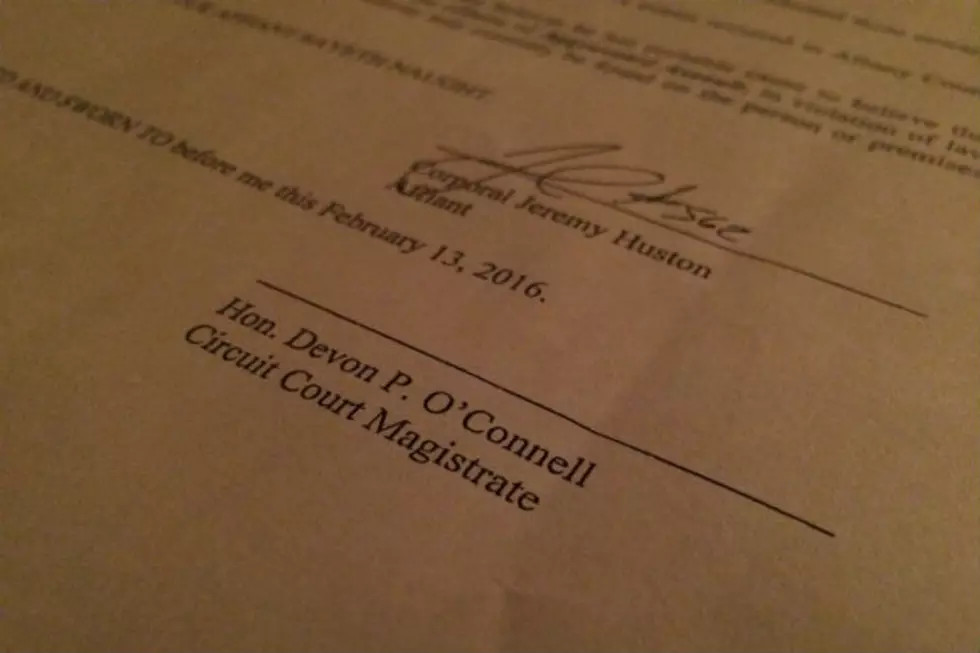 Laramie Attorneys Say Missing Signature Made Search Warrant Invalid
Nick Learned, Townsquare Media
Defense attorneys argued Tuesday that paperwork supporting a search warrant does not meet a standard set by the Wyoming Constitution, and now they have until Friday to show through case law why an Albany County District Court judge should throw out evidence that could incriminate a Laramie couple facing drug charges.
Mitzi Welsbacher, 51, and her husband Shawn Welsbacher are each charged with two felonies: possession of marijuana and possession with intent to deliver. If convicted, they could each face up to 15 years in prison and have to pay $20,000 in fines.
The couple was arrested after a SWAT team searched their property in February and allegedly discovered 10 pounds of marijuana, $1,057 in cash, a gram of methamphetamine, scales, packaging equipment and three cell phones.
But defense attorneys say that evidence should be excluded under the Wyoming Rules of Criminal Procedure because of a missing signature on paperwork used to obtain a search warrant for the Welsbachers' property.
"By all indications, it was simply an error – no bad faith about it," Judge Jeffrey Donnell remarked on Tuesday.
It may well have been a simple error, but "it is not simple in its effect," argued Candace Pisciotti, who represents Mitzi Welsbacher.
According to court documents, an Albany County Sheriff's deputy was first dispatched to the Welsbacher residence on Feb. 12 at 8 p.m. to investigate a complaint of aggravated assault.
The complaint alleged that Shawn Welsbacher pointed a gun at some members of a group of four people who reportedly traveled up from Steamboat Springs, Colo., so that one of them could pick up a vehicle she owned that was stored on the Welsbachers' property.
According to an affidavit of probable cause signed by Albany County Sheriff's Deputy Jeremy Huston, the group of people said Shawn Welsbacher came outside to confront them after they arrived. Welsbacher reportedly started yelling at the owner of the vehicle and, when her husband tried to intervene, Welsbacher allegedly raised a black handgun and said he would shoot each of them.
Huston's affidavit goes on to say that Welsbacher allegedly called dispatch later that evening to say "those cowards, it was only a b-b [sic] gun."
No charges stemming directly from the aggravated assault complaint are currently pending against the Welsbachers in District Court.
Huston testified at Tuesday's hearing that Albany County Attorney Peggy Trent prepared the affidavit that Huston signed and took to Circuit Court Magistrate Devon P. O'Connell on Feb. 13 in the hopes of obtaining a warrant to search the Welsbachers' property for the handgun Welsbacher allegedly used to threaten the couple, along with one magazine and any ammunition for that particular weapon.
O'Connell granted and signed the search warrant that day, but did not sign Huston's affidavit in support of the warrant. Deputies executed the search warrant later in the day and allegedly found marijuana and paraphernalia in plain view, prompting them to get another search warrant for the drugs and eventually arrest the Welsbachers.
Defense attorneys for Mitzi and Shawn Welsbacher say because of the missing signature on Huston's affidavit supporting the first search warrant, that warrant falls short of the threshold set by Rule 41(d) of the Wyoming Rules of Criminal Procedure, which states in part "A warrant shall issue on an affidavit sworn to before a person authorized by law to administer oaths and establishing the grounds for issuing the warrant."
Defense attorneys say because the warrant is not in order, any and all evidence discovered during the execution of that warrant was improperly obtained and therefore cannot be used to prosecute the Welsbachers.
Since O'Connell did not sign the affidavit, "there is no indication on it that the magistrate was present," according to defense attorney David Korman, who represents Shawn Welsbacher. Korman says there can be no certainty that the affidavit was sworn to without O'Connell's signature on the document.
Huston testified Tuesday that he did swear to the affidavit before O'Connell – testimony that Donnell noted went unrebutted – but Korman says testimony after the fact doesn't carry any weight with regard to Rule 41(d).
"You have to look at the four corners of the document," said Korman. "The highest protection should apply in a case like this."
Donnell responded by saying while only the affidavit itself could be considered in examining facts supporting the search warrant, the four corners doctrine does not apply when looking at whether the document was sworn to.
"This requirement is there for a reason," said Korman. "[The Wyoming Supreme Court] wants writing and they want it sworn to."
Pisciotti argued along the same lines as Korman, saying the affidavit is the only record courts and defendants have to be sure proper steps were taken and defendants' rights were protected in accordance with the Wyoming Constitution.
"The affidavit needs to stand on its own two feet initially," Pisciotti said as she argued that Huston's testimony retroactively supporting the search warrant falls short of what is required by state law.
Jasmine Fathalle, an intern in the Albany County Attorney's Office, represented the state Tuesday. She argued that the missing signature was nothing more than a "clerical error," saying there is enough evidence to determine that Huston's affidavit was sworn to. Fathalle contends that the affidavit is and was valid throughout the process because O'Connell signed the search warrant, which the affidavit supported.
Neither side was able to cite case law from Wyoming nor any other jurisdiction with functionally similar rules that deals specifically with the issue of a missing signature. Donnell gave attorneys until Friday to produce such case law.