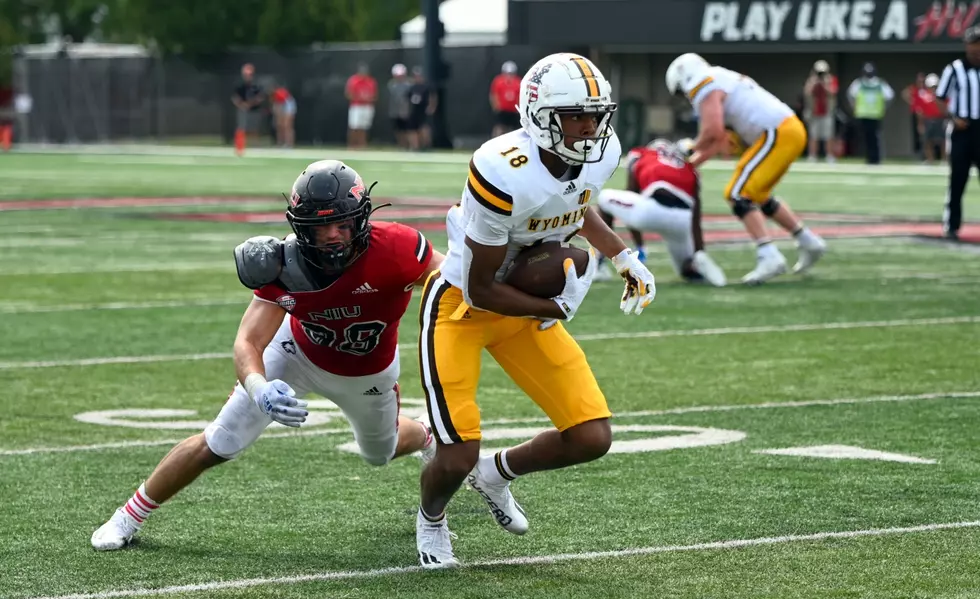 Father's murder motivates Josh Cobbs to become Wyoming's top WR
Wyoming wide receiver Joshua Cobbs, who now wears No. 8, is the Cowboys' leading receiver coming into the 2022 season./ DJ Johnson photo
LARAMIE -- At approximately 11 p.m. on the night of May 5, 2020, shots rang out on the east side of San Antonio, Texas.
One of the bullets grazed a young woman in the forehead. Another female was struck in the arm. It was a drive-by shooting. Police are still searching for that maroon SUV to this day.
There was one casualty.
Anthony Hardeman, 33, was hit in the chest. He later succumbed to his injuries at a local hospital.
Just five days after that life-altering night, Hardeman's son was checking into his dorm room in Laramie and attempting to bury himself in a playbook.
Football was always a welcome distraction for Joshua Cobbs. Then, more than ever.
"It was hard," Wyoming's sophomore wide receiver said. "I wasn't able to be with my family. With my family, I have to be the guy that gets everyone's energy up and things like that, because it was a hard time for everybody. But, you know, football helped me through it."
During that COVID-19 shortened first season, Cobbs appeared in five of the Cowboys' six games. The 18-year-old didn't record any statistics, but that wasn't the point. Just playing the game served as a sought-after diversion.
"It's hard -- and sometimes I have my issues," he continued.
Cobbs credited Craig Bohl and his position coach, Mike Grant, with making the transition as smooth as possible. Eric Donoval, UW's Director of Sports Performance, also played a major role in the healing process.
"He gave me a couple of book options to read," Cobbs said of Donoval. "He just helped me learn to compartmentalize. You know, when football comes around, that's like my safe haven. I'm able to take a little bit off my mind and get that off my mind for a while."
Before the 2021 season, Cobbs showed up to summer workouts with some new artwork on his throat. Grant joked that the tattoo will "cost him a job or two," but Cobbs knows it's all in good fun.
It features the No. 1 with sunbeams cascading from the background. In cursive, it simply says "chosen."
His father had one that was very similar.
"Where I'm from, not many people make it to this point," Cobbs said. "I feel like when it says 'chosen one,' that doesn't mean I'm above anyone, that means in my community, I was chosen to do something greater."
MORE UW FOOTBALL NEWS:
* Wyoming's new defensive tackles coach is shacking up in the dorms
* Pokes Practice Report: Defense takes center stage Monday
* Bohl impressed with edge rushers early in camp
* Who has the best helmet in the Mountain West Conference?
Greater is what the Cowboys' need Cobbs to be on the field this fall.
Last year, the 6-foot-4, 204-pound speedster hauled in 25 passes for 245 yards and a score. His breakout performance came against the eventual Mountain West Champions in late November when he snagged six balls for 76 yards, including a 19-yard touchdown grab in a 44-17 road rout of Utah State. All were career highs.
His running mate in 2021, Isaiah Neyor, entered the transfer portal this offseason and took his 44 receptions for 878 yards and 12 receiving touchdowns with him to the University of Texas.
Cobbs knows the pressure to perform is there. But, he said, it always has been.
"I'm very hard on myself," he said. "And honestly, even before he left, I felt as if I could create a bigger role for myself and help the team."
Did that outing against the Aggies serve as a confidence booster?
Not exactly.
At Wagner High School, Cobbs earned First Team All-District 13 in Class 5A-1 as a senior after catching 27 passes for 661 yards and an eye-popping 17 touchdowns. Dave Campbell's Texas Football Magazine called Cobbs "the most impressive specimen in the game."
So, was it nice to do that to the champs? Of course. But it's expected if you ask Cobbs.
"Nothing here is given, so everybody knows their role," he said. "You know, I was just happy that I was able to go out there and show what I could do. You know, we'll go from here."
Over the final three games of the season, Cobbs accounted for 12 grabs and 124 yards.
"Well, I think he has that ability and he's capable of it," Grant said of Cobbs becoming the team's go-to wide out this fall. "It's only going to help our offense.
"... Josh has really improved. He's always been a leader. He's the first guy in line for drills and I don't see anyone in the group feeling negative about it. You know, they follow as he leads, so that was never anything that we had to talk to him and stress about. He came with that. He built that kind of energy that I love to see he brings with him to practice every day."
Grant isn't the only one who sees a big year ahead for Cobbs.
"It's been great to see Josh's maturity (rise)," Bohl said. "His presence on our football team is certainly noted. I appreciate Josh."
Cobbs said he journals on a daily basis. His thoughts. His feelings. His goals.
He wanted to be a Freshman All-American. That didn't happen. Now, he just wants to remove the first word in that title. But even if that doesn't happen, he said, he always has his eyes on one prize.
"It's obviously winning," Cobbs said. "I just want to help the team win."
UW vs. NIU September 11, 2021