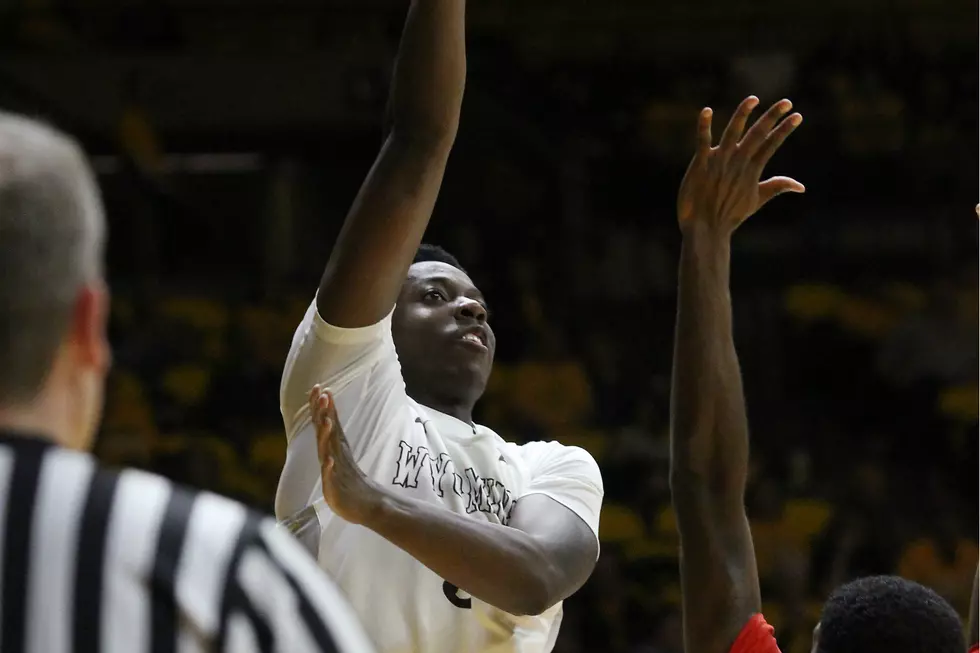 Cowboys Need Extra Time to Slip Past Drake [VIDEOS]
Seneca Riggins, Townsquare Media
Alan Herndon scored a career-high 32 points and grabbed 10 rebounds to lift the Wyoming Cowboys past the Drake Bulldogs, 96-89, in double overtime Saturday.
Herndon made a career-best six 3-pointers and tied his career-high with five assists. He added four blocked shots. Herndon was one of three Cowboys with double-doubles in the victory.
Justin James contributed 24 points and a career-best 12 rebounds, while Hayden Dalton had 17 points and 14 rebounds for his second double-double this season. James added a season-high six assists.
Wyoming (6-2) out-scored the Bulldogs 14-7 in the second OT. Baskets by Dalton and Louis Adams gave the Pokes an 86-82 lead. Dalton and James knocked down key 3-pointers that kept it a two possession game.
The Cowboys had two chances to win it. James missed a runner in the lane at the end of regulation and a baseline jumper at the end of the first overtime.
Wyoming shot 42 percent from the field. They made 13 three's and had 28 assists on 35 field goals. The Cowboys also finished with eight blocks and 11 steals. UW hurt themselves by going 13-25, 52 percent, at the free throw line. That's 25 percent below their season average.
Drake (4-3) was led by Reed Timmer with 28 points. The Bulldogs shot 39.5 percent from the floor. They were aided by 23-29 at the foul line, 79 percent. Drake hurt themselves with 17 turnovers that led to 14 points for Wyoming.
The Pokes used a 13-3 run and opened up a 25-15 lead with 8:40 left in the first half. The Bulldogs responded with a 14-0 run and took a 29-25 lead. It was tight after that. Drake held a 38-37 lead at halftime. Neither team led by more than five points until UW got up by six and seven points, respectively in the second overtime. The game featured 12 ties and 15 lead changes.
Wyoming heads on the road to face Final Four participant South Carolina Wednesday in Columbia, SC. Game time is at 5 p.m., Mountain Time.