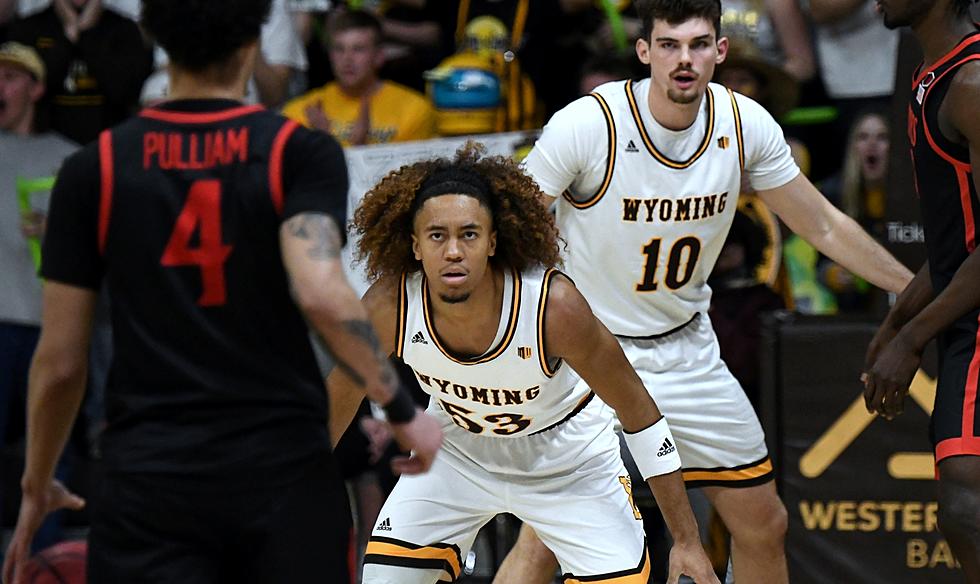 Pokes look to rebound tonight in Sin City
Xavier DuSell and the Cowboys will take on UNLV tonight inside the Thomas & Mack Center in Las Vegas./ DJ Johnson photo
LAS VEGAS, Nev., -- The Cowboys hit the road for the final road contest of the season facing UNLV in the Thomas & Mack Center on Wednesday at 8:30 p.m. MT in a contest on FS1.
It is the only meeting between the two schools this season.
"They have some good athletes and good quickness," Wyoming head coach Jeff Linder said of the Rebels. "They do a bunch of ball screens, and (Bryce) Hamilton, we know all about him. I mean, he's a a guy who can go get you 40 if you don't guard him right.
"We have a quick turnaround. It's going to be more about us and what we do."
Fans can, listen to the contest, as well as follow stats on GoWyo.com. The contest will be broadcast live on radio over the 26 affiliate stations of the Cowboy Sports Network, as Reece Monaco will have the call with Kevin McKinney on color.
About The Teams
The Pokes head into the contest with a 23-6 overall record and a 12-4 mark in conference play.
The Cowboys dropped a home contest to San Diego State by a score of 73-66 on Monday night. Wyoming is in a stretch of four games in seven days to close out conference play. The Cowboys lead the conference and rank No. 30 in the nation grabbing 27.7 defensive rebounds per game.
The Pokes rank second in the conference with 10.8 rebounds per game to rank No. 33 in the nation. The Cowboys recorded eight turnovers on Monday against San Diego State.
MORE UW BASKETBALL NEWS:
* 'Next question': Why isn't Graham Ike getting to the line more?
* Tuck's 10 takes: Matt Bradley with a major San Diego Statement
* Cowboys comeback falls short in 73-66 loss to San Diego State
* COLUMN: Linder's Pokes, as promised, closing the gap with SDSU
The Rebels are battling for a top-five seed in the upcoming Mountain West Conference Tournament.
They sit at 9-7 in league play, having won three of their last four games. UNLV resides in the middle of the conference in both scoring offense (70.7 points per game) and points allowed (65.8 points per contest). The Rebels are connecting on 43.1 percent of their field-goal attempts -- which ranks second-last on the league -- and 34.5 percent from beyond the 3-point line.
UNLV allows foes to hit 41.3 percent of their shots from the floor -- ranking third-best in the conference -- and 31.6 percent of their shots from deep.
About The Players
Wyoming is led by scoring this season by Graham Ike at 20.3 per game to rank second in the league and No. 16 in the nation. He also leads the team in rebounds at 9.8 per game for second in the MW and No. 19 in the nation. He is one of three players in the nation to average over 20 points per game and nine or more rebounds.
Hunter Maldonado adds 18.9 points per game to rank fourth in the MW. He ranks second in the conference and ranks fifth in the nation with 6.3 assists per game. He recorded a triple-double against SDSU for the first one by a Cowboy since 2006.
Drake Jeffries adds 10.7 points per night and ranks No. 15 in the nation shooting 43 percent from behind the arc.
Jeremiah Oden is coming off a 17-point performance against the Aztecs, matching a season high. The freshman forward averages 8.2 points per game. Xavier DuSell, who has started the last two games in place of Brendan Wenzel, is netting 7.8 points per night. Wenzel is averaging 5.2 points an outing and Noah Reynolds is chipping in with 3.2.
The Rebels are led by Bryce Hamilton who pours in 21.8 points per game -- which leads the MWC and ranks sixth nationally -- on 43.9 percent shooting. Donovan Williams adds 13.1 points per contest. Royce Hamm Jr. leads UNLV on the glass, corralling 9.3 rebounds per game to go alongside his 8.4 points per contest.
Jordan McCabe paces the Rebels with 4.9 assists per game in addition to scoring 6.8 points per contest.
About The Series
UNLV has dominated the series, 41-19. These two have been playing since 1966. The Rebels have won seven of the last 10 meetings, however, Wyoming won the most recent matchup last season in Laramie.
Up Next
Wyoming returns home and closes the regular season Saturday against Fresno State at 2 p.m. inside the Arena-Auditorium.
Mountain West standings
** Boise State: 24-6, 15-2
Colorado State: 23-4, 13-4
Wyoming: 23-6, 12-4
San Diego State: 19-7, 11-4
UNLV: 17-12, 9-7
Fresno State: 18-10, 8-7
Utah State: 16-14, 7-10
Nevada: 12-16, 6-11
New Mexico: 12-18, 4-12
Air Force: 11-17, 4-13
San Jose State: 8-21, 1-16
** Mountain West regular-season champions, No. 1 seed at MW Tournament
* University of Wyoming Athletics media relations release contributed to this report
Just The Facts: Size Doesn't Matter For Wyoming's War Memorial Stadium
Did you know it would take the populations of
Gillette
(32,857),
Laramie
(32,381),
Rock Springs
(23,319),
Sheridan
(17,844) and Wright (1,200) to create a sellout inside Michigan's famed 107,601-seat
Big House
, the largest college football stadium in the nation?
For those of you not familiar with the
Cowboy State
, those are Wyoming's third through sixth most inhabited cities, along with the small mining town in Campbell County.
- Just The Facts: Size Doesn't Matter For Wyoming's War Memorial Stadium