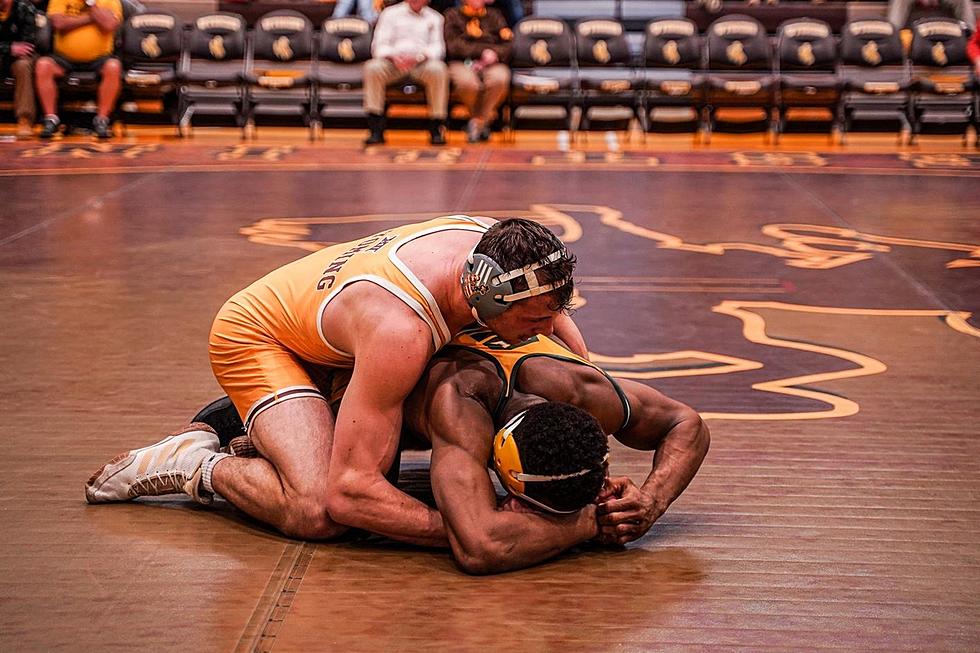 Cowboys host No. 22 Oregon State in final home dual of season
The Cowboy grappling squad is set for their final home dual of the season on Saturday as they welcome No. 22 ranked Oregon State to the UniWyo Sports Complex for Senior Day. Saturday's dual will also be a Gold Rush with t-shirts being handed out to fans while supplies last./ UW courtesy photo
* University of Wyoming Athletics media relations release
LARAMIE -- The Cowboy grappling squad is set for their final home dual of the season on Saturday as they welcome No. 22 ranked Oregon State to the UniWyo Sports Complex for Senior Day. Saturday's dual will also be a Gold Rush with t-shirts being handed out to fans while supplies last.  
"After a disappointing effort and result this past weekend, I expect us to have a great week of preparation and make some drastic changes before Saturday," UW head wrestling coach Mark Branch said. "This is a tough team that beat us in a very tight Reno tournament and it's senior night, and we need to show our fans exactly what type of team we are and compete Cowboy tough." 
The Cowboys will head into Saturday with extra motivation after the No. 22-ranked Beavers edged out the Pokes earlier this season at the Reno Tournament of Champions winning the team title by two points over Wyoming.  
Saturday's dual will feature two lineups loaded with ranked wrestlers with at least one ranked wrestler competing at every weight. The dual will be highlighted by a rematch at 184 pounds between No. 16-ranked Tate Samuelson and No. 15-ranked Trey Munoz. Earlier in the season at Reno TOC Munoz bested Samuelson in tightly contested 3-2 victory to help the Beavers claim the team title.  
At 174 pounds, No. 12 Hayden Hastings will look to continue his hot streak for the Cowboys as he rides an eight-match win streak into Saturday. Those eight wins include winning the Reno TOC Title as well as a pair of ranked wins last weekend for Hastings. He will have another tough test ahead of in the form of No. 26-ranked Mateo Olmos.  
The last time the Cowboys and Beavers met in a dual setting was in Corvallis during the 2019-20 season where Wyoming came away with a hard fought 18-13 win. This season Oregon state is currently 3-2 in duals with wins over Campbell, Utah Valley and Arkansas-Little Rock. 
Saturday's dual is set to begin at 1:00 p.m. MT and will be streamed live on FloWrestling while live stats will be available on TrackWrestling. The senior day ceremony will take place before the start of the dual.
12 Cringeworthy Things Guaranteed to Piss Off Wyomingites
There are just certain things Wyomingites don't want to see or hear. Check out these 12 things that are guaranteed to anger someone from Wyoming.
- 12 Cringeworthy Things Guaranteed to Piss Off Wyomingites