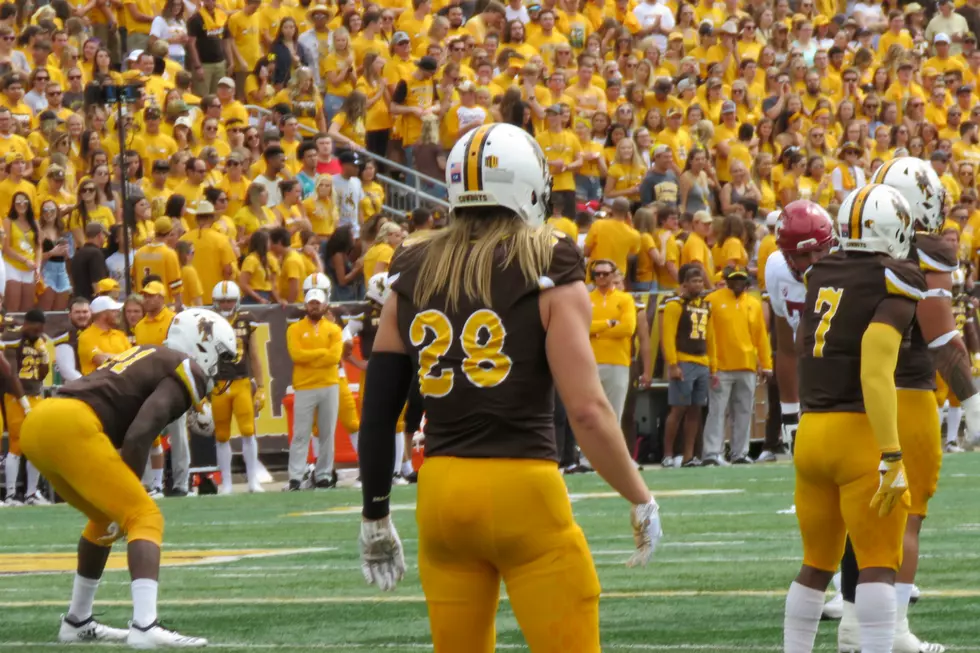 Cowboys Face Dangerous Wofford Terriers [VIDEO]
Caitlin Anderle, Townsquare Media
Trying to get things turned back in the right direction, the Wyoming Cowboys host the Wofford Terriers Saturday at 2 p.m.
Wyoming (1-2) is coming off back-to-back losses against Power 5 conference schools. The Cowboys have been disappointed in their performance over the last two weeks. With that concern in mind, senior safety and team captain Andrew Wingard addressed that topic and some of what he feels they need to do to turn around their season.
Wingard is coming off his best defensive game this season with 12 tackles in last Saturday's loss at Missouri. He's now third all-time in career tackles for the Cowboys with 387.
UW is averaging only 20.3 points and 301 yards per game on offense. The vaunted Wyoming defense is giving up 29.3 points and 376.7 yards per game.
It doesn't get any easier for the Pokes. They will be facing one of the top teams from the Football Championship Subdivision (FCS) in Wofford. The Terriers are No. 7 in the most recent FCS Coaches' Rankings. They are off to a 2-0 start and are coming off a season that saw them finish 10-3 overall and 7-1 in the Southern Conference. The Terriers lost in the quarterfinals of the FCS playoffs to eventual national champion North Dakota State.
Wofford's offense is a triple-option attack that will play two quarterbacks, Joe Newman and Miller Mosley, and a number of running backs led by senior fullback Andre Stoddard. They are averaging 43.5 points and 518.5 yards per game this season. The Terriers allow only 17.5 points and 277 yards per game. They are anchored by preseason All-America candidate Miles Brown, a senior defensive lineman.
There are a few connections between the programs. First-year Wofford head coach Josh Conklin is a native of Gillette. Former Terrier basketball player Tim Johnson was a graduate assistant at Wyoming (2011-13) under Larry Shyatt. Former Cowboys head coach Phil Dickens was the head coach at Wofford from 1947-52 and compiled a 40-16-7 record before leaving to become UW's head coach from 1953-56.
Wyoming will be facing only its third opponent from the state of South Carolina. Wofford College is in Spartanburg, SC. The Cowboys have beaten both Furman (2001) and The Citadel (2002). The Cowboys are also 13-2 against FCS opponents since 2000.
This will be the first-ever meeting between the two teams. Saturday is a busy day at War Memorial Stadium with it being Energy Day, Band Day, Ag Day, Fan Fest, and the Buddy Walk.
While the game is not being "televised," it is being streamed through WyoVision, The Mountain West Network, and Stadium. The game starts at 2 p.m.