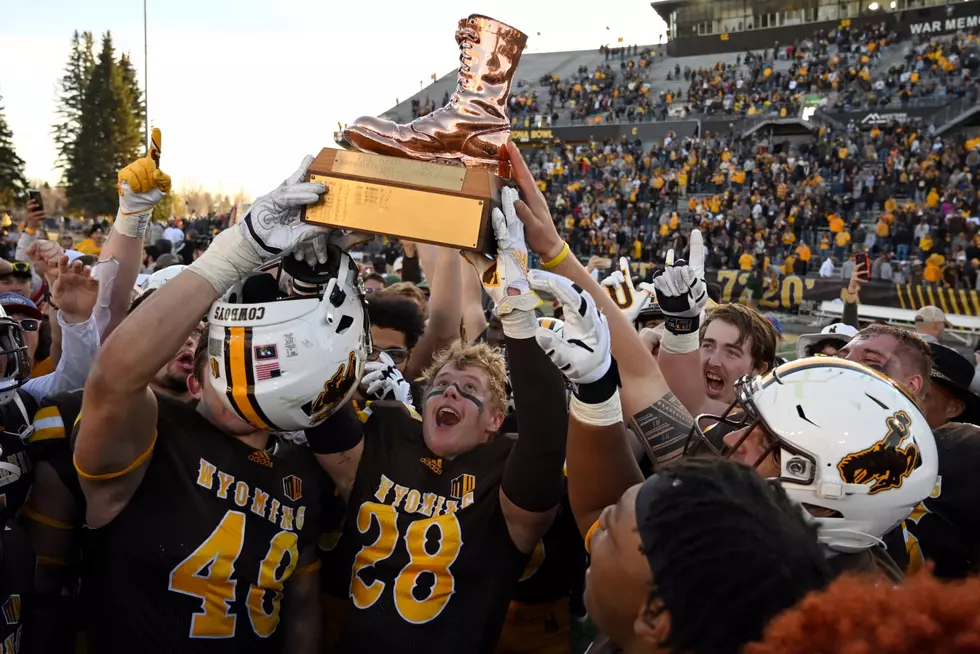 COLUMN: Division-less Mountain West? What does that mean for Wyoming?
Easton Gibbs and his teammates celebrate with the Bronze Boot after knocking off Border War rival Colorado State last November in the 114th meeting between the two schools./ DJ Johnson photo
LARAMIE -- The Mountain West Conference announced Friday the elimination of its current two-division model, ensuring that the teams with the best win percentages will meet in the championship game each December.
This move, which is set to begin in 2023, will also put the league in the best position to crack the College Football Playoff.
Logical.
"Our membership has been working on concepts since last summer, as part of our strategic planning for the future of the Mountain West," MW Commissioner Craig Thompson said Friday in a prepared statement. "A single-division approach provides maximum flexibility to adapt the Conference schedule as the landscape continues to evolve, while also allowing member institutions to play each other more frequently."
It's a smart move, one the Big XII implemented in 2017. The Pac-12 followed suit Wednesday -- and will start this fall -- just minutes after the NCAA Division I Council relaxed its restrictions on conference title games. Now, respective leagues can set the parameters and determine which teams should play for a title.
During a time when not much else makes sense in the world of college football, this does.
But what about the rather large elephant in the room? Scheduling.
Will Wyoming and Border War rival Colorado State continue its annual clash? Will the Cowboys still play Front Range foe Air Force on a yearly basis? How about Utah State? Boise State?
The answer to the first questions is obvious, right? This upcoming season will mark the 115th meeting between the Pokes and Rams. That's one of the few classic rivalries remaining in this conference after Utah, BYU and TCU bolted.
In a press release issued Friday, the league states "A scheduling model and tiebreaking procedures for future seasons are being finalized and will be announced in the coming weeks."
A Wyoming spokesperson said the school will have no comment and to refer to the quote above when asked about the future of the Border War. In other words, no one truly knows.
It should give fans some solace that when the Mountain West was formed in 1999, and there were no divisions, the Border War remained intact. So did the tilt with Air Force. Aside from a cancellation during the 2020 campaign due to the ongoing COVID-19 pandemic, the Cowboys and Falcons have met in every season since 1980.
MORE UW FOOTBALL COVERAGE:
* Wyoming football: 2022 Transfer Portal Tracker
* USC transfer Chase Locke signing with Cowboys
* Titus Swen: 'You can't run nice in this game'
* Craig Bohl: 'To lead them, you have to know them'
Speaking of Air Force. I spoke with head coach Troy Calhoun about the topic of rivalries at last year's Mountain West Media Days in Las Vegas.
While he was hesitant to refer to Wyoming as a traditional rival, only saying it "stirs up emotion" and "we want to play well in that game," Calhoun did say he had just left a meeting between conference coaches and the commissioner. The topic of that discussion: doing away with divisions.
He didn't divulge where his vote was headed, but he did say two games need to be played every season.
"Nevada and UNLV and Colorado State and Wyoming," Calhoun said. "I think, clearly, we do have to make sure the Colorado State-Wyoming game is preserved just as the UNLV-Nevada game."
What about the Air Force and Wyoming game? The in-state Interstate-25 meeting with CSU?
"Probably not," Calhoun continued. "It's just, I think for (CSU), I think they realize their two big ones are Wyoming and Colorado. No. I mean, yet if it is, great -- and all the better."
For the Cowboys, another long-standing yearly meeting that could be in jeopardy is with New Mexico. Maybe that's not a bad thing? The underdog Lobos have stunned Wyoming in back-to-back seasons.
The Pokes and Lobos have met 74 times. That includes every year since 1999.
Wyoming and Utah State, who have battled annually since 2013, have played 72 times.
What "rivalry" could you live without?
Boise State, though it's hard to call them the "R-word" when the series is so lopsided (1-15), probably wouldn't be missed too badly. New Mexico is more important on the basketball side of things.
Utah State could be a sleeping giant, especially because of proximity and the offseason quarterback swap with Andrew Peasley coming to Laramie and Levi Williams off to Logan. There's also a traveling trophy involved, Jim Bridger's Rifle.
There are two "musts" in my eyes -- Air Force and CSU. Period.
Though, like most of you, my faith in the conference is shaky -- at best -- but even it can't screw this one up.
POKES: The Seven Best Games In The History Of The Wyoming-CSU Border War Rivalry (Naturally, they were all Wyoming wins)