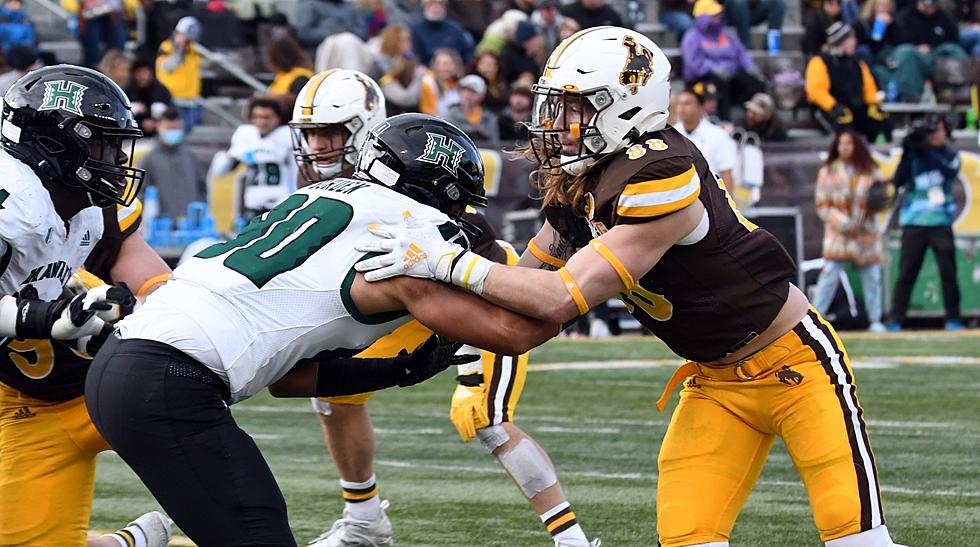 Behind the numbers: UW vs. Hawaii
Garrett Crall was one of seven 'super seniors' to play their final home game Saturday in Laramie./ DJ Johnson photo
LARAMIE -- If you ask Craig Bohl, the only number that matters after Saturday's loss is six. That's the number of games the Cowboys won this fall.
Wyoming's head coach is hoping that is enough to land a bowl invite.
"I'm in hopes that whoever those decision makers are ... they look and say, 'it's a heck of a league. Wyoming's done some good things,'" Bohl said.
The wait is on.
Until then, let's look at some numbers and stats from the Pokes' 38-14 season-ending setback against Hawaii inside War Memorial Stadium:
26
That's how many times Wyoming and Hawaii have met on the gridiron. The Pokes hold a slight 15-11 edge in the all-time series. They are also 15-10 against the Rainbow Warriors with the Paniolo Trophy on the line.
4
That's how many times UW has lost to the 'Bows in Laramie. Saturday marked the first time that has happened since 1991.
15-of-24
Levi Williams connected on that many passes Saturday. That equates to a 63% completion percentage. The redshirt freshman didn't turn the ball over and also hit Isaiah Neyor for a 30-yard touchdown late in the third quarter.
11
Speaking of Neyor, the freshman from Texas has that many touchdowns this season on just 39 catches. That is tops in the Mountain West and No. 8 in the nation.
119
Wyoming did not have an easy time finding rushing yards against Hawaii, rolling up that many yards on 37 carries. That equates to just 3.2 yards per carry. Williams was the team's leading rusher with 43 yards on nine carries.
6
That's how many different UW receivers hauled in passes during this loss. Treyton Welch and Joshua Cobbs led the way, both finishing with four catches each.
9
Chad Muma and Isaac White both tallied this many tackles Saturday.
129
Speaking of Muma, this is how many tackles he racked up this regular season. That makes 253 for his career.
1
Wyoming actually won the turnover battle for the second straight week. Easton Gibbs forced an errant throw by Hawaii QB Chevan Cordeiro that was snagged out of the air by Victor Jones.
7-of-12
Hawaii converted on this many third downs in Laramie. Four of those were 10 yards or more.
490
That's how many total yards the visitors rolled up on offense: 323 passing, 167 rushing.
4-for-5
That denotes Hawaii's scoring in the red zone Saturday. UW was just 1-of-1.
7.3
The 'Bows averaged that many yards per snap inside War Memorial Stadium. Wyoming, 4.6.
5
That's how many tackles for loss UH racked up in this one. The Cowboys also finished with five and added a sack. That belonged to Cole Godbout.
26
That's the number of first downs UH converted. Wyoming, 17.
16
That's how many yards Xazavian Valladay needed to eclipse the 1,000-yard mark on the ground this season. He finished with just 42 against Hawaii.
7
That's how many "super seniors" played their final home game in a Wyoming uniform Saturday: Garrett Crall, Ayden Eberhardt, Logan Harris, Braden Smith, Trey Smith, Alonzo Velazquez and Esaias Gandy. Muma, who has declared for the NFL Draft, also suited up one last time at The War.
14,213
That is the announced attendance Saturday in Laramie, by far a season low.
University of Wyoming's Top 50 Football Players
The rules are simple: What was the player's impact while in Laramie? That means NFL stats, draft status or any other accolade earned outside of UW is irrelevant when it comes to this list.
This isn't a one-man job. This task called for a panel of experts. Joining 7220's Cody Tucker are Robert Gagliardi, Jared Newland, Ryan Thorburn, and Kevin McKinney.
We all compiled our own list of 50 and let computer averages do the work. Think BCS -- only we hope this catalog is fairer.
Don't agree with a selection? Feel free to sound off on our Twitter:
@7220sports
- #Top50UWFB
- University of Wyoming's Top 50 Football Players