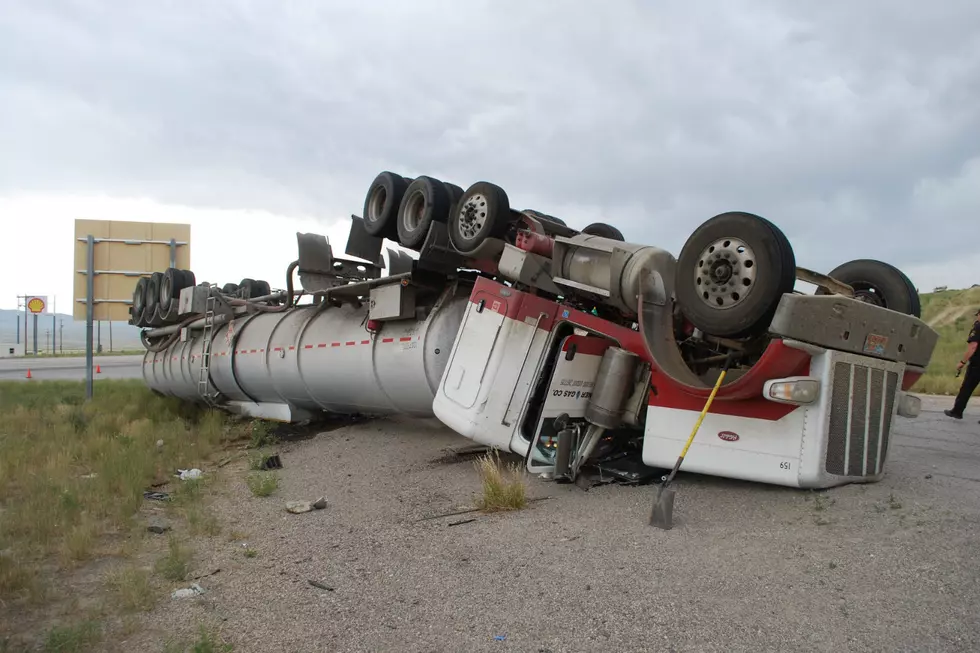 10,000 Gallons of Crude Oil Spilled East of Rawlins
Wyoming Highway Patrol
About 10,000 gallons of crude oil spilled east of Rawlins early Saturday after a commercial tanker crashed as it tried to enter Interstate 80.
According to a news release from the Wyoming Highway Patrol, the 2009 Peterbilt commercial truck towing a tanker trailer overturned as it attempted to turn left from WY 130 northbound onto the I-80 westbound on-ramp around 7:30 a.m. Saturday.
The driver, 25-year-old Anthony Keele of Riverton, was wearing his seat belt and was not injured. He was cited for taking the turn with too much speed.
Crews continued to work to clean up the spill Monday morning.
Joe Hunter, Emergency Response Coordinator for the Wyoming Department of Environmental Quality, says vacuum trucks were used to suck up oil from the shoulder and median. Once permits are issued, crews will remove and haul away contaminated soil and replace it with clean soil.
Hunter says less oil may have been spilled than was initially reported.
"We're thinking maybe four or five thousand gallons," says Hunter. "And they probably recovered two thousand gallons with the vacuum trucks. So it's not the whole ten thousand like was reported initially."