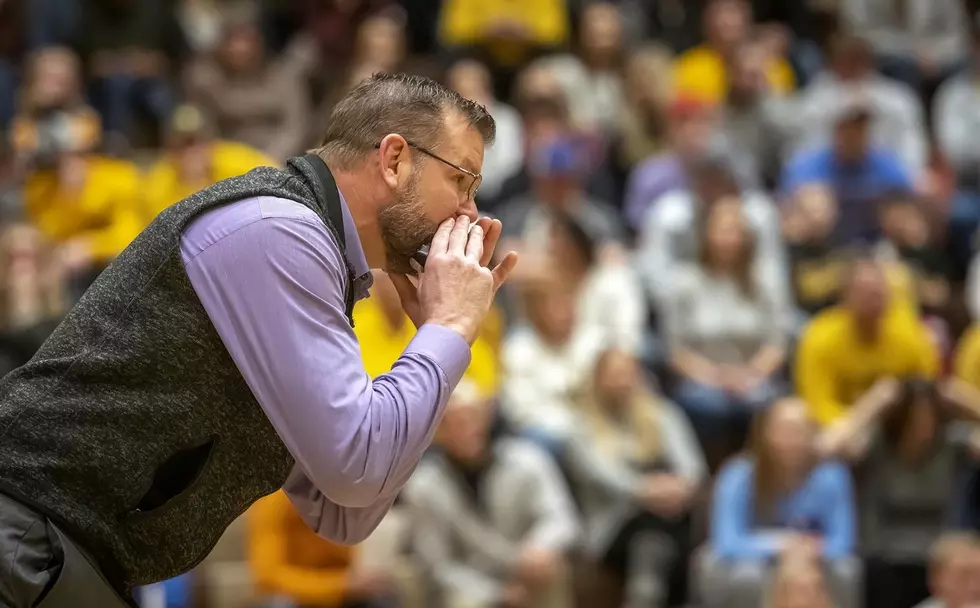 Wyoming Wrestling Announces Impressive Signing Class for 2023-24
Wyoming Head Wrestling coach Mark Branch announced the signing of six athletes on Monday./ UW courtesy photo
* University of Wyoming press release
LARAMIE -- Wyoming Head Wrestling coach Mark Branch announced the signing of six athletes on Monday. Brayden Sonnentag (Boyd, Wisconsin), Cole Brooks (Owasso, Oklahoma), Sloan Swan (Clovis, California), Hudson Davis (Sherwood, Oregon), Joey Novak (New Prague, Minnesota) and Riley Davis (Amarillo, Texas) are all set to join the Cowboy roster next fall.
"These guys sure make us excited about the future of Wyoming wrestling.  Some of the best high school wrestlers in the country are seeing that Laramie, Wyoming is an outstanding place to continue their careers." Head Wrestling Coach Mark Branch said, "I can't wait to get this class here and continue to build a championship team and they will fit in quite nicely.  It's also great to see kids from different parts of the country coming and I think it will add to a great culture we have in place."
This year's signing class for the Pokes features multiple grapplers ranked inside the top 100 of the 2023 recruiting and features four athletes that have won at least two state titles. In the past two recruiting cycles Wyoming has now brought in eight recruits ranked in the top 100 of their class.
Brayden Sonnentag – Boyd, Wisconsin – Cadott HS – 133 
Sonnentag has been a standout for Cadott High School and is currently ranked in the top 20 at 132 pounds. Sonnentag has three Wisconsin state titles under his belt so far and is also a three-time regional and sectional champion. He has also found success in freestyle and Greco-Roman competition, winning state titles in both of those styles as well. Adding to his impressive resume, Sonnentag also earned all-American honors in 2019 after finishing seventh in Greco roman at the 16U national championships.
Cole Brooks – Owasso, Oklahoma – Collinsville HS – 141 
Brooks enters his senior season at Collinsville High School tabbed as the 58th best prospect in the class of 2023. Brooks is a two-time state champion winning back-to-back titles in 2021 and 2022. Brooks is also back-to-back regional champion after finishing third at regionals in 2020. Along with the state titles, Brooks placed fifth at the 2021 Mid-American Nationals tournament.
Sloan Swan – Clovis, California – Buchanan HS – 165 
Currently tabbed as the 16th best prospect at 170 pounds and the 59th best prospect in the class of 2023, Swan has put together an impressive career recording impressive results at numerous tournaments during his career. Swan finished fourth at the 2021 Folk Style National Championships and followed that up by winning the 2021 USMC Folkstyle National Recruiting Showcase.
Hudson Davis – Sherwood, Oregon – Newberg HS – 184 
Davis enters his senior season at Newberg High School as a back-to-back Oregon State champion while also winning three state pacific conference titles. Additionally, Davis finished third at the state his freshman season having yet to miss the state podium during his prep career.
Joey Novak – New Prague, Minnesota – New Prague HS – 197 
Novak is currently ranked eighth in the nation at 195 pounds and is a top 100 recruit in the class of 2023 entering his senior season at New Prague High School. The Minnesota product is a three-time state placer finishing as runner-up in 2020 and 2022 while finishing third in 2021. In addition, Novak won his first sectional title of his prep career at the 2022 MSHSL Section 2AA Championships.
Riley Davis – Amarillo, Texas – Amarillo HS – 174 
Set to wrap up his prep career at Amarillo High School, Davis enters his senior season after beginning his prep career at Sprague High School in Oregon racking up multiple honors including winning the 2021 Oregon State Championships and finishing as the runner up in 2020. Along with the state title, Davis is a two-time mountain valley conference champion. Davis continued to impress this last offseason winning his weight class at the USMC Folkstyle National Recruiting Showcase. Davis is currently tabbed as 114th best recruit in the class of 2023.
From Bison to Triceratops - All of Wyoming's Official Things
Every state in our nation has chosen things that represent the state in one way or another to be official state things. Like a flower, or animal.
Wyoming
is no different.
The Equality State, or the Cowboy State, depending on which state slogan you want to go with, has a state flower. But did you know we also have a state tree and a state fish? Yes, we even have a state code.
To be an official thing, a member of the state legislature must write and submit a bill to the legislature declaring that a thing will be the official state thing. Then the legislature votes to pass the bill, or not, if it passes, the governor signs the bill into law and we have a new official state thing.
Here is what we have so far, all of Wyoming's official things. Now you can win big on Wyo Trivia Night if that's a thing that exists.
- From Bison to Triceratops - All of Wyoming's Official Things