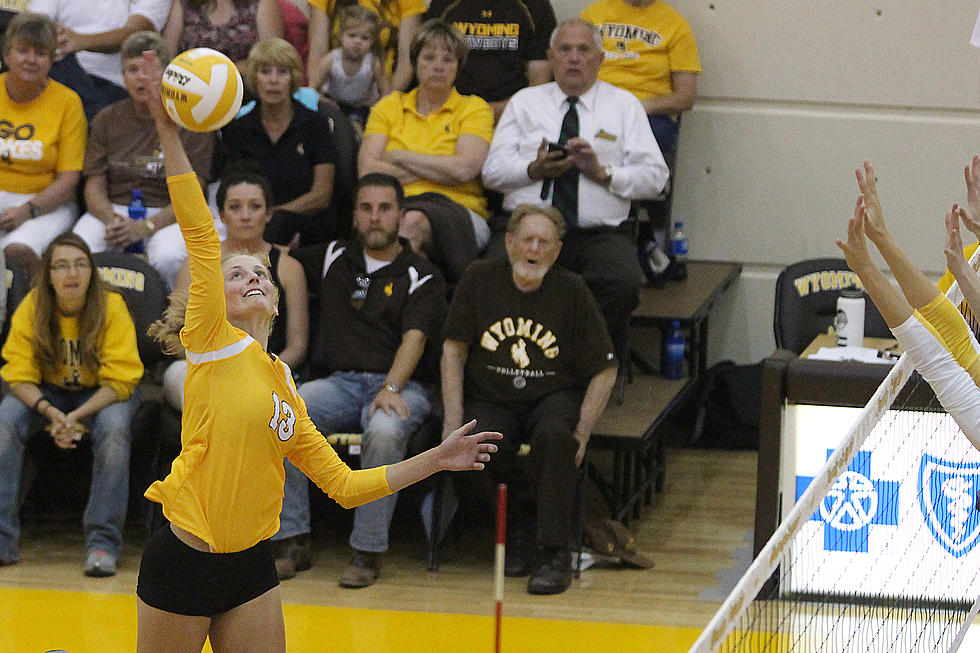 Wyoming Volleyball Tries to Keep Its Momentum [VIDEO]
Seneca Riggins, Townsquare Media
Riding a three-match winning streak the Wyoming Cowgirls return home for two matches in the Uni-Wyo Sports Complex this weekend.
Wyoming (9-9, 4-2) picked up huge road wins at Utah State and Boise State last weekend. The Cowgirls swept the Aggies, and then they won in Boise, ID for the first time since 1994 in a tough five-set match. Freshman setter Marissa Harmon was named the Mountain West Offensive Player of the Week for her efforts in both matches.
The current win streak has vaulted UW into a three-way tie for second place in the MW volleyball standings.
Now it's on to their next set of challenges, as the Cowgirls will host Nevada Thursday at 6:30 p.m. followed by San Jose State at 1 p.m. Saturday.
Wyoming head coach Chad Callihan discusses their improvements since a disappointing match versus Colorado State back on Sept. 26, the confidence his squad has gained and freshman Marissa Harmon earning MW Offensive Player of the Week honors.
The Cowgirls have lost three of their last four matches against the Wolfpack, which included both last season. By contrast, they have won three in a row over the Spartans, including both last year. San Jose State is one of the teams tied in the conference standings with UW, while the Wolfpack are 3-3 in the MW.
Wyoming will head on the road for their next three matches after this weekend.
Here's a look at other University of Wyoming action going on:
Cowgirl Soccer
Wyoming will host a pair of Mountain West matches at the Louis S. Madrid Sports Complex this weekend.
The Cowgirls take on Utah State Friday at 3 p.m. followed by a visit from Boise State Sunday at 1 p.m.
Wyoming (7-5-2, 3-2-1) is still unbeaten at home this season. The Cowgirls are 5-0-2 and have out-scored their opponents 12-3 at the Louis S. Madrid Sports Complex. They are currently in a tie for sixth in the MW standings. The top seven teams in the conference are separated by only three points.
Wyoming Swimming and Diving
The Cowboys and Cowgirls host their first dual of the season Saturday. Wyoming takes on the Denver Pioneers at the Laramie High School.
Diving begins at noon followed by the swim races starting at 1 p.m.
Cowgirl Tennis
Wyoming tennis is competing at the 2017 ITA Mountain Regional Championships in Salt Lake City, Utah.
Competition started Wednesday with three singles players and two doubles teams advancing from UW. The doubles team of Elisa Koonik and Tessa van Der Ploeg had a first round bye.
The round of 64 and 32 in singles, plus the round of 32 in doubles is on the schedule for Thursday. Play continues through Sunday.