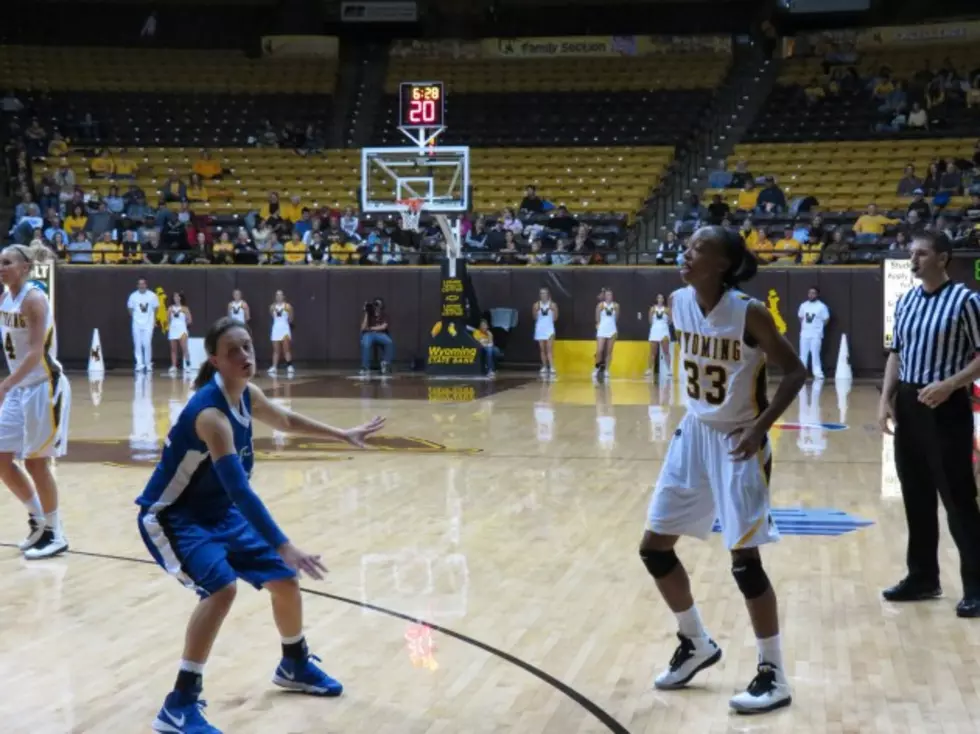 Wyoming Cowgirl Chaundra Sewell Earns Big Distinction
Photo by Townsquare Media
For the first time in her career, senior Chaundra Sewell was among four individuals selected to the WBCA All-Region VII Team announced Tuesday by the Women's Basketball Coaches Association. This is the first time a Cowgirl has garnered this honor since Hanna Zavecz in 2008.
A 6-1 forward, Sewell leads the Cowgirls in several categories including scoring (14.9 ppg), rebounding (9.7 rpg) and blocked shots (1.2 bpg). She is also shooting a team best .526 (170-523) from the field and .786 (121-154) from the free throw line. In league games, she averaged a team high 15.3 points and 9.3 rebounds, while shooting 90-177 (.508) from the field and 64-75 (.853) from the charity stripe. She also ranked among the Top 10 in five Mountain West categories both overall and in league play. This season she was also honored as Mountain West Player of the Week three times.
Recently Sewell was selected First Team All-Mountain West and to the All-MW Defensive team for the second straight year. As a junior, she earned Second Team All-Conference honors and was Honorable Mention during her sophomore season. Sewell is ranked among the Top 15 in ten categories in school history. She is sixth in games played, seventh in free throws made and blocked shots, eighth in free throw attempts and rebounds, 11th in field goals made, 12th in field goal percentage, 13th in points, 14th in assists and 16th in field goal attempts. This season, she reached 1,000 points for career, one of 20 players in school history, and with 1,235 points ranks 13th all-time. Sewell has also recorded 60 double-figure scoring games, 31 double-figure rebounding games and 23 career double-doubles, which is ninth in school history.
The selection committee will choose the 10-member WBCA Division I Coaches' All-America Team from these 52 candidates. The 2013 WBCA Division I Coaches' All-America Team will be announced Saturday April 6, during NCAA® Women's Final Four® Super Saturday festivities in New Orleans Arena.
Below are the NCAA Division I/WBCA selections for Region 7:
Name                           Institution                      Year       Pos.    Height
Courtney Clements        San Diego State            Sr.          G        6-0
Chelsea Hopkins           San Diego State            Sr.          G        5-8
Katie Baker                   Montana                       Sr.          F         6-0
Chaundra Sewell           Wyoming                      Sr.          F         6-1