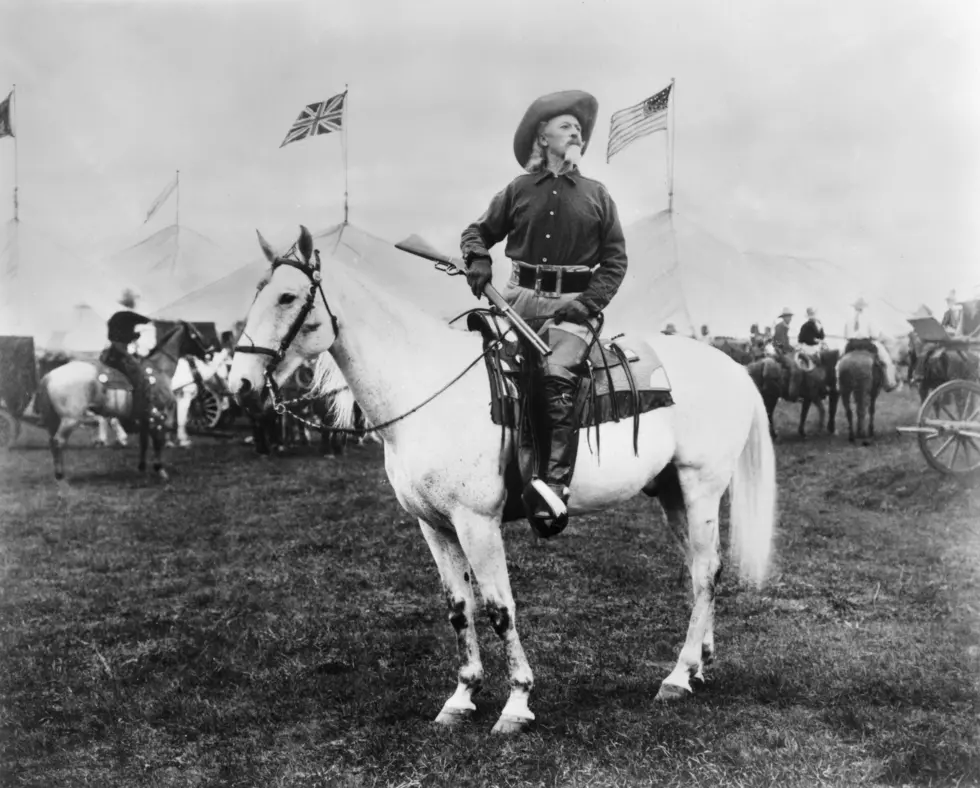 Who Claims Buffalo Bill as Their Own? It's Not Just Wyoming
Getty Images
We claim him as our own, here in the cowboy state. We even named the city he founded after him! But Wyoming isn't the only place to claim William F. Cody, aka Buffalo Bill as their own with monuments and tales of his travels, homesteads, ranches, and the controversy over his final resting place. Let's explore the places that claim Buffalo Bill as theirs.
William F. Cody was born in a log cabin two miles west of LeClaire, Iowa, which at the time was Iowa Territory. The Codys lived in LeClaire until William, or "Willie" as he was known, was about 7 years old, leaving to move to the Kansas territory. While it was originally located in LeClaire, the full building was moved to the Buffalo Bill Historical Center of the West in Cody, WY in 1947. Despite this, you can still visit the regional history museum for Buffalo Bill in LeClaire.
In North Platte, Nebraska, you will see a giant sign commemorating Buffalo Bill, with billboards and directions to the ranch that Buffalo Bill founded in 1878. It's also known as "Scout's Rest Ranch." It was said this ranch was to be the place he would retire with his wife Louisa, and a mansion was built on the property. However, operating costs were high enough to warrant Cody to sell the property in 1911. Today, it's a tourist attraction and museum, allowing tours and visitors to experience the ranch. You can also visit the Fort Cody Trading Post in North Platte, which includes a miniature wild west show, souvenirs and gifts, and even a famous 2-headed calf.
Oakley, Kansas claims Buffalo Bill for his infamous context with William Comstock to see who could bring back the most buffalo meat in one day. Buffalo bill won the contest, and ten miles away in the town of Oakley, the Buffalo Bill Cultural Center was established, complete with a giant statue of the famous frontiersman, shooting a buffalo with a 50-caliber needle gun. Oakley considers itself the "Birthplace of the Legend," of Buffalo Bill.
Finally, Buffalo Bill's final resting place is a topic of controversy. Golden, CO  has the official "Buffalo Bill Museum and Grave." William F. Cody passed away while visiting his sister's home in Denver, with his wife claiming that his last wish was to be buried with a view of the Rocky Mountains. Thus, he was buried on Lookout Mountain. Despite this, residents of Cody, WY claimed that he wished to be buried in the town that bares his name and influence. Some theorists even speculate that Denver officials bribed relatives to keep Bill's remains, but a band of "Wyoming Faithful sneaked into the funeral home and spirited the real Cody back to his home in the Cowboy State."