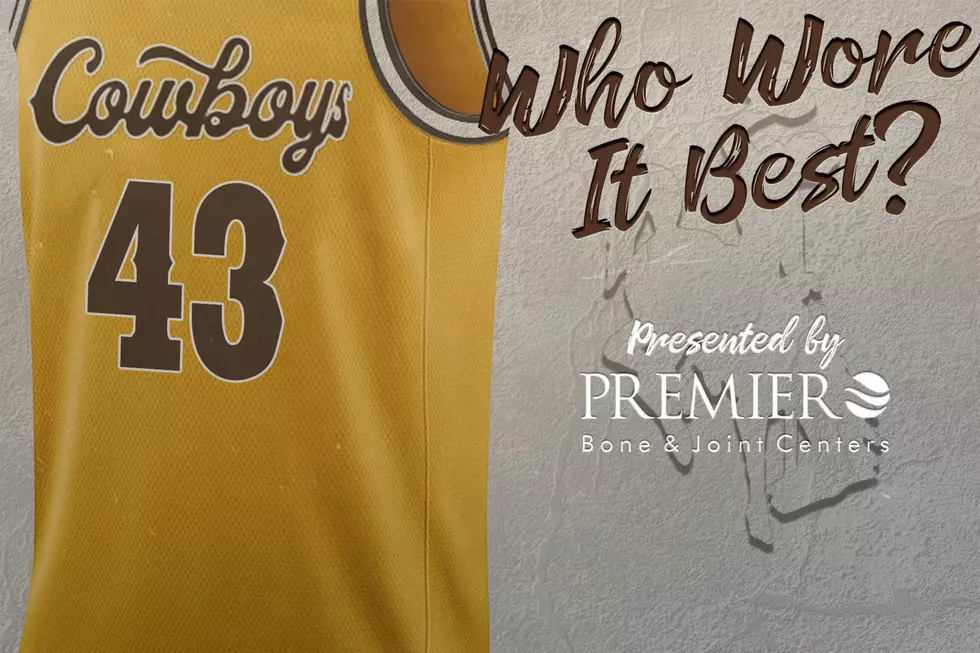 Which Wyoming hoopster wore it best? No. 43
Jen Kost graphic
LARAMIE -- Do you ever see a number on a Wyoming basketball jersey and think of all the great players to wear it?
Yeah, me too.
In this summer series, I'll give you my take on which Pokes' hoopster was the best ever to don each number. The criteria are simple: How did he perform at UW? What kind of impact did he have on the program?
No. 43 - ERIC LECKNER
Center, 1984-88, Manhattan Beach, Calif.
Résumé in Laramie
* 131 games played at UW
* 116 games started
* 14.8 points per game
* Fifth-leading scorer in UW history (1,938 points)
* Tenth in rebounding in UW history (774)
* Fifth in blocked shots in UW history (164)
* Third in field goals made (753)
* One of 38 players in UW history to score at least 1,000 points
* WAC Champion (1986)
* Two-time WAC Tournament Champion (1987, 88)
* NIT Finals appearance in 1986
* Two NCAA Tournament appearances (1987, 88)
* Two-time First-Team All-WAC (1987, 88)
* Second-Team All-WAC (1986)
* Three-time WAC Tournament MVP
Why Leckner?
Colorado State fans ... look away.
With the score tied at 58-58 and just two seconds remaining in regulation of the 1988 WAC Tournament semifinals in Provo, Utah, Wyoming head coach Benny Dees called his final timeout.
A desperation heave was the only hope the Cowboys had to bury their Border War rivals. Dees inserted former all-state high school quarterback Clauzell Williams. He would be in charge of the inbound pass.
There was only one option when it came to who was taking the shot. It wasn't Fennis Dembo, who already netted a team-high 24 points. Instead, Dees tabbed 6-foot-11 center Eric Leckner.
The whistle blew and the overhand pass flew at least 65 feet straight down the middle of the Marriott Center court, landing right into the awaiting hands of the UW senior. Double team be damned, Leckner turned and lofted a 19-foot fadeaway.
"Most seven-footers shooting fall-away threes don't know that it's going in, but you do know if it feels good," Leckner told 7220sports.com in late February. "It felt perfect."
It was.
Wyoming players exploded off the bench after the swish. Leckner, who fell down after the shot, was swarmed. The celebration was on as the stunned Rams slowly shuffled toward the locker room.
The No. 14 Cowboys were heading to the title game. CSU, back to Fort Collins.
Who knew you could have so much fun in Provo?
"We shouldn't have been tied with Colorado State in that game. We were better than that," said Leckner, who scored 14 points and played just 22 minutes because of foul trouble. "I think the game was a stepping stone for us to play well and to get better, but I think that it was probably a sense of relief to get out of that game. I think we knew we didn't play well.
"... So, there's not a lot of pressure on me to hit that shot. But, you know, like I said, why not me?"
Wyoming would go on to knock off UTEP in the title game and advance to the NCAA Tournament for the second straight season.
Leckner was no stranger to postseason play. As a sophomore, the Cowboys knocked off Texas A&M, Loyola Marymount and Clemson to advance to the final four of the National Invitational Tournament inside New York City's Madison Square Garden. Leckner and the Cowboys rolled to a 67-58 victory over Florida before eventually falling to Ohio State 73-63 in the championship game.
The following season, UW claimed a WAC Tournament title and punched its ticket to the NCAA Tournament. Awaiting them in the first round in Salt Lake City was No. 5 seed Virginia. Leckner scored a game-high 22 points on 10-of-13 shooting and helped lift the Cowboys to a 64-60 victory.
The road would only get tougher from there.
Fourth-seeded UCLA was the only thing standing between Wyoming and a trip to the Sweet 16. Dembo lit up the Bruins for a career-high 41 points inside the Huntsman Center. Leckner dropped 20 in that improbable 78-68 win.
Armen Gilliam and the UNLV Rebels would end the Cowboys' season a week later in Seattle, knocking off the underdogs, 92-78.
Leckner, who was inducted into the UW Athletics Hall of Fame in 1998, was one of the most beloved players in school history. His consistency was revered. His inside presence, feared.
"I love my teammates and I just love being part of Wyoming basketball," he said. "All my years there and all the years since."
Twice Leckner was named to the All-WAC First Team. Three times he was named the WAC Tournament MVP. The Utah Jazz selected Leckner No. 17 overall in the first round of the 1988 NBA Draft. He played three seasons in Salt Lake before heading to Sacramento, Charlotte, Philadelphia, Detroit and Vancouver.
Leckner currently lives in Charlotte with his wife Jessica and his four daughters.
Who else wore No. 43
Joe Jolly (50's), Ronald Bostick (60's), Jim Dalton (60's), Don Hatten (60's), Jim Moeller (60's), George Peck (60's), Gary Von Krosigk (60's), Jim Gabel (60's), Sam Ballard (70's), Matt Sellers (10's)
Look who wore the No. 42 best right HERE.
Check out our "Who Wore it Best" football series right HERE.
* All available rosters provided by the University of Wyoming Athletics Department. If we missed a player who wore this number, please email cody@7220sports.com
* A number of players wore different jersey numbers during their careers. From the 1930's through the 50's, players were issued a home and an away jersey.
PRESS PASS: Roaming The War
Wyoming Cowboys vs. Montana State Bobcats
-LOOK: Pokes vs. Bobcats
University of Wyoming's Top 50 Football Players
The rules are simple: What was the player's impact while in Laramie? That means NFL stats, draft status or any other accolade earned outside of UW is irrelevant when it comes to this list.
This isn't a one-man job. This task called for a panel of experts. Joining 7220's Cody Tucker are Robert Gagliardi, Jared Newland, Ryan Thorburn, and Kevin McKinney.
We all compiled our own list of 50 and let computer averages do the work. Think BCS -- only we hope this catalog is fairer.
Don't agree with a selection? Feel free to sound off on our Twitter:
@7220sports
- #Top50UWFB
- University of Wyoming's Top 50 Football Players