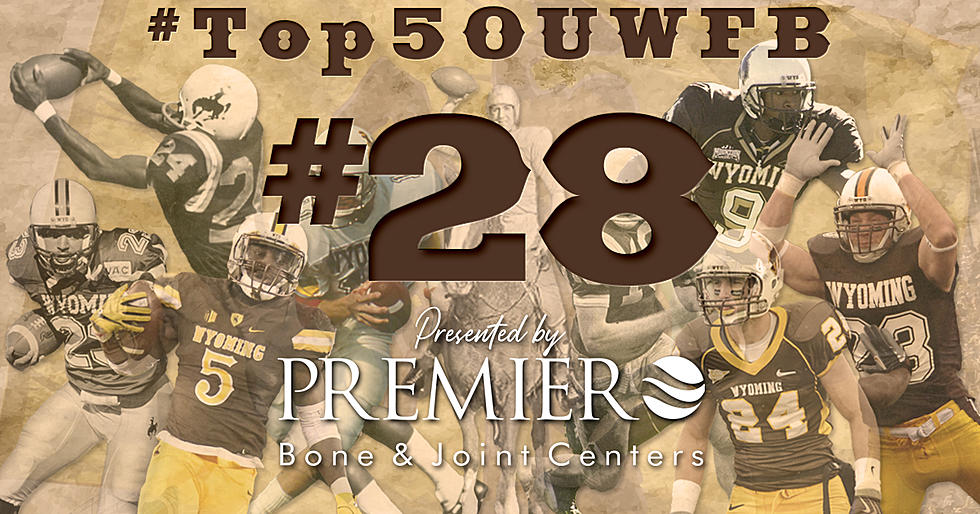 UW's Top 50 football players: No. 28
Jen Kost graphics/ UW courtesy photos
LARAMIE -- During this summer series we are going to countdown the Top 50 football players in Wyoming history, presented by Premier Bone & Joint Centers, Worthy of Wyoming.
The rules are simple: What was the player's impact while in Laramie? That means NFL stats, draft status or any other accolade earned outside of UW is irrelevant when it comes to this list.
This isn't a one-man job. This task called for a panel of experts. Joining me is Robert Gagliardi, Jared Newland, Ryan Thorburn and Kevin McKinney. We all compiled our own list of 50 and let computer averages do the work. Think BCS -- only we hope this catalog is more fair.
Don't agree with a selection? Feel free to sound off on our Twitter page @7220sports.
Randy Welniak
Quarterback, 1985-88, Ord, Nebraska
Here's why: The big question with Randy Welniak was: Did he do enough under center in Laramie?
His first two seasons, Scott Runyan was the Pokes' main signal caller, throwing for 2,570 yards and 19 touchdowns. During that same time frame, Welniak amassed just under 1,000 yards through the air and six touchdowns.
A career-threatening shoulder injury cost him the 1987 season entirely.
Then there was the epic comeback. No, not just the one that Welniak led on the road at Air Force (Ryan Thorburn has a great story about that below) but just being on the field in the first place. Doctors told Welniak at one point he may never be able to throw a ball again.
He did.
In 1988, with the Cowboys coming off a WAC title under former quarterback Craig Burnett, Welniak took the reins of Paul Roach's offense and once again led the team to a conference title and an undefeated mark in league play.
He threw for 2,791 yards in 1988 while leading the Pokes to an 11-2 record, which included a 10-0 start. A pair of Heisman Trophy winners handed the Cowboys their only two losses that season: Barry Sanders (Oklahoma State) and Andre Ware (Houston).
Welniak led Wyoming back to the Holiday Bowl and was named the WAC Player of the Year in the process. "The Wizard of Ord" as he was known in those days, earned All-American status in '88. When he earned enshrinement into the Wyoming Athletics Hall of Fame in 2007, Welniak was still in the program's record books for career passing yards (3,819) and rushing touchdowns (17).
Welniak is still making plays for the university today. He's the Senior Associate Athletics Director, Revenue and External Relations.
Thorburn's take: Every Wyoming fan of a certain age remembers exactly where they were when Randy Welniak and the Cowboys completed their improbable comeback for the ages at the Air Force Academy.
Unfortunately, I was not at Falcon Stadium on Sept. 24, 1988.
I vividly recall riding the bus home from a high school tennis trip because we asked the driver to put the game on the radio. When Air Force went ahead 38-17, we asked the driver to shut the radio off. And then, out of morbid curiosity, we asked him to turn it back on one more time just to check the score.
That's about the time Welniak was completing his final clutch throw to put Sean Fleming in position for a 27-yard field goal to deliver the Cowboys' 48-45 victory.
Dave Walsh's voice cascaded through the speakers on the bus: "The score, ooooooooh, the score!"
Welniak, the undersized fifth-year senior quarterback, accounted for 467 total yards during that pivotal game. Wyoming improved to 4-0 on the way to a 10-0 start and the program's second consecutive WAC title.
"It was an amazing game that I will remember for the rest of my life," Welniak recalled in Black 14: The Rise, Fall and Rebirth of Wyoming Football.
Welniak passed for 2,791 yards and 21 touchdowns and rushed for 415 yards and 16 touchdowns in 1988. The "Wizard of Ord" had planned to be the starter on Wyoming's 1987 team, which Craig Burnett led to the WAC title, but Welniak sustained a serious injury to his throwing shoulder during spring practice.
"The doctors said I would never throw again. That was heart-wrenching," said Welniak, who was inducted into the Wyoming Athletics Hall of Fame in 2007. "I thought, 'Well, maybe I can play receiver?'"
The only question fans and the media had about the talented Cowboys entering the 1988 season, according to Welniak, was: Can the quarterback stay healthy and deliver?
Sounds familiar to the storyline entering the 2021 season.
If Sean Chambers and/or Levi Williams can deliver a Mountain West title and 11 wins — perhaps including a memorable victory at Air Force? — they will join Welniak in Pokes lore.
How the panel voted: Cody Tucker (31), Robert Gagliardi (25), Jared Newland (48), Ryan Thorburn (31), Kevin McKinney (24)
Previous selections: No. 50, No. 49, No. 48, No. 47, No. 46, No. 45, No. 44, No. 43, No. 42, No. 41, No. 40, No. 39, No. 38, No. 37, No. 36, No. 35, No. 34, No. 33, No. 32, No. 31, No. 30, No. 29
Cody Tucker: Brand Manger and creator of 7220sports.com. Tucker has covered the Cowboys since June of 2019, but was a season-ticket holder for nearly three decades. Tucker has also covered Michigan State University Athletics for the Lansing State Journal and Detroit Free Press and the NHL's Pittsburgh Penguins during his 10-year journalism career
Robert Gagliardi: Former sports editor and University of Wyoming beat reporter for WyoSports. Gagliardi covered the Cowboys from more than a quarter century. He also covered the team at the Branding Iron, the UW student newspaper. Gagliardi also co-authored the book: The Border War: The Bronze Boot Rivalry Between Colorado State and Wyoming
Jared Newland: Currently the local sales manager for Townsquare Media SE Wyoming, Newland worked with and around Wyoming athletics for 20 years, starting as a student athletic trainer in 1990. Newland has also served in the Sports Information Office, the Cowboy Joe Club, Wyoming Sports Properties and was a UW Athletics Hall of Fame Committee Member from 2002-14.
Ryan Thorburn: Currently covering the Oregon Ducks for The Register-Guard, Thorburn also covered the Cowboys in the early and mid-90's for the Branding Iron and Casper Star Tribune. He has also written four books about Wyoming Athletics: The Border War: The Bronze Boot Rivalry Between Colorado State and Wyoming, Cowboy Up: Kenny Sailors, The Jump Shot and Wyoming's Championship Basketball History, Lost Cowboys: The Story of Bud Daniel and Wyoming Baseball and Black 14: The Rise, Fall and Rebirth of Wyoming Football
Kevin McKinney: Currently the senior associate athletics director for external affairs at the University of Wyoming, McKinney also serves as the radio color commentator for Wyoming football and men's basketball. McKinney has been involved with UW Athletics in some capacity since 1972. He was also inducted into the Wyoming Association of Broadcasters Hall of Fame in 2015.
MEET: The Four Richest People in Wyoming