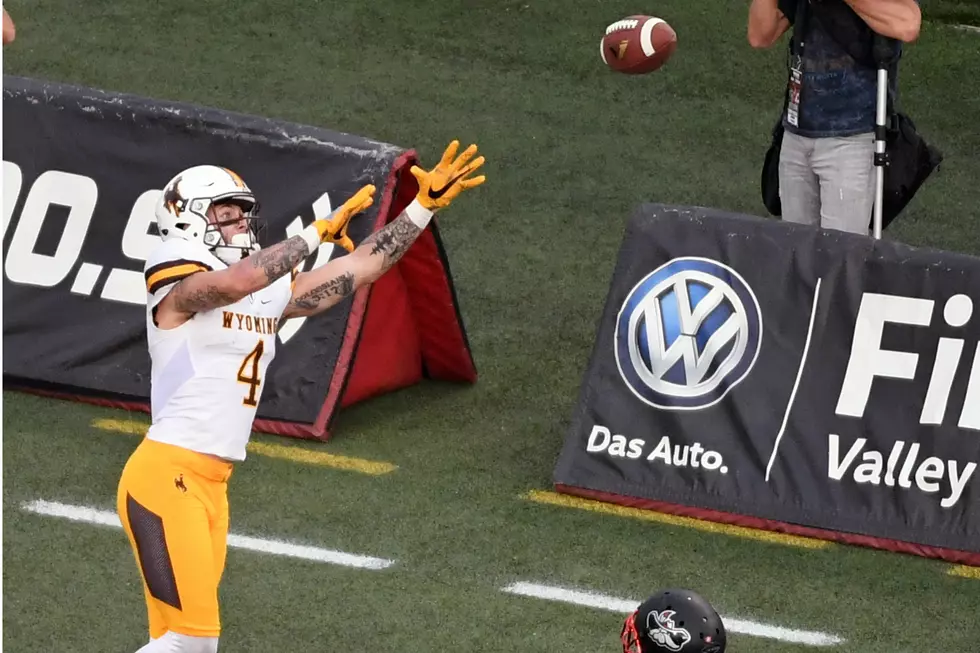 UNLV Beats Wyoming in Overtime Shoot-out
Ethan Miller, Getty Images
An interception in the third overtime led to UNLV's game-winning field goal, as the Rebels defeated the Wyoming Cowboys 69-66 in Las Vegas Saturday.
After exchanging touchdowns in the first two overtimes, Josh Allen was picked off in the third OT. UNLV kicked a 40-yard field goal for the victory.
Cowboys head coach Craig Bohl said after the game in a release from the university,
"It was a game that came down to a play here or there. There certainly were a lot of plays in the ball game; some really good and some not so good. I think it's important that we move forward and hang together as a football team. And as coaches, there are a lot of things that we've got to clean up within a short week, but there were some good things that were out there. Certainly, UNLV competed and they won a heck of a football game."
Wyoming (7-3, 5-1) saw their five-game winning streak come to an end. They are still tied for first in the Mountain Division of the Mountain West with Boise State and New Mexico.
The Cowboys rallied and forced overtime when Allen found Tanner Gentry on a 19-yard TD pass on the final play in regulation. Gentry was forced out-of-bounds, but re-established in-bounds and made a twisting one-handed grab. That capped a nine play, 97 yard drive in the last 1:06 of the fourth quarter.
Allen threw for a career-best 334 yards with four touchdowns, but was picked off twice and fumbled once. Gentry had five catches for 184 yards and three TD's. Brian Hill added 119 yards rushing and three scores. Lucas Wacha led the Wyoming defense with 16 tackles, including a sack.
UNLV (4-6, 3-3) beat UW for the first time since 2010. The Rebels out-gained the Cowboys 653-to-485 in total offense. They ran for 401 yards and five touchdowns. QB Kurt Palandech led UNLV with 157 yards and a score. He also threw for 252 yards and three TD's.
Down 10-3 after the first quarter, the Pokes took the lead after Hill's six-yard TD run and Logan Wilson recovered a fumble in the end zone for a score. The Rebels scored on four of their next five possessions and took a 30-24 lead by halftime.
Each team scored once in the third quarter. Wyoming took a 45-44 lead on Austin Conway's 60-yard punt return touchdown. That is UW's first punt return for a score since Oct. 15, 2011 by Chris McNeill. The Rebels answered right back on Palandech's 76-yard TD run and a two-point pass before the Cowboys tied it on the final play of regulation.
Wyoming returns home to host West Division leader and 24th-ranked San Diego State at 1:30 p.m. in War Memorial Stadium.