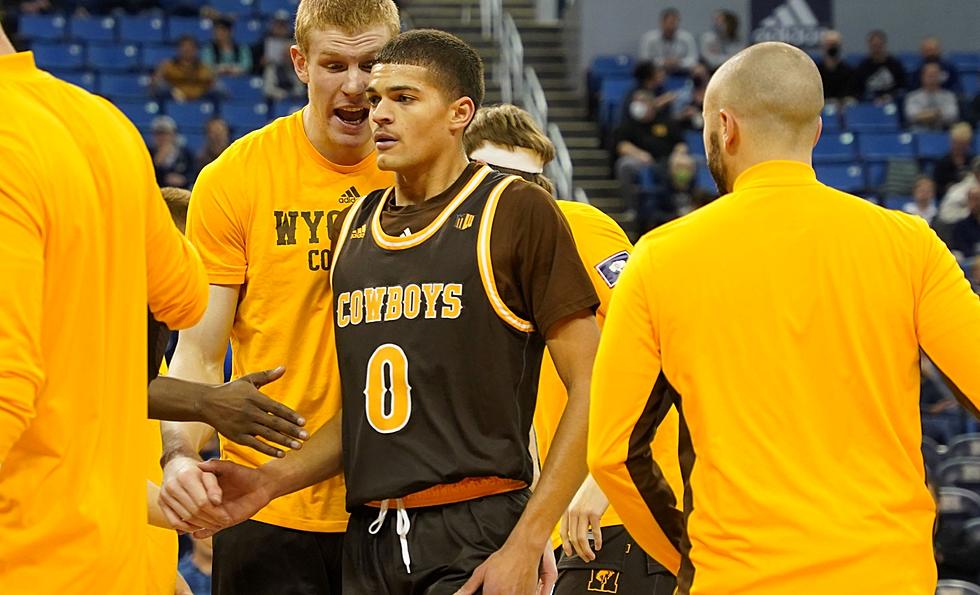 Tuck's 10 takes: Jeffries wasn't only hitting triples in this one
Wyoming guard Drake Jeffries netted 20 points in the first half of the Cowboys 77-67 road win in Reno Monday night./ UW courtesy photo
RENO, Nev., -- Nevada's game plan was pretty clear cut early on -- don't let Graham Ike and Hunter Maldonado take over.
Smart.
And for the most part -- in the first half, anyway -- mission accomplished.
Wyoming's 6-foot-9 forward had 11 points and the redshirt junior point guard netted just three. That triple came on the team's first possession of the night. The Cowboys needed an answer, especially with starting guard and third-leading scorer Xavier DuSell on the shelf with a hamstring injury.
They got one.
Drake Jeffries drained four triples in a row -- even the wild, acrobatic kind -- midway through the first half and scored exactly half of the visitor's 40 points through the first 20 minutes of Monday night's 77-67 victory over the Wolf Pack inside a sparse Lawlor Arena in Reno.
The win moves Wyoming to 13-2 overall and 2-0 in Mountain West play. The Cowboys are just one of three teams with a perfect record in the league, joining Boise State and San Diego State.
Jeffries, the nation's fifth-leading 3-point shooter (48.8%) was 6-of-11 from beyond the arc in this one. For the seventh time this season, the Illinois product connected on more than four threes in a game.
If you ask Jeff Linder, that shooting display from Jeffries kept the Cowboys in this one after a sluggish start.
"Thankfully Drake Jeffries bailed us out in the first half," Wyoming's second-year head coach said postgame. "What can you say about the shots he was making? He was feeling it. Our guys did a good job of feeding the hot hand."
That offensive production gave the Cowboys a much-needed boost, but when the second half rolled around, the shots -- and opportunities -- weren't coming for the junior college transfer.
The Wolf Pack held Jeffries scoreless on just two attempts.
Still, he played a major role in the final 20, stifling Nevada's second-leading scorer (16.4 ppg), Desmond Cambridge Jr., to just six total points on 3-of-9 shooting. With just 1:08 left on the clock, Jeffries put his defensive mark on this one, swatting away a 3-point attempt that ended up behind the Nevada bench.
Cambridge was 0-for-4 from deep.
With all eyes on Jeffries in the second frame, Ike -- like he's known to do -- took over, scoring 12 of his game-high 24 points. Maldonado had an abysmal shooting night, hitting just 3-of-14 shots from the field, including missing a sure dunk and an easy lay in. Still, the Colorado native finished with 11 points, the same number of assists and eight rebounds.
Here's a few other takeaways from the Cowboys fifth true road victory of the season:
* Let's stay right there. Since Linder took the reins, Wyoming is now 11-5 in games away from the Arena-Auditorium. That's significant. Six of those wins have come in conference play, too. Last year, Wyoming won at Fresno State, Air Force and two more times at the academy against New Mexico. Yes, I realize those were empty gyms due to the pandemic. Still, the last time this program won four road games in league play came back in 2018. The last time Wyoming claimed the first two road games in the conference came back in 2015. Remember how that season ended?
* I asked Linder early in the season if he was worried teams might start deploying the "hack a Shaq" treatment to Ike, who was struggling at the charity stripe. His response -- "It's November." Good call, coach. Wyoming's big man has been really good at the free throw line of late, sinking 32-of-44 freebies over his last five outings. That makes Ike even more dangerous.
* 7220sports.com reported before tipoff that DuSell would miss this one with an injury the guard sustained late in Saturday night's road win over Utah State. Sources indicated it was "nothing major." Linder said Monday night that the freshman has a hamstring strain. There is no timetable on his return to the lineup. "It's kind of like an ankle sprain," he said. "It just kind of depends. I mean, he could be back in two days, he could be back in two weeks. It just kind of depends on how his his body responds." What this young squad is doing without its regulars is remarkable. Add in the fact they've had just two practices together in over three weeks.
* Tonight, the Cowboys missed DuSell on the offensive end of the floor, but where he really draws rave reviews from his coach is on defense. That praise was shifted to an to a mostly unknown player after this one. "To step up and to guard Grant Sherfield -- the Mountain West Player of the Year -- like he did, It just speaks of his his competitiveness and his toughness. I haven't seen a freshman do that a long time." Linder is referring to Noah Reynolds, who before tonight has appeared in just six games. The Illinois product held Nevada's leading scorer to 20 points. He did hit just 2-of-7 shots from beyond the arc in this one. Reynolds even chipped in with seven points of his own to go along with a pair of steals.
* Speaking of Reynolds. To make his night even more impressive, you have to consider what the 6-foot-3, 202-pound rookie had to do just to get to the Biggest Little City in the World. Reynolds didn't pass COVID-19 protocol in time to join his team in Logan Saturday night. Instead, he hoped on the charter Sunday and hitched a ride to Utah in time to get one practice in before heading to northwest Nevada. Crazy times we're living in, folks.
* Wyoming's bench didn't account for a single point in Saturday night's win over Utah State. That changed in Reno. Pine Bluffs product Hunter Thompson netted 10 points and hit a pair of triples, including one of the "clutch" variety with just 4:30 remaining on the clock. Reynolds added his seven, too. Thompson, who is averaging just 3.1 points per game this season, finished in double figures for just the second time. Linder said his confidence has never waivered, but seeing a few go through the hole never hurts. "When you shoot the ball like he does, you're going to have some moments where you go through some shooting slumps," Linder said. "But, he just continues to put in the work at practice and away from practice. And he knows that if he doesn't shoot it that I'm going to yell at him."
* Brendan Wenzel got the start tonight in Reno in place of DuSell. The former Utah transfer finished the night with five points on 2-of-7 shooting. Linder said the stat sheet doesn't do the Texas native justice. "He made some big, big plays," Linder said. "He just gave us an extra guy out there that can make them pay." One of those instances came with just 36 seconds left in regulation. Wenzel drove to the bucket, planted and found a wide open Ike in the paint for an easy lay in. That hoop was the real dagger in this one, giving the visitors a 75-67 lead just seconds after Kenan Blackshear made it a two-possession game.
* Linder said he's always heard that if the Cowboys are winning, the fans will come. Well, they've lived up to his end of the bargain. "We're really excited and I hope that we can see see a great crowd at the A-A," he said. "The students have been awesome. I mean, we need those students there. We need the fans there. You know, this is a really good team with really good kids." The Cowboys haven't played a home game since Dec. 11. That will change -- hopefully -- Wednesday night when UW hosts San Jose State for a 7 p.m. tipoff. New Mexico will also pay a visit to the high plains Saturday. That game is slated for 5:30 p.m.
* I'm a big fan of the aesthetics of sports: uniforms, logos, colors, the whole nine. Nevada needs a makeover. Am I alone in thinking that wolf head at midcourt looks more like a rat with rabies than a ferocious predator? The Mountain West has some great combos. I'm a big fan of UNLV's look. Air Force is clean. Boise State always throws a wrench in things. Nevada needs work. While you're at it, get rid of the yellow soccer markings on the football field, please?
* Wyoming's scorers: Ike 24, Jeffries 20, Maldonado 11, Thompson 10, Reynolds 7, Wenzel 5, Deng Dut 0, Jeremiah Oden 0
* Mountain West Standings:
Boise State: 12-4, 3-0
Wyoming: 13-2, 2-0
San Diego State: 10-3, 2-0
Colorado State: 13-1, 3-1
Fresno State: 12-4, 2-1
UNLV: 10-7, 2-2
Nevada: 8-7, 2-2
Air Force: 8-6, 1-2
Utah State: 10-7, 1-3
San Jose State: 7-8, 0-3
New Mexico: 7-10, 0-4
UW: University of Wyoming Cowboys' Greatest Games From the First Decade of the 2000's