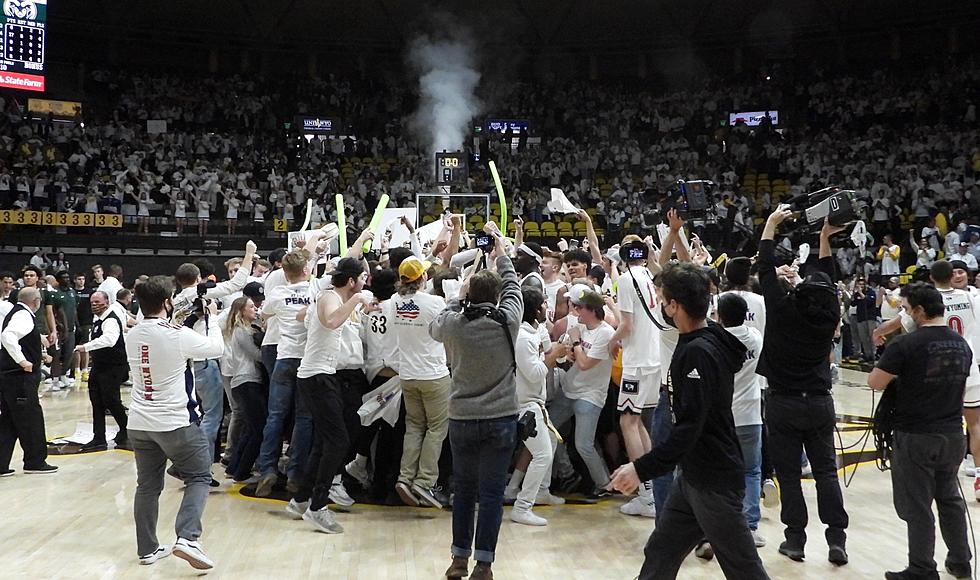 Tuck's 10 takes: Jeffries drops a redeeming dagger on Rams
Wyoming fans rush the court Monday night after the Cowboys knocked off Border War rival Colorado State 84-78 in overtime./ Lindsay Bugas photo
LARAMIE -- Drake Jeffries was the goat last year in this building against Colorado State.
Not the good kind, either.
The junior college transfer had the ball in his hands with a chance to the beat Wyoming's most-hated rival. Jeff Linder trusted he could make the three.
He didn't.
In fact, he airmailed it.
Tonight, Jeffries found himself in a similar situation. With time rapidly rushing off the clock and the Rams driving for a game-winning bucket of their own, the Cowboys guard was hit with a foul, sending CSU big man David Roddy to the free-throw line with 1.7 seconds to go.
Linder joked that he said a "prayer or two" during that tense moment.
If he sinks both, the visitors leave the Arena-Auditorium with a victory and send the 7,500-plus to the exits with that old familiar feeling. He hits one, it's overtime.
Roddy, to the relief of Jeffries and Co., chose the latter.
Jeffries was off the hook, but his night was far from finished.
With just 19 ticks remaining in the extra frame and the Cowboys clinging to a two-point lead, the Illinois native stamped his name in Border War lore, sinking a triple from nearly the same exact spot he missed at 361 days ago.
"Oh, it was crazy, "Jeffries said postgame. "... I know you guys remember that air ball. You know, (Hunter) Maldonado gave me that look and I just tried to knock it down. It was a blessing. It was great."
After that miss in February of 2021, Jeffries came back onto the court long after the fans had gone home. Alone, he put up more than 100 shots from that area of the floor. After this one, fellow guard Noah Reynolds tackled him onto the floor near the CSU bench as UW students rushed the floor after the final buzzer.
Last year's failure couldn't be further in the rear-view mirror. His teammates never lost faith in him to begin with.
"It's all up to him, you know? He's got to hit the shot. I believe in him," said Maldonado, who finished with a career-high 35 points in the 84-78 overtime win over the Rams. "I trust him. The coaches trust him. The whole team trusts him.
"Last year, he air balled it, but he responded in a big way this year."
Jeffries finished with 16 points and hit 5-of-9 shots from beyond the arc. He also pulled down five rebounds and didn't commit a single turnover.
After this one, he simply said, "This is the time of my life."
Wyoming moves to 17-3 overall and 6-1 in Mountain West play, taking over sole possession of second place in the conference. That could change soon with top-ranked Boise State paying a visit to the high plains Thursday night.
Here are some other takeaways from the Cowboys' Border War victory:
* Craig Bohl paid a visit to Linder's guys during practice Sunday afternoon. Wyoming's head football coach was there for one reason -- to talk about the importance of beating CSU and what it means to the people of this state. Before tipoff, Bohl walked over to the student section behind the hoop and got the kids fired up. That moment wasn't lost on Linder. "I really appreciate him and his friendship," Linder said. "He kind of let us know, you know, what it means to beat Colorado State because we hadn't done it. For the football team, they've taken care of business on that front." How does the old saying go? "Just like football."
* It took a pair of clutch Graham Ike free throws to get there, but for the 15th time this season, UW eclipsed the 70-point mark. For the 15th time, the Pokes ended up in the win column. Why? Winning plays, according to Linder. His team didn't have many of those late in regulation, allowing CSU to go on a 7-o run, which included plenty of missed shots, rebound opportunities and a pair of costly turnovers from Maldonado. He made up for that on the offensive end, sinking back-to-back shots in the extra frame to give Wyoming a 78-76 lead.
* There were plenty of personal fouls to go around in this one. Ike fouled out with 2:17 to go in overtime. On the next trip down the floor, it was Roddy's turn to find a seat. That came courtesy of a charge forced by Maldonado. Stop me if you've heard that one before. CSU was hit with 23 whistles. The Cowboys, 16. Isaiah Stevens and John Tonje made it the distance with four. So did Maldonado.
* Wyoming has a new "X factor," according to Linder. That guy is Jeremiah Oden. The Cowboys freshman forward has been a major player in a pair of huge sequences over the last two weeks. Fitting that they both have come against Front Range rivals. A pair of offensive rebounds and a put back sparked the Pokes midway through the first half in Colorado Springs last Friday. Tonight, it was a hustle play and a rejection at the rim with 9:32 to go that gave the home team a much-needed bust of energy. After blocking the Jalen Lake shot, Maldonado found Jeffries for a wide-open triple. He nailed that one, too, giving the Cowboys a 52-50 lead. "Just his ability to make winning plays," Linder said of Oden, who finished the night with a dozen points and two made 3-pointers. "I mean, with his athleticism, to go and make a block like that, I mean, there's not a lot of guys that can do that ... He's a late bloomer."
* How about that sixth man? Wyoming fans showed up for this squad in droves for the first time since the 2016 Border War in Laramie. The entire lower bowl was full. The upper deck had plenty of patrons, too. The student section was up to it's old tricks again, bringing back all those familiar chants from yester year with that team in this building. It's this type of electric atmosphere that pushed Linder to sign on the dotted line in March of 2020. "That crowd tonight is one of the reasons I wanted to come to Wyoming," he said. "I know what this place can be like when you put a good team on the floor." Maldonado has been here through some lean times. This one meant a lot. "I think this is the most fans that have ever come out to watch a game that we played in," he said. "It was huge. Shoutout to all the fans that came and to the students. As the game got down to crunch time, they were loud. Like Drake said, it was deafening. They brought the energy and it definitely helped us out."
* CSU game into this game ranked No. 18 in the nation in 3-point field-goal percentage. That number did hover around 40%. Not in this one. Wyoming held the Rams to just 30% from deep (6-of-20). The visitors top-three marksmen -- Isaiah Rivera, Tonje and Stevens -- combined for just one three on five attempts. Rivera, who connects on 56.3 from out there, didn't attempt one tonight.
* The bench points were lopsided in this one. CSU finished with 27 from its reserves, led by the top sixth-man in the conference, Tonje, who netted 15. Wyoming finished with just five points. Those all came from Xavier DuSell, who knocked down a 3-pointer and stepped to the line and sank two key free throws after Brendan Wenzel was forced out of the game with an injury after pulling down and offensive board -- another one of those "winning plays" -- early in overtime. The Cowboys need more from this group. That's no secret. As DuSell gets healthy and Kenny Foster makes his way back from a high-ankle sprain, those numbers should improve drastically.
* Yes, Jeffries is known for his ability to sink triples. In fact, he's fourth in that nation in shooting percentage from deep, hitting nearly 48% of his attempts. That's all well and good -- it certainly helped bail the Pokes out tonight -- but it's his effort on the defensive end and the way he skies for rebounds has been a thing of beauty for this program. Jeffries had just five boards in the win over CSU. He averages less than that per game. They always seem to be the big kind though.
* This was the 237th meeting between these two old rivals. Wyoming now holds a 137-100 advantage and owns a record of 79-40 inside the Arena-Auditorium. Wasn't it awesome to see a meaningful Border War again?
* Wyoming scoring leaders: Maldonado 35, Ike 16, Jeffries 16, Oden 12, DuSell 5
* Mountain West standings:
Boise State: 17-4, 8-0
Wyoming: 17-3, 6-1
Colorado State: 16-3, 6-3
San Diego State: 11-5, 3-2
Fresno State: 14-6, 4-3
UNLV: 12-9, 4-4
Nevada: 9-9, 3-4
Utah State: 12-9, 3-5
Air Force: 10-9, 3-5
New Mexico: 8-13, 1-7
San Jose State: 7-12, 0-7
UW vs. New Mexico