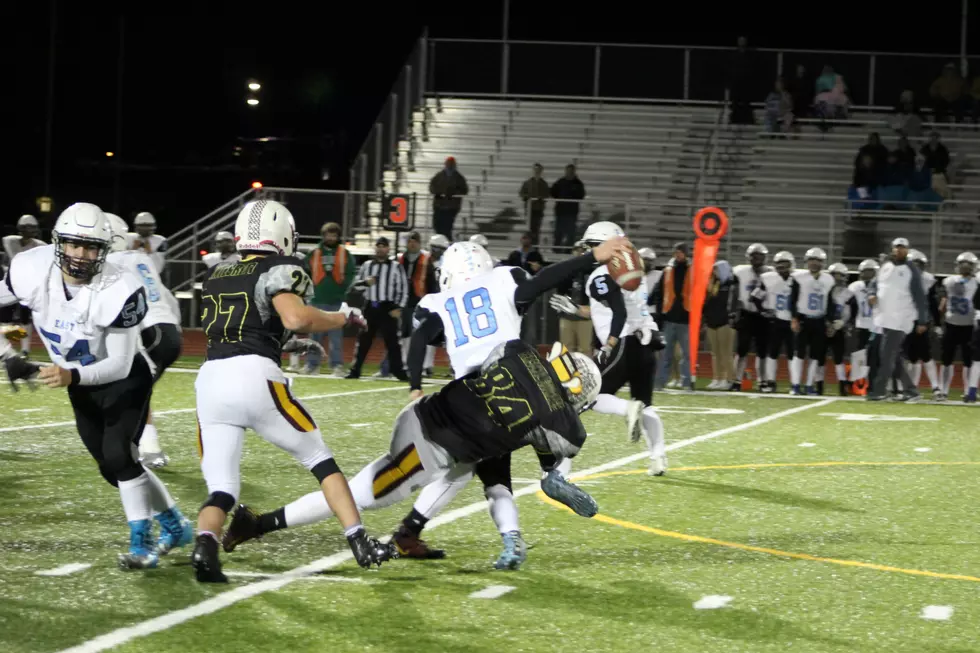 Third-Ranked Cheyenne East Slips Past the Laramie Plainsmen
Courtesy: Vickie Puckett
An interception return for a touchdown proved to be the difference, as the East Thunderbirds beat the Laramie Plainsmen 16-14 Friday night at Deti Stadium.
A Nathan Burman pass bounced in and out of the hands of Garrett Worden. As Worden tried to corral it, he ran into an East defender, which was Jamis Lopez. Lopez controlled it and broke away from Worden, picked up a couple of blocks and returned it 24-yards for a touchdown.
Laramie (2-4) scored with 3:45 left and attempted an onside kick, but it failed. The Thunderbirds picked up two first downs and ran out the clock for the victory. It spoiled Homecoming for Laramie High School.
Plainsmen head coach Clint Reed said it's about learning how to compete, not necessarily learning how to win.
"That's what's happened this last couple of weeks. You know, persevering when a bad play happens, you come back the next play. Try to create a new play, you don't break down. You don't let it get away from you. At least we're finding a way to compete."
Reed added he saw it in his team's eyes that this one hurt.
Cheyenne East (5-1) shutdown the LHS offense. The Thunderbirds defense held the Plainsmen to 28 yards in the first half and 129 for the game. East running back Ethan Ashworth ran for 141 yards and a touchdown. The Thunderbirds also got a 26-yard field goal from Dakota Merritt and finished with 261 yards offensively. They enjoyed a 2-to-1 ratio in time of possession.
Reed also said, "Defensively we made some adjustments, we just couldn't get things going offensively. Defensively, earlier in the week, we talked about East. On stats, they're number one in the state, and when you get on the field with them and look at 'em, they're not very big up front or anything, but my goodness, they are quick up front, and it just caused havoc."
Laramie nearly overcame four turnovers in the game, while East overcame three.
Matt Semler's interception of a Burman pass led to East's first scoring drive, which was capped by Ashworth's 2-yard touchdown run for a 6-0 lead. The point after was missed.
Two fumbles by the Thunderbirds kept the Plainsmen in the game, but they failed to capitalize.
Another interception by East turned into a 17-play drive that led to the field goal and a 9-0 Thunderbirds lead at half.
Laramie got a spark after they forced an East punt on their first possession of the second half. Chad Browning returned it 67 yards for a touchdown that cut it to 9-7.
Reed said, "He's (Chad) a gritty kid. He's got all heart there."
Two possessions later and on the first play of the fourth quarter, Lopez came through with the key play for a 16-7 lead.
Burman prevented another score, as he intercepted the Thunderbirds' Semler in the end-zone. LHS was able to flip the field. They trapped East in their end and forced a short punt. After a 25-yard pass to Jason Upton and a Burman 10-yard run, Burman found Will Yates on a 3-yard TD pass. The ensuing onside kick didn't travel the required 10 yards. East picked up two first downs and sealed the victory.
Reed said we had talked about toughness, passion and desire.
"I think the boys showed that. We didn't put up a lot of yards. We bent on defense at times. We didn't break, but in the end they had showed some grit."
The Plainsmen play their final regular season road game next Friday at Cheyenne South. Kick-off is at 6 p.m.