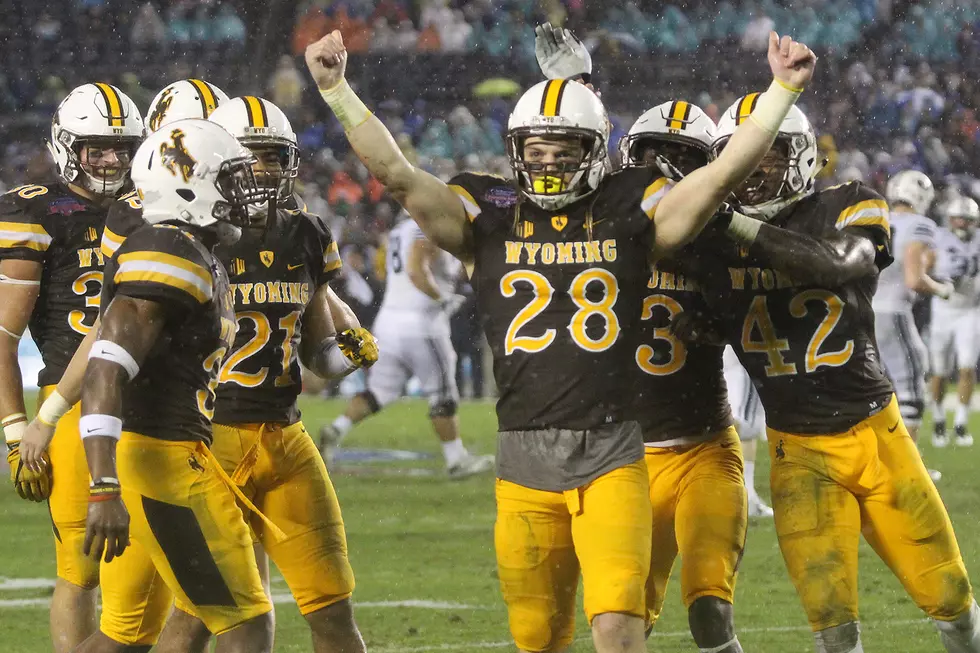 The Wyoming Cowboys Seek a Football First in 50 Years
Seneca Riggins, Townsquare Media
The 121st season of Wyoming Cowboy football begins Saturday with a visit to Iowa City to face the Iowa Hawkeyes.
It's been 50 years since UW won a road game that started its season. That was at Arizona, Sept. 16, 1967. The score was 36-17. The last time the Cowboys won their first road game of the season was in 2011 at Bowling Green, 28-27.
As for Saturday, this will mark the 20th meeting with a school presently in the Big Ten Conference. The Pokes are 1-18 all-time in the previous 19 games. Their only victory was on the road at Wisconsin in 1986, 21-12.
The match-up against the Hawkeyes is just the third all-time. The last time these two faced each other was 30 years ago in the 1987 Holiday Bowl. That was an Iowa victory, 20-19. The only other game played was back in 1953 in Iowa City, which was a 21-7 win by the Hawkeyes.
Coming into the 2017 opener, there's quite a few similarities between these squads. Wyoming returns six starters on offense, eight on defense and one of its specialists. Meanwhile, Iowa also brings back six on offense and eight on defense. Both teams also won eight games a year ago, with the Pokes at 8-6 and the Hawkeyes at 8-5. Both did lose in their bowl game.
Cowboys' Head Coach Craig Bohl was asked about equating this Iowa team to someone UW has seen recently. He said I look at Michigan State, a team we played a couple of years ago.
"They were a real physical football team. We played them up there. Didn't turn out very well. I'd like to think our football program has matured and progressed, but that would be probably a comparable opponent, than anybody else; San Diego State, somewhat."
Wyoming and Iowa will kick-off at 10 a.m., Mountain Time. You can watch the game on the Big Ten Network. Check with your provider for the channel.
For more on the Cowboys-Hawkeyes match-up, we feature coach Bohl's and QB Josh Allen's press conferences from earlier this week, plus a one-on-one interview with sophomore captain and middle linebacker Logan Wilson.